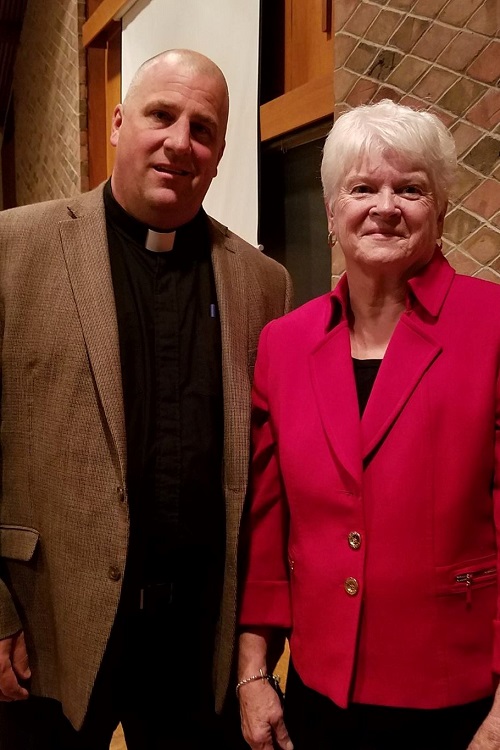 On Friday, October 6, 2017, Concordia Theological Seminary (CTSFW), Fort Wayne, invited Barronelle Stutzman, the Washington florist sued after she refused to design floral arrangements for a same-sex wedding, to hold a talk in one of the classrooms on campus. Though her case is ongoing, Barronelle has chosen to travel the country so she can tell the story of courage, faith in action and God's grace in all things.
A couple of months after Washington legalized gay marriage in 2012, Stutzman learned that Rob Ingersoll was going to ask her to design the arrangements for his wedding. Ingersoll was a longtime friend and customer, Stutzman said, and they simply clicked on a creative level. For 10 years she'd used her gift to help him celebrate birthdays and anniversaries with his partner, Curt Freed. However, when he came to her to begin discussing flower arrangements for his wedding, she gently declined, citing her relationship with Jesus Christ. At the time he told her that he understood, said that his mom felt the same way, and then asked for a recommendation. Stutzman gave him three.
The Washington Attorney General picked up the story from Facebook, where Ingersoll's partner had written a post about the incident that had gone viral. In an unprecedented act, the Attorney General took matters into his own hands and sued her, both corporately and personally. The American Civil Liberties Union (ACLU) quickly picked up the case, filing an additional lawsuit against Stutzman and her business on behalf of the couple. As a result of the suits, she stands to lose everything from her business to her home to her savings and retirement.
In February 2015 Stutzman lost in the lower courts, followed by a second defeat in November 2016 at the Washington Supreme Court. Alliance for Defending Freedom (ADF) continues to appeal on her behalf. An attorney with ADF, Matt Sharp, explained that the ruling in the courts is based on laws created during the civil rights era to make sure all people have access to essential goods and services. However, in 2006 Washington added sexual orientation to the list (alongside such classes as gender and race) and currently takes a very broad definition of essential goods.
Unlike a grocery store bouquet, explained Sharp, people like Stutzman and Jack Phillips (the baker whom they are also defending in the Supreme Court for similar reasons) are artists whose creations are a form of expression. As such they deserve protection under the First Amendment. Though Stutzman has both served and employed those in the LGBTQ community, she cannot be a participant in an event that is contrary to her beliefs. The union between one man and one woman was established by God and echoes Christ's relationship with His bride, the Church.
Stutzman summarized the judge's decision even more succinctly: "You can have your faith, but you cannot practice it outside the four walls of your church."
As the case unfolded, the Attorney General wrote her a letter, offering to drop the lawsuits if she'd pay a $2,000 fine and would no longer refuse to participate in same-sex weddings. Again, Stutzman refused. As she explained in her response letter to the Attorney General: "I cannot sell that precious freedom. You are asking me to walk in the way of a well-known betrayer, one who sold something of infinite worth for 30 pieces of silver. That is something I will not do." And while she's had to change the way she goes to work in response to the threats against her, she's also received encouragement from people across the globe, 68 countries in all.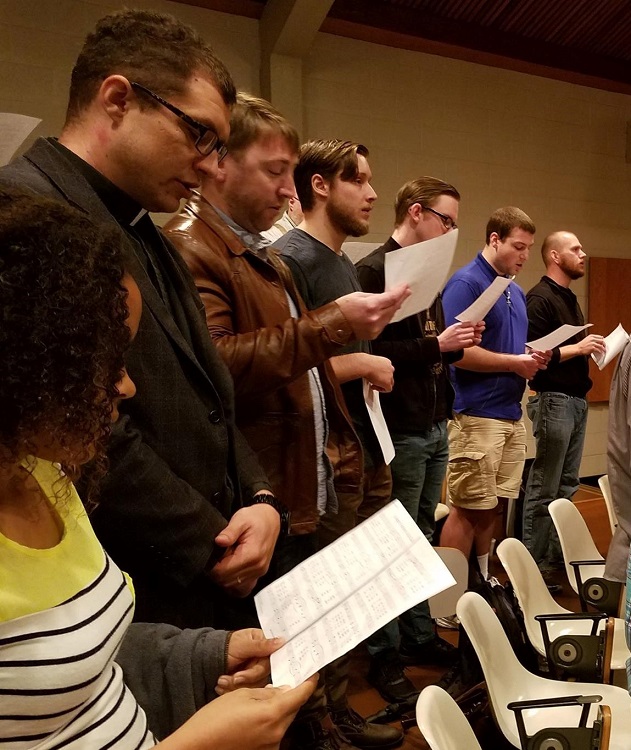 At the end of the talk, the students, faculty and staff stood to applaud her and, as she was wiping the tears from her eyes, sang "A Mighty Fortress Is Our God." Dr. Peter J. Scaer, associate professor of Exegetical Theology at CTSFW, gave her a replica of the statue of Martin Luther holding God's Word, and explained: "You're living out the story of Luther among us."