Christ Academy: Timothy School and Christ Academy: Phoebe School began on Sunday, July 26. It's a strange year for many reasons (not least of which is that we had to hold this a month later than planned and for only a week), but we're still deeply thankful that we're able to hold our annual summer event for high school students interested in Lutheran theology. They'll spend the week also learning more about the vocations of pastor and deaconess, and sharing in the joy of fellowship with one another.
Rev. Matt Wietfeldt, Director of Christ Academy, introduced Dr. Lawrence Rast Jr., President of CTSFW, to this year's participants after this morning's chapel, asking him to say a few words of welcome. Below, we've transcribed his words from a recording of his address to this year's participant's.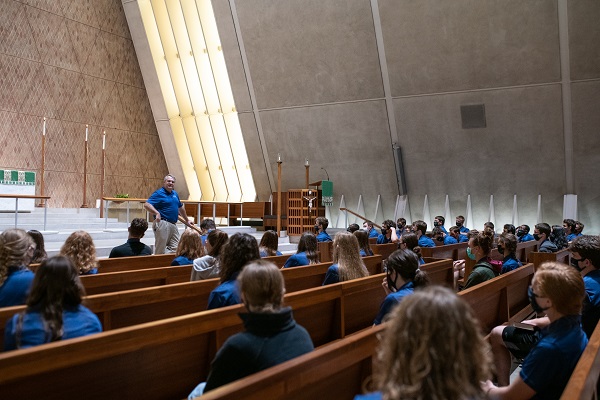 PRESIDENT RAST: I know it's kind of hard to hear in here, so if you're having trouble hearing me, let me know. Or if you don't want to hear me, uh, don't say anything, okay? [Laughter.] But really, we're delighted to see you here. We just had no idea whether this would come off or not, and we're deeply, deeply thankful to the Lord for allowing us to gather together with you. It's great to see you all, great to have you here on campus, great to welcome you to the community.
How many of you, this is your first time? [Hands raise.] Fantastic. We're glad you're here, and for those of you who are old timers: welcome back.
I'm entering my 10th year as president of the Seminary. I'm starting my 25th as a member of the faculty. So none of you were around when I started teaching here, which means that Pastor Wietfeldt really is old…I don't know about these gray hairs. But anyways.
I'm really just delighted we're able to push forward on this. It's a really nice opportunity for you; those who have been here before know that, those of you who are here for the first time will learn that. It's a unique place in which we live and serve. And it's a unique thing that we work toward, as you're discerning whether pastoral ministry is for you or diaconal ministry is for you.
The sermon this morning actually touched on something really important: the need for workers in the Church. The importance of those who will proclaim the Gospel in Word and in deed, and take it out to a world that is disrupted in a way that I honestly haven't experienced in my lifetime.
But, as pastor pointed out, I am a historian, so one of the things I do is look back and see: have there been times where we've had these sorts of experiences before? And most people know by this time about the Spanish flu of 1918, which was a terrible, terrible pandemic, just massive disruptions around the world, but there were others as well. A few months ago I wrote a little article for the "Lutheran Witness" on the Yellow Fever epidemic (it wasn't a pandemic), an epidemic that [was in] Philadelphia and was terribly, terribly destructive, especially for the Lutherans in Philadelphia.
Now back in the 1700s, Philadelphia was kind of a Lutheran center; there was a portion of the city called Germantown (still is), and it was founded in the early 1680s [to] kind of welcome German immigrants into America before they would disperse into the west—which meant, like, Harrisburg, Pennsylvania. So not very far.
So folks would come in to Germantown—Philadelphia, Germantown—and it had a really big German population, and, of course, back then, when you had a big German population, you also had a big Lutheran population. And so they all came together and the Lutherans were the most deeply affected group by the [epidemic]. Nobody quite knew why…they didn't know what caused it: mosquitoes carrying yellow fever, and the places where the Lutheran German immigrants lived being places where mosquitoes bred most profusely. And it ended up being just disastrous for the community.
They found themselves wondering, "What in the world do we do? Why is God punishing us? Why is God allowing this to happen?" And they struggled with those kinds of questions that sound 2020. Why is this happening? Why is God allowing this to come upon us?
I say, as an old guy particularly, "Hey, things were pretty good for most of my life and now all of a sudden we have this mess? And I have to wear this thing? (Wherever it is, let's see if I can find it [Dr. Rast finds his face mask in his pocket and holds it up].) This thing that I don't like to wear?" But we do it. And we put these things on, keep them on, wear them for the sake—not so much for myself, I'm old enough now that I don't worry about dying, it'll happen soon enough—but I feel compelled to take care of my neighbor as best I can.
Folks wonder: does this do any good? Well, who in the world knows? Since the news changes just about every other day, right? But we can serve in this small way, so we do. And so we're doing.
That hasn't changed. And you heard it better in the sermon. The Lord came into this world to do what? To serve. The Son of Man came to serve. Not to be a lord, but rather to give His life as the ransom for all; pay for the sins of all people. And so in our small way we continue that, and we look forward to learning more about that—and putting it into practice as we gather together over this next [week].
It's really great; really, really great to have you here. We've been doing this now, we're entering into our 175th year as a Seminary. So if I can do math, which I can't, I can figure out what 25 years out of 175 is—some of you can do that much better than I can, I'm a theologian, it means I can't count—but the 175 years that we've had here in Fort Wayne (we were in Springfield, Illinois, for a hundred years, and then back here in Fort Wayne), they've been characterized by this commitment to the Gospel of Christ. To be faithful to the Scriptures, confessing as Lutherans, and doing so in a world that is always in chaos.
And so when we look around 2020 and say (are you doing like I am? I mean, I get enough memes from my friends, "2020" that's all you have to put, "That's very 2020"), and I get that it's different, but at the same time, what the Lord gives us to proclaim, what the Lord gives us to do, remains constant. That is, to preach Christ crucified and risen again, taking away all our sins.
So there's a wonderful, wonderful kind of coherence, in one sense, of putting it…there's a wonderful kind of consistency in terms of the way the Lord interacts with us frail people who live our lives for short periods of time, even while He has the scope of eternity under His feet.
And so to spend a little time with you over a few weeks in this strange summer is really, really good. And if there's anything we can do to make your time here more beneficial, more comfortable, if you're feeling unsafe let us know. No, let those guys know, I'm the president, I don't do anything [laughter]. I tell other people to do that. Actually, you don't want me to do anything, because I wouldn't know what to do. They actually know.
But we really are blessed, and it is a blessing to have great leaders like Pastor Wietfeldt, and it's a great blessing to have you here with us. Thank you, and I look forward to our time together.