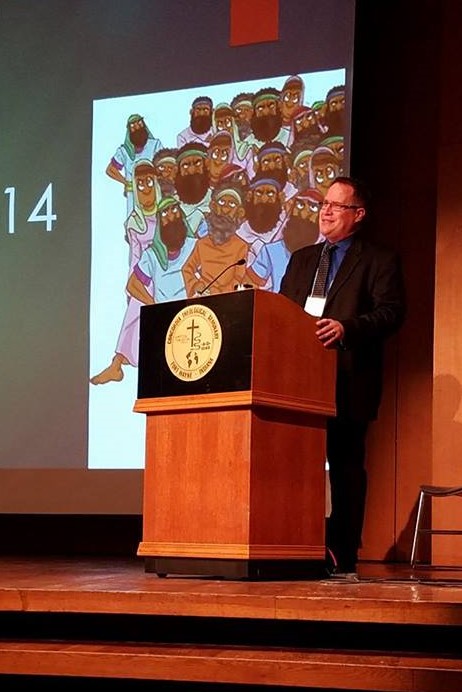 Dr. Rast opened Symposia 2018 with a word of greeting. Professor Ryan Tietz then led off with a presentation on "Finding Communion in Lament." As you may imagine, we are spending a lot of time in Isaiah.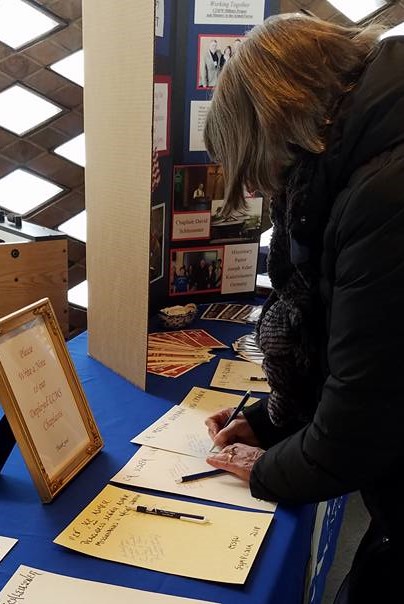 The CTSFW Military Project display is up in the commons as well. Deaconess Carolyn Brinkley is using Symposia as another opportunity for our deployed chaplains to receive notes from their brothers who are attending the conference.
Dr. Just presented on Unity in the Body of Christ. "Baptism creates a new creation family. It splices everyone into it. Paul is not speaking socially about our equality in the social world, but ecclesiastically and eschatologically about our unity in Christ in His body, which is also the Church."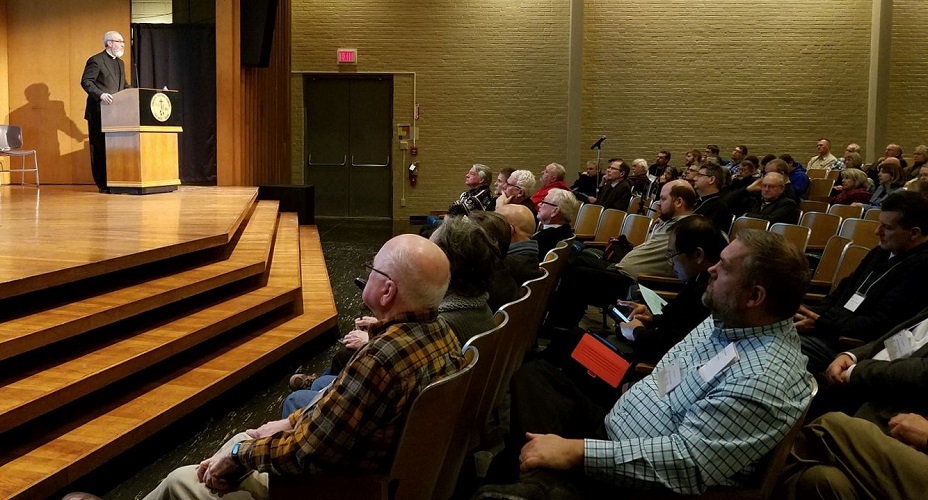 Dr. Abernathy took questions at the end of his presentation on "The Communion of Saints within the Community of the King in Isaiah."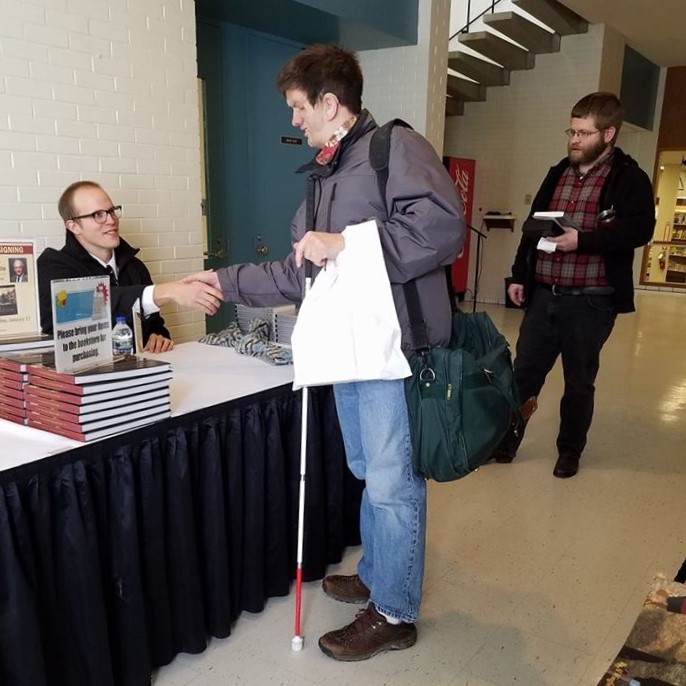 Dr. Abernathy is a guest from Wheaton College; the theological differences set off some good discussion. He also signed copies of his book, "The Book of Isaiah and God's Kingdom: A Thematic-Theological Approach," over the lunch hour. That's one of our first years shaking his hand, plus a CTSFW grad from North Dakota waiting his turn.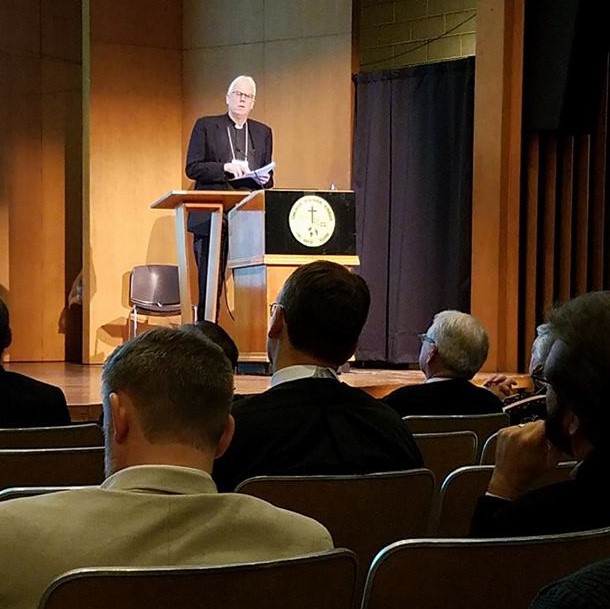 Dr. Nordling spoke on "Communion at Philippi." Because the Philippians were the only congregation that financially supported Paul for a missionary trip that ended in his imprisonment, "There are those scholars who suppose the Philippians have backed a bad horse, now that Paul is languishing in jail rather than sharing the Gospel," Dr. Nordling said. "The major reason for writing the letter was not only to acknowledge grateful receipt of their support, but to assure them the Gospel is advancing beyond his and the Philippians wildest expectations" (See Philippians 1:12-14).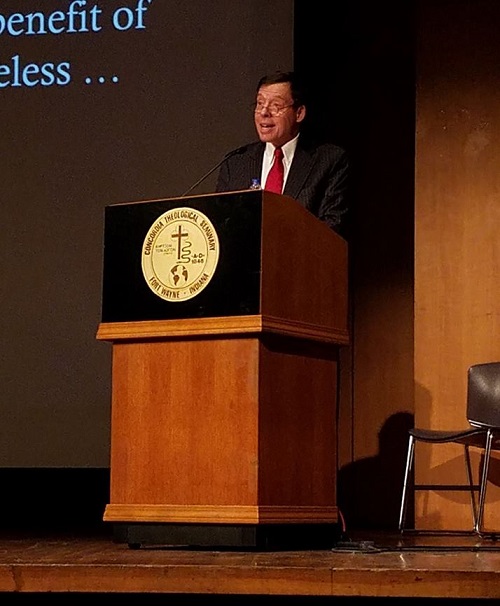 Dr. Walter A. Maier III spoke on the last topic of the  first day: "The Communion of Saints in 1 and 2 Kings: Timeless Truths." Here are the first two truths (and present-day parallels) presented in Kings:
 The Communion of Saints will be attacked: "No one minds when we speak of God in generic terms, but when we insist on the finality of Jesus Christ, battle lines are drawn.
The Communion of Saints will be preserved: "The devil and the unbelieving world will not exterminate it. This gives us great comfort as we carry on our work. God carries on our endeavors with Word and Sacrament to maintain the body of believers from now until Judgment Day."

Symposia began the next morning at 7:45 a.m. with sectional paper presentations; Dr. Bushur's lecture on "The Early Christian Appropriation of Old Testament Scripture" counts as the first large session of the day. As per usual, you can see our Lutheran preference for backrow seating (or standing, in this case).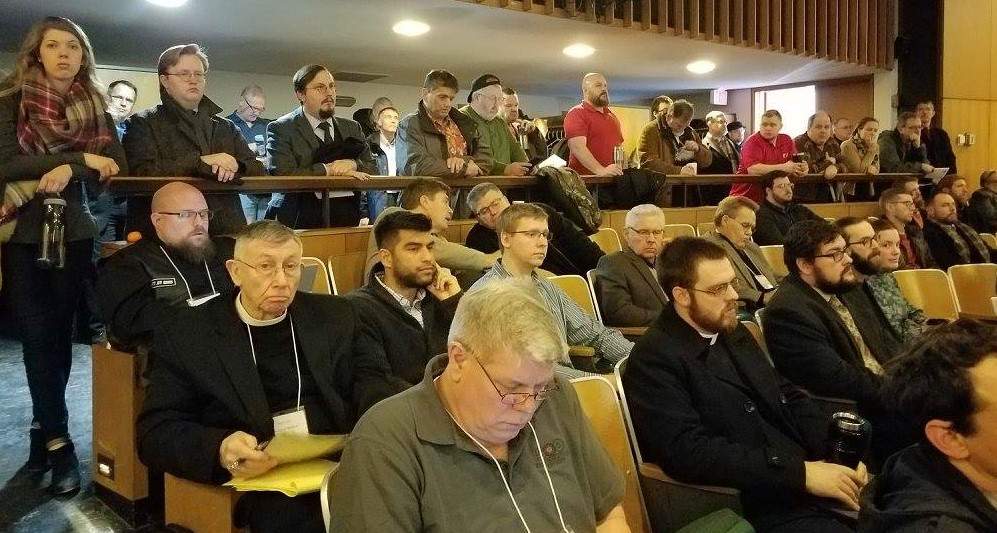 Dr. Bushur spoke of the sudden and powerful change in worship space for early Christians (many of them Jews). "In Christian assemblies, the body and blood of Jesus occupied the altar. Old Testament rolls had to find a new place in the sanctuary." The Word became flesh; Jesus was the one promised in the Scriptures and their worship space changed, not simply for practical reasons as books replaced scrolls, but in reflection of this fulfillment of Old Testament Scripture.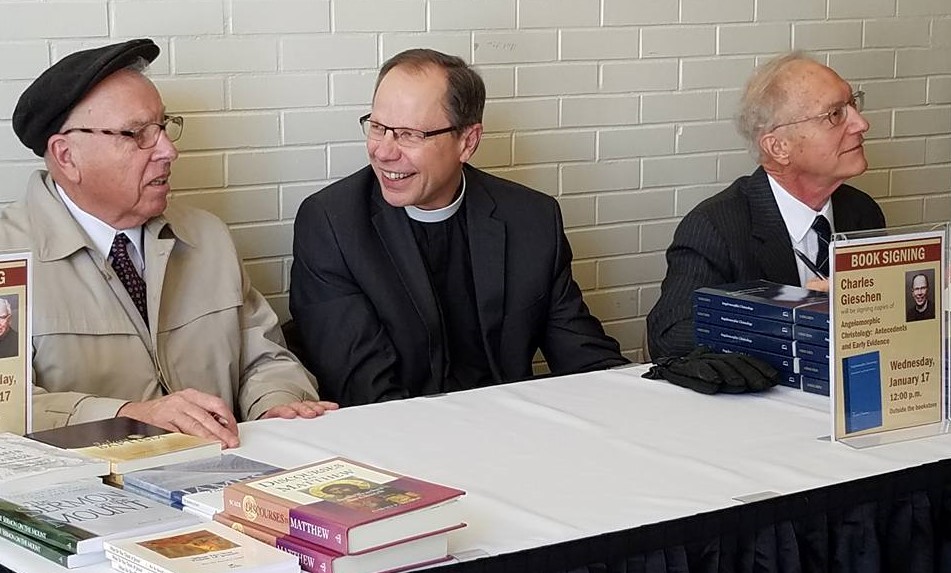 Dr. Gilbert C. Meilaender led off the 41st Annual Symposia on The Lutheran Confessions (Reflections on the Moral Life) with a talk on palliative sedation and whether it is appropriate to induce unconsciousness in order to relieve pain through the end of a patient's life. Dr. Peter Scaer later closed out the day's presentations with a question: is non-involvement in public ethical issues a confessional option?
His answer was no: "We neglect our duty if we do not bring Godly wisdom into the public square…'For it is better to suffer for doing good, if that should be God's will, than for doing evil' (1 Peter 3:17)."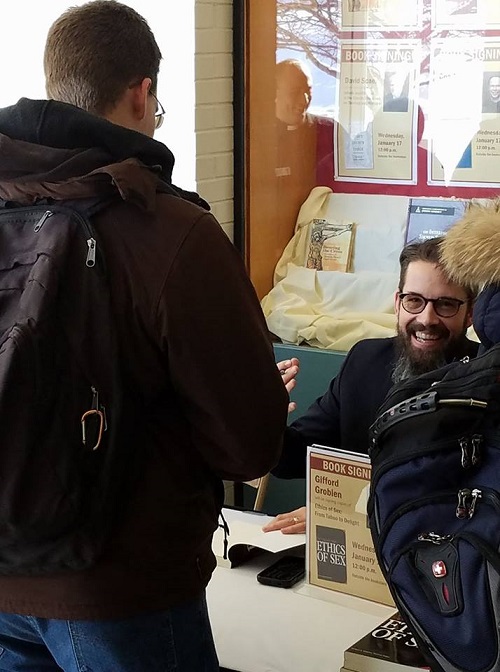 Dr. Grobien's presentation the next day on "Christian Opposition to the New Sexuality: Optional or Not?" shared parallel themes with Dr. Peter Scaer's topic from the night before. Where Dr. Scaer focused on the Christian voice in the public square, Dr. Grobien added that the Christian life and family that reflects our values and beliefs (such as marriage as an echo of Christ's relationship with the Church, which also informs our understanding of the role of men and women) serve as a practical example and rational for that voice. "Words," he said, "must point to a comprehensible reality."
(Picture taken during yesterday's book signing. Dr. Grobien's book is "Ethics of Sex: From Taboo to Delight," which can be purchased through the CTSFW bookstore at https://bookstore.ctsfw.edu/.)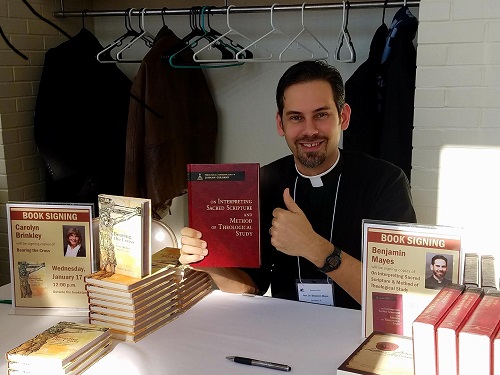 Dr. Mayes also posed with his book, "On Interpreting Sacred Scripture and Method of Theological Study," during yesterday's book signing. He wrapped up the answer-and-question session following his lecture on "Vocation, Situation Ethics and the Disaster of Modern Sexuality." A few highlights:
"We should not over specify vocation at the cost of Christian freedom…God's m

ain call is to belong to Him, and be united with Him."

Allowing situation to determine moral law has led to the disaster of modern sexuality. "Circumstances do not alter rules and principles."

Ultimately, we do not have to determine God's call or how we ought to fulfill our duties from how we feel in our hearts or according to our situation. "These things are not determined by the hearts of individuals. They are not to be divorced from God's instruction."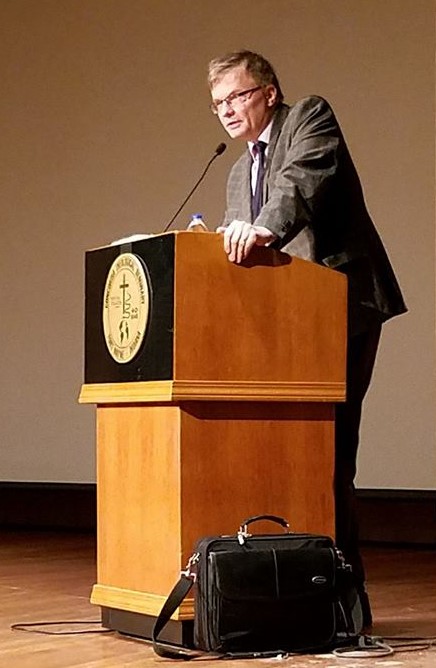 A native of Finland, our last speaker of the day is receiving a cross-cultural experience here in Fort Wayne; he teaches at the Lutheran School of Theology in Gothenburg, Sweden where CTSFW has a site offering classes in our STM program, but this is his first time in our home city. Dr. Timo Laato will be with us through intensives, as he is teaching a graduate course.
This is also the professor who will teach the public lecture series (on the state of Lutheran churches in Scandinavian countries) coming up this Sunday. His topic for Symposia is "Salvation by God's Grace, Judgment According to our Works." One of his focuses is on the theological implications of "good works are necessary for salvation" vs. "good works are necessary."
On the final day of Symposia, Chaplain (Colonel) Jonathan E. Shaw, Director of Operations, U.S. Army Chaplain Corps, Pentagon, asked a very Lutheran question in the last lecture of the 2018 Symposia Series: what does this mean? He was following up on the many studies that show the positive correlation of religion to health among soldiers.
"I can think of no position that more demands a right understanding of the two kingdoms," he said, speaking of chaplains. As to soldiers, they need to be "spiritually empowered and confident to stand in the face of death," for even in just war "the warrior must bear the human cost."
In his presentation, Chaplain Shaw used the following words from a Gregorian chant written around 750 AD ("Media vita in morte sumus" or "In the Midst of Life We Are in Death") as well as this picture:
In the midst of life we are in death;
From whom can we seek help?
From You alone, O Lord,
Who by our sins are justly angered.
Holy God, holy and mighty, holy and merciful Savior,
Deliver us not into the bitterness of eternal death.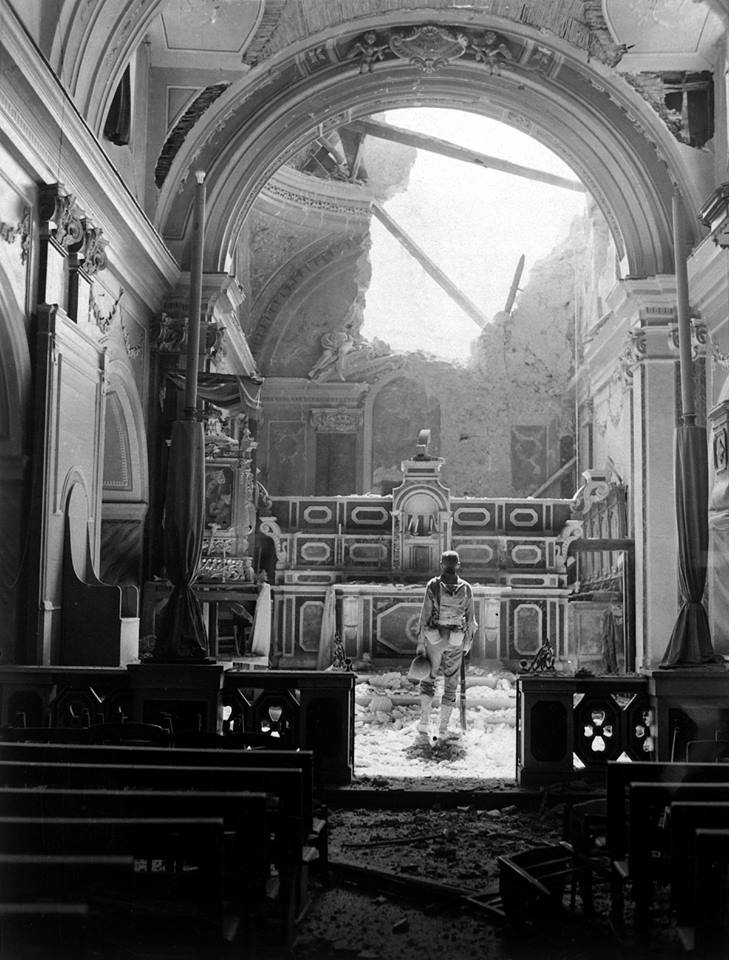 Only in Christ can men find mercy, peace, comfort and rest.

The final presentation of Symposia featured a panel discussion with Chaplain Shaw, Dr. Mayes, Dr. Peter Scaer and Dr. Grobien, with Dr. David Scaer moderating. The panel was specifically on "Church and Society: What Are the Rules of Engagement?" but was also a chance for attendees and panelists to ask follow-up questions about their earlier presentations.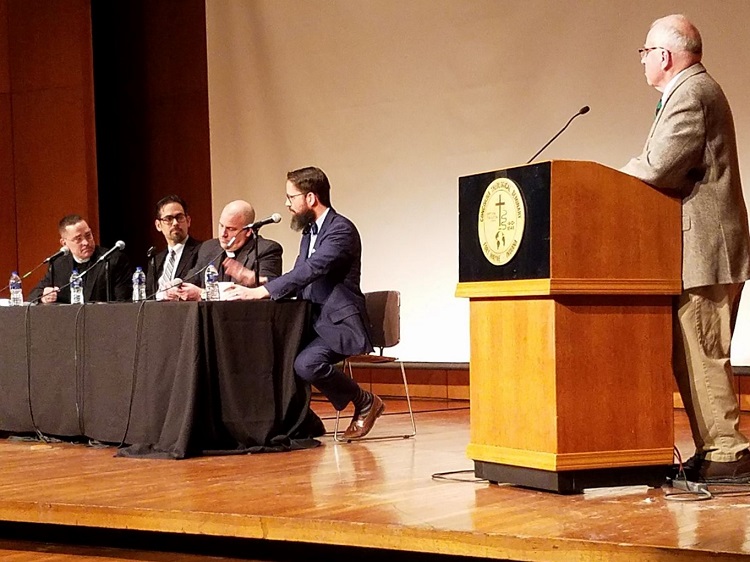 Symposia 2018 concluded with Daily Chapel at 11 a.m.
CLICK HERE to watch this year's lectures.