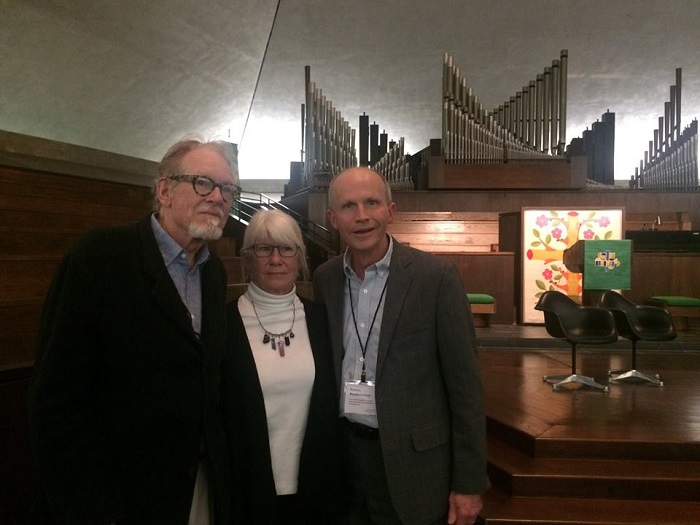 Professor Roethemeyer, Director of our library and Associate Professor of Pastoral Ministry and Missions, was invited to participate in a National Symposium on Design, Community, and Preservation in Columbus, Indiana, on September 27-28. A highlight for him was the opportunity to meet and interact with Eero Saarinen's son and daughter, Eric and Susan. Professor Roethemeyer is pictured to the right of the Saarinen siblings at North Christian Church in Columbus, a church designed by their father.
Though most famous as the architect of the Gateway Arch in St. Louis, we know Eero Saarinen more familiarly as the designer of our own award-winning Concordia campus. Dedicated sixty years ago on May 20, 1958, our chapel is one of five sacred buildings designed by the Saarinen family. Eliel Saarinen (Eero's father) designed First Christian Church in Columbus, IN, dedicated in 1942, and Christ Lutheran Church in Minneapolis, MN in 1949. Eero also designed a church (North Christian Church in Columbus, IN in 1964, where this picture was taken) as well as two chapels: one at MIT in Cambridge, MA in 1955 and the other our own Kramer Chapel at Concordia Senior College (now CTSFW) in 1958.
‍‍‍‍‍‍ ‍‍
The two chapels by Eero are notable for their simplicity of design. The chapel at MIT is in the shape of a cylinder, giving us architecturally the circle and theologically eternity. The chapel at CTSFW is architecturally a triangle and theologically symbolizes the Trinity.
‍‍‍‍‍‍ ‍‍
Art, design, and creativity continues to run in the family. Eric Saarinen is a cinematographer and film director. He is the director of photography and co-producer of the award-winning documentary, "Eero Saarinen: The Architect Who Saw the Future." Released this past December in the PBS American Masters series, the documentary explores the life and visionary work of Finnish-American modernist architectural giant Eero Saarinen. Now Eric is working on a documentary project that explores the work of his grandfather, Eliel Saarinen.
‍‍‍‍‍‍ ‍‍
Susan Saarinen is an artist, designer, and artisan comfortable working in many different media. She holds degrees in Fine Arts (weaving and ceramics) and Landscape Architecture. Her firm, Saarinen Landscape Architecture, concentrates on environmentally appropriate projects. She is presently writing her memoirs.‍‍‍‍‍‍ ‍‍
---
(With thanks to Professor Roethemeyer for writing today's post.)