With the students on break we have no convocation today, so instead will highlight the topic from last week: "Visiting the Imprisoned: Making the Case for Jail Ministry." You may be familiar with the work of our presenters already; they were featured in a "Lutherans Engage" article and video, which you can read and watch here: https://engage.lcms.org/jail-ministry-fall-2018/.
The presentation began with Deaconess Carole Terkula, called as a deaconess to St. John Lutheran Church in Columbia City, Indiana, while her husband finishes his fourth year at the Seminary. One of the congregation's outreach programs is their ministry to the inmates at the local jail.
Deaconess Terkula began with the Biblical foundation of jail ministry. She quoted first Matthew 25:36 and 40 ("'I was naked and you clothed me, I was sick and you visited me, I was in prison and you came to me'…and the King will answer them, 'Truly, I say to you, as you did it to one of the least of these my brothers, you did it to me'") then 1 Timothy 2:3-4: "This is good, and it is pleasing in the sight of God our Savior, who desires all people to be saved and to come to the knowledge of the truth."
"Many [of the inmates] have never heard the pure Gospel," she explained, adding that others in jail had fallen away from the church years before. "They need to be reminded of who they are in Christ—of their Christian identity." And for all that St. John's is active in jail ministry, it takes only three to four hours out of their week to go to the jail and minister to inmates in the form of Bible studies. "We it do it out of love for Christ, overflowing to our brothers and sisters."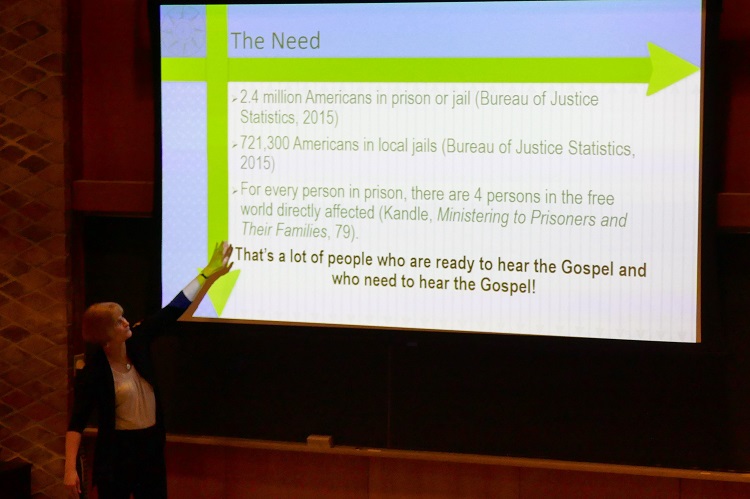 Sharing the Gospel is a particularly easy thing to do in jails and prisons, where there's no hiding from the law—an inmate knows that he or she is a captive, bound by their sins. By drawing people to repentance and God's forgiveness in Christ, jail ministry can also help stop the revolving door of release and incarceration, benefiting not only the individuals but their families and community.
The individual successes, when they do happen, are incredibly triumphant. "Don't get hung up on numbers," Deaconess Terkula advised. "We're dealing with people. [The numbers] may be discouraging from a human perspective, but we have done what God has asked us to do." Her presentation finished on Isaiah 55:11: "So shall my word be that goes out from my mouth; it shall not return to me empty, but it shall accomplish that which I purpose, and shall succeed in the thing for which I sent it."
Rev. David Mommens, pastor at St. John Lutheran Church, next covered some of the practicalities of prison ministry and what to expect. Prison/jail ministry is not a popular program across churches (in Indiana, only 6 out of 236 congregations have outreach to jails or prisons), many citing a lack of volunteers, training, finances, no knowledge of where to start, already busy with other ministries, or see no need for it (because their own parishioners are not in jail), and he hoped to remove some of the anxiety and reluctance by explaining St. John's experiences.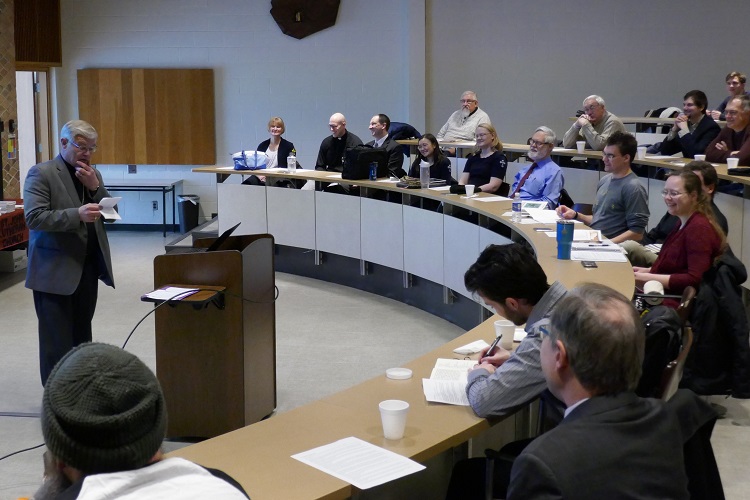 First, he explained the difference between jail and prison. A prison houses those who have committed felonies, the inmates often hardened criminals. Jails are for the less serious offenses, like DUIs and petty theft. "These are pretty much ordinary folks," he explained. In small communities you often know the inmates personally; maybe you went to school with them, or know their parents from local events. Violent flare-ups are incredibly rare. In all the years he's been going to the jail, he's only seen some posturing between two inmates that got shut down by the guards in about 15 seconds.
Next: "Get to know the Sheriff." He is the man who knows all the regulations, rules, and holds ultimate accountability, so he will need to understand your intentions and the details of your ministry. Some of the rules you can expect: don't take anything in or out (including information, like notes), remove all staples from materials, no hardbound books. After a background check (which is looking for felonies and violent crimes; they don't care about your traffic ticket) you receive a badge.
Some of his other suggestions: if you bring (softbound and approved by the jail) Bibles, sign them and put their names inside so that it becomes personal property that an inmate can take with them when they leave. "By the time they get out," Rev. Mommens noted, "[the Bibles] are well used." They enjoy the explanations, the printed maps, and all the information provided within.
He has also found that a Bible study that starts out with only three or four attendees usually ends with every seat filled and guys standing along the walls to listen. Many of these studies end up being about Baptism, because of its strong Gospel assurance for those in jail. While some inmates ask to be baptized just because they know it will  make them look good, Rev. Mommens has found that it is an excellent opportunity to get into the meat of the Gospel. Why do you want Baptism? Do you understand the promises attached to it? Over 30 baptisms have resulted from St. John's prison ministry.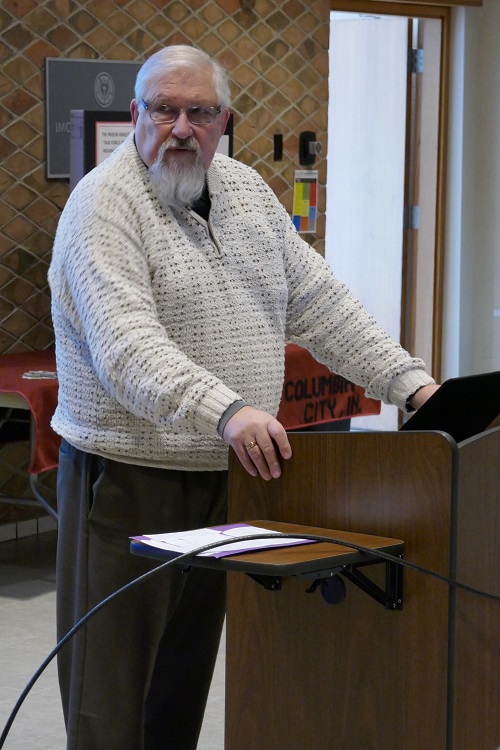 The next to speak was Rev. Geoff Robinson, Executive Director of Outreach and Human Care in the LCMS Indiana District. His experience in this type of ministry was to those in prison, rather than jail. "You literally have a captive audience," he said, "very open to hearing the Gospel."
Rev. Robinson didn't serve the prisoners as a chaplain but as a teacher, teaching science to his incarcerated students at both minimum and medium security facilities. While he was not allowed to bring up religion himself, the rule stood that if a prisoner asked him anything about religion, he could answer. As such, Rev. Robinson wore his collar to every visit (uniforms are a major part of the prison world, and his collar was immediately recognizable as the uniform of a pastor), which was a great way to encourage prisoners to come to him with religious questions—which they did, and often.
"It's rewarding work," he said. It's also difficult. "They'll challenge you with lies. Answer with the truth. Every prisoner has a story. They always tell you they're the victim. Try to get them beyond that and teach true repentance." He smiled. "I didn't allow them to take advantage of me either.
"I was never afraid," he added, though the first time that door locks behind you is "eerie," he admitted. He didn't go anywhere without an escort and always followed the rules, even if they didn't make sense to him. That, and he respected the chain of command. "Don't argue with the Warden."
The presentation ended with the perspective from three students, involved with the prison ministry at St. John's as a part of their fieldwork experience. "[Inmates] hear God's Word and it does its work. They're sinners and they know it," Rob Schrader, Sem II, explained to the room. "Some I have seen brought to tears because of the grace of God. You can see God and the Holy Spirit working in these people. You can see it on their faces that they're being changed. We don't often see that in people."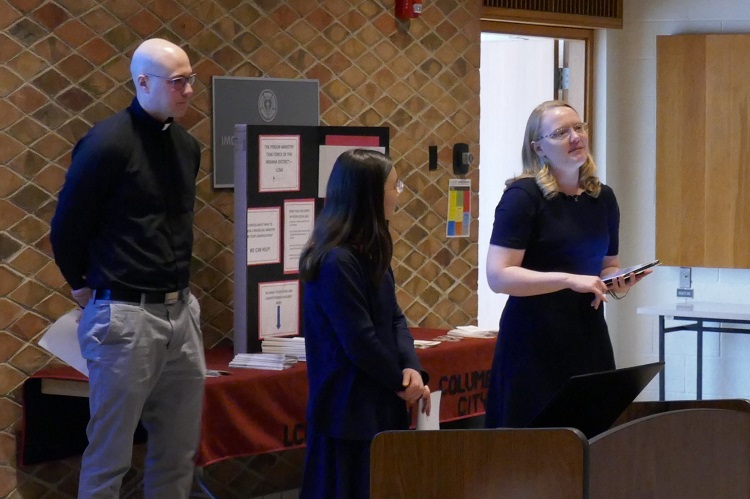 Second-year deaconess student, Kate Phillips, added that when she first heard about prison/jail ministry during a Prayerfully Consider Visit (before she was a student here), she immediately thought, "That's not for me." But then she discovered that jail ministry was really just leading and teaching Bible Study. "Oh!" she said she realized. "I can do that." She added that it was a blessing to herself as well. In teaching the Bible to inmates—many of whom have never or rarely heard much theology, particularly based in Law and Gospel—she had to get back to basics. "I had to define the big words we throw around.
Second-year deaconess student, Mika Patron, finished off the presentation with a simple directive, and a powerful truth: "Hear their stories," she said. "It's a great honor to bring the light of Christ into the darkness and loneliness of a jail cell; the light that cannot be overcome."