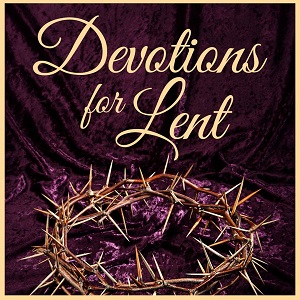 Thou hast suffered great affliction
And hast borne it patiently,
Even death by crucifixion,
Fully to atone for me;
Thou didst choose to be tormented
That my doom should be prevented.
Thousand, thousand thanks shall be,
Dearest Jesus, unto Thee.
LSB 420 st. 6
"And being found in human form, he humbled himself by becoming obedient to the point of death, even death on a cross."
Philippians 2:8
The hymn writer Ernst Homburg used a strange word in today's stanza: "Doom." He used the word "doom" to describe the end of our lives, saying, "That my doom should be prevented." We usually use "doom" to mean "destruction," "downfall," or "ruin." And in a sense that's right. Homburg describes what happens to us because of our sinful condition. But "doom" also means "judgement" or "placement." Because of our sinful condition, the place we all must go to is the grave.
This stanza of the Lenten hymn invites us to think about how our Lord Jesus came "for us men and for our salvation." Jesus humbled Himself and became a servant unto death (Phil. 2:8). What does it mean that He was a servant? A servant is someone who provides for a need or a want. But Jesus does much more than that. In His service for us, Jesus has brought us out of death and into life. It means that He endured all the punishment we deserved, not only pain, agony, and death, but the wrath of God against our sin. He suffered all of the torments that should be ours. He took our sin upon Himself, and bore its full weight even unto death. On the cross, His precious blood was poured out as a pure sacrifice (Eph. 5:2), to give us life in place of death.
Let us pray: Lord God, heavenly Father, You sent Your only Son to take on our flesh and serve us in His death on the cross and resurrection from the tomb. Have mercy on us and look not upon our disobedience but look upon Your Son who was obedient for our sake, even unto death. Through Jesus Christ, our Lord. Amen.
(Chris Durham, Sem. II)