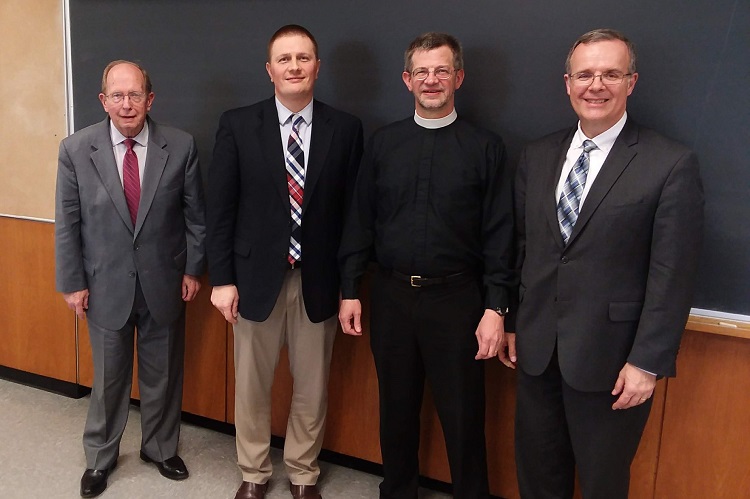 Recently, Doctor of Ministry (DMin) candidate Rev. Philip Huebner successfully defended his dissertation "What to Do with Children in Church? A Study on Helping Parents Engage Their Children in Worship." A campus pastor at Wisconsin Lutheran High School in Milwaukee, Rev. Huebner has both interest and experience in the subject. He briefly summarized his dissertation in this way:
"In the 21st century where families are breaking down and culture is consuming parents and their children, many are struggling with what to do with children in church. Pragmatic Westerners have tried many different solutions: reserved pews for families, children's bulletins, children's sermons, children's church, or even Sunday school offered during the Divine Service. However, many of these attempted solutions are lacking for various reasons.
"Looking to Scripture, we see that God wants all his people to worship him, and that Jesus graciously invites all to come to him who are weary and burdened to find rest. We also see that it was the regular practice of parents living by faith to train their children and bring them to worship. Throughout the history of the Church, God's people continued the practice of bringing their children to worship and even incorporating them in many ways as lectors, in children's choirs, and more.
"Luther brought many great insights to the broad topic of families, children, and children in worship. He believed that an essential key was a partnership between the home, the church, and the school. His catechisms, catechetical sermons, hymns written for children, and more served to unify that unique partnership.
"This thesis built off the Scriptural prescriptions and descriptions, as well as historical precedent, to further the thoughts of Luther and others. It is the best practice for parents to bring their children to worship and for children to learn through guided participation alongside their parents. What is more, the church and school have wonderful opportunities to partner with the home to train parents to be better Christian parents and Christians who understand worship. And finally, the church and the school have wonderful opportunities to train children how to understand and participate in worship. With God's blessing, such endeavors lead to a unified body of Christ gathered together to receive his gifts regularly in the divine service."
---
Thank you again to Rev. Huebner for providing the summary of his dissertation. Congratulations on your successful DMin defense! This picture was taken on the day of, and he can be spotted second to the left, standing between Prof. James Tiefel (far left) and advisor Rev. Dr. Richard Stuckwisch (on the right), with Dr. Grime on the farthest right.
To learn more about the Doctor of Ministry Program at CTSFW, go to www.ctsfw.edu/DMin.