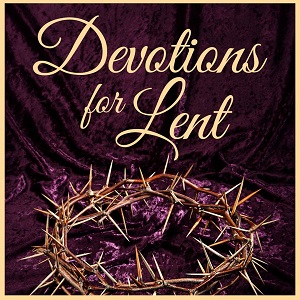 Grant that I Your passion view
With repentant grieving.
Let me not bring shame to You
By unholy living.
How could I refuse to shun
Ev'ry sinful pleasure
Since for me God's only Son
Suffered without measure?
LSB 440 st. 4
"But put on the Lord Jesus Christ, and make no provision for the flesh, to gratify its desires."
Romans 13:14
Picture this: Jesus on the cross because of us. We realize, especially in this time of Lent, that we are sinners. We may not want to sin and even pray against it, but we fail every day. We give into living for the flesh and the desires of this world. We look at Christ's journey to the cross, His passion, and we grieve with repentance. Why? Because it is our sin that Jesus bears and is the reason He must suffer and die. That's right, it's our fault. Lent is a time to reflect on this image of our guilt and why Jesus had to die.
That is not the only picture we are to see though! We also see the tremendous love and mercy of God who sent His Son to die for us. He bore what we could not and defeated death, sin, and this world for us! Even in this time of remembering our guilt and repentance, we look towards this hope in His death and resurrection where He proclaims the victory for us. We confess our sins and abundantly receive forgiveness though we do not deserve it. In our baptisms, Jesus Christ is put on us and we are given the promise of eternal life with Him. God no longer sees us in the image of our sin, but in Christ's image who has covered us with His precious and holy blood.
Let us pray: Merciful Father, You sent Your only Son to bear our sins on the cross, even though we were undeserving. We thank You for Your abundant gift of forgiveness and the promises given in our baptisms; through Jesus Christ, our Lord. Amen.
(Anna Miels, Deaconess Student)