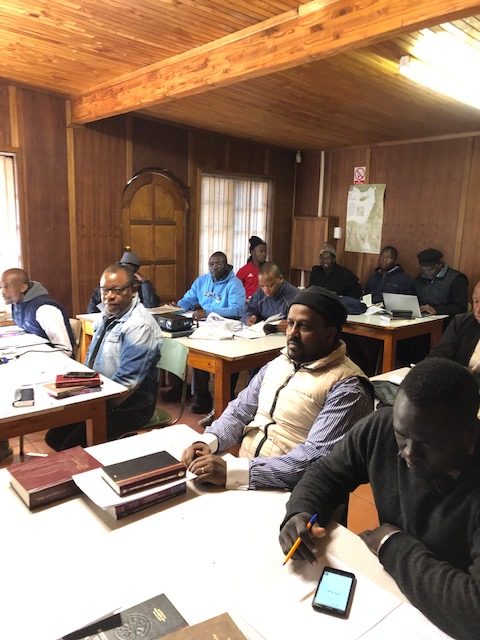 Earlier in the summer, Prof. John Pless (Assistant Professor of Pastoral Ministry and Missions as well as Director of Field Education) was in Tshwane, South Africa, teaching an intensive course at the Lutheran Theological Seminary (LTS). From July 28–August 9 he taught a class of 25 students, finishing out a five course series based on the five volumes of "Commentary on Luther's Catechisms" by Albrecht Peters. Residential LTS students along with pastors and lay preachers from various South African Lutheran bodies attended the series on how to teach, preach, and provide pastoral care based on each section of the Lutheran Confessions.
He first began teaching this advanced catechetics series in February and March of 2017. "I appreciate the continuity I have with these students," Prof. Pless wrote in a report following the final class. "It is especially heartening to have a solid core group of pastors and lay preachers who return for each offering."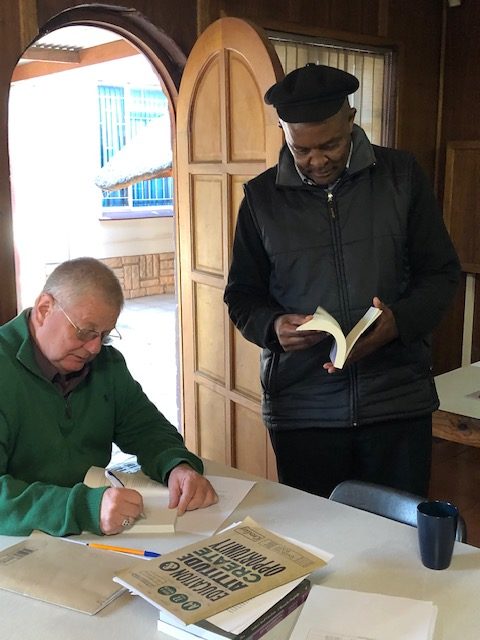 For three hours each morning, Prof. Pless covered the fifth volume of Peters' commentary, teaching about Confession and Absolution as well as the daily prayers and the table of duties in the Small Catechism. He used his newest book, "Luther's Small Catechism: A Manual for Discipleship," as a supplement. Donors from the United States provided both books for the students.
In addition to teaching, preaching in chapel, and visiting colleagues and local pastors, Prof Pless noted a particular undertaking nearing completion at LTS. "Certainly a highlight of this trip was to watch the daily progress being made on the library expansion and renovation, a project supported by the St. Philip Lutheran Mission Society." The St. Philip Lutheran Mission Society is made up of CTSFW alumni, who first visited LTS in the spring of 2008 as students. Now pastors, they raise financial aid for the institute to support the promotion of confessional Lutheran theological education in Africa through LTS.
"It is such a blessing to be able to partner with LTS-Tshwane on this project," explained the chairman of the society, Rev. Chris Maronde, associate pastor at St. John in Decatur, Indiana, and doctoral student at CTSFW. "The express mission of the Saint Philip Lutheran Mission Society has been to support the seminary in any way we can, although this is the first capital project we have ever undertaken.
"As Philip didn't travel to Africa but sent the Ethiopian back to his home, so Saint Philip Lutheran Mission Society is made up of pastors (all CTSFW alums) and donors in the United States who support the training of native pastors, who will travel back to their homes all over Africa with the saving proclamation of Christ and Him crucified.
"Our primary method of aid is tuition support, but it has been very satisfying to see a 'brick and mortar' project travel from conception and fundraising to construction. It is also humbling to the board to see this mission society, still very young, be the driving force in the construction of a building thousands of miles away."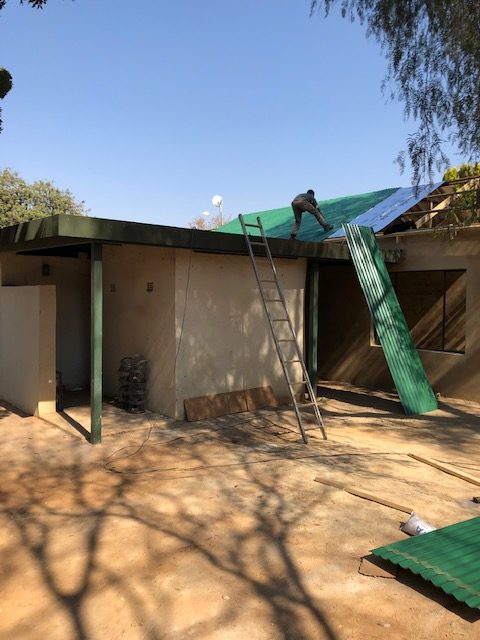 Many challenges delayed the project for several years, but construction finally began in the spring; the dedication is scheduled for September 7, two days from now. The expansion of the facility had been overdue for many years, and will more than double the space for holdings, allowing many books to be brought out of storage and into student's hands. The previous rector of the seminary, Dr. Weber, asked the society to take on the project, and the current rector, Dr. Winterle, saw it through to construction. "We enlisted the help of many in the United States," Rev. Maronde went on, "particularly by partnering with the Rocky Mountain District of the LCMS (who is providing funding to equip the building with necessary amenities), and a grant from a Lutheran organization in Texas. Without our own donors and these other organizations, this library would not be under construction."
Prof. Pless plans to return to LTS in March of 2020 to teach "The Psalms in Pastoral Theology," followed by another Confessions course in August. "I am grateful to the congregations and individuals whose gifts have enabled me to travel to South Africa and bring books for our students," he noted in his report. "As long as we can find funding for these trips, I am willing and eager to come to South Africa twice a year."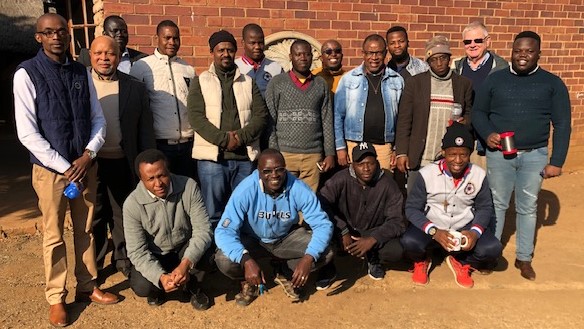 ---
You can learn more about the St. Philip Mission Society at www.splms.org. To learn more about the seminary in Tshwane, go to www.lts.ac.za.