Our Advancement Office wishes you greeting on this, the second day of the 174th academic year at CTSFW, and wanted to pass on an opportunity to serve our future pastors and deaconesses through your financial gifts. For those of you who receive our mailings, this year's back-to-school appeal was printed on diamond-shaped cards, in honor of the Concordia bricks that make up much of the architecture of campus. You can read a bit about the symbolic significance of the bricks by clicking the picture below.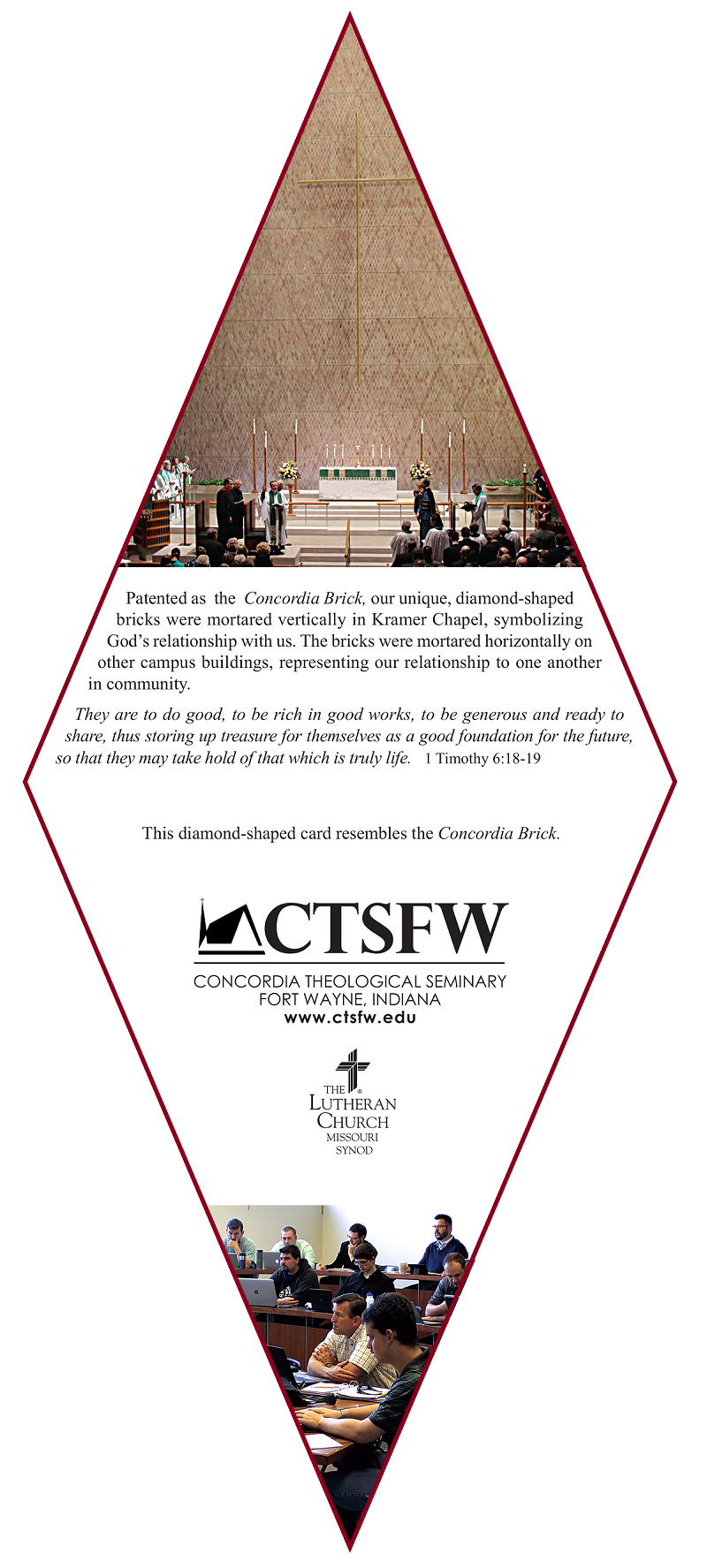 As King David neared the end of his life, responsibility for the brick-and-mortar work of building God's house passed to his son, Solomon. We read in 1 Chronicles 29 that God's people responded generously to support this work with their offerings. Together they built God's house!
Then the people rejoiced because they had given willingly, for with a whole heart they had offered freely to the Lord. David the king also rejoiced greatly.
1 Chronicles 29:29
Today, the work of servant formation at CTSFW continues for the next generation. This work is firmly rooted in our mission statement: Concordia Theological Seminary exists to form servants in Jesus Christ who teach the faithful, reach the lost, and care for all.
As we open our 174th academic year, we ask for your prayers and for your gifts in support of the brick-and-mortar work of building current students to become future servants.
Your gifts are needed in two area. Please consider a gift to:
The Fund for CTSFW: Your gifts help our students by providing resources for the day-to-day operations of the Seminary as well as meeting the 100% Tuition Grant. This is the area of greatest need.
Tuition Aid: Your gifts specifically provide for the 100% Tuition Grant, now in its second year, for our residential seminarians and deaconess students.
To make a donation, go to www.ctsfw.edu/make-a-gift. The form is automatically set to designate any gifts to the "Fund for CTSFW," though you can choose "General Student Aid" (for the tuition grant) in the drop-down menu next to "Designation."
As future servants start a new year of formation at CTSFW, please join us in assisting them as they begin or resume their studies and preparation. We welcome your prayers and financial support. Together we will provide workers to proclaim the Gospel of Jesus Christ and care for God's people for future generations!