Happy New Year! Though it is the very start of a secular new year, we are already a month into the new Church Year. Our celebration today is centered on the Circumcision and Name of Jesus. First, the history and significance of circumcision, according to Scripture:
When Abram was ninety-nine years old the Lord appeared to Abram and said to him, "I am God Almighty; walk before me, and be blameless, that I may make my covenant between me and you, and may multiply you greatly." Then Abram fell on his face. And God said to him, "Behold, my covenant is with you, and you shall be the father of a multitude of nations. No longer shall your name be called Abram, but your name shall be Abraham, for I have made you the father of a multitude of nations. I will make you exceedingly fruitful, and I will make you into nations, and kings shall come from you. And I will establish my covenant between me and you and your offspring after you throughout their generations for an everlasting covenant, to be God to you and to your offspring after you. And I will give to you and to your offspring after you the land of your sojournings, all the land of Canaan, for an everlasting possession, and I will be their God."
And God said to Abraham, "As for you, you shall keep my covenant, you and your offspring after you throughout their generations. This is my covenant, which you shall keep, between me and you and your offspring after you: Every male among you shall be circumcised. You shall be circumcised in the flesh of your foreskins, and it shall be a sign of the covenant between me and you. He who is eight days old among you shall be circumcised. Every male throughout your generations, whether born in your house or bought with your money from any foreigner who is not of your offspring, both he who is born in your house and he who is bought with your money, shall surely be circumcised. So shall my covenant be in your flesh an everlasting covenant. Any uncircumcised male who is not circumcised in the flesh of his foreskin shall be cut off from his people; he has broken my covenant."
Genesis 17:1-14
To give a human example, brothers: even with a man-made covenant, no one annuls it or adds to it once it has been ratified. Now the promises were made to Abraham and to his offspring. It does not say, "And to offsprings," referring to many, but referring to one, "And to your offspring," who is Christ. This is what I mean: the law, which came 430 years afterward, does not annul a covenant previously ratified by God, so as to make the promise void. For if the inheritance comes by the law, it no longer comes by promise; but God gave it to Abraham by a promise.
Why then the law? It was added because of transgressions, until the offspring should come to whom the promise had been made, and it was put in place through angels by an intermediary. Now an intermediary implies more than one, but God is one.
Is the law then contrary to the promises of God? Certainly not! For if a law had been given that could give life, then righteousness would indeed be by the law. But the Scripture imprisoned everything under sin, so that the promise by faith in Jesus Christ might be given to those who believe.
Now before faith came, we were held captive under the law, imprisoned until the coming faith would be revealed. So then, the law was our guardian until Christ came, in order that we might be justified by faith. But now that faith has come, we are no longer under a guardian, for in Christ Jesus you are all sons of God, through faith. For as many of you as were baptized into Christ have put on Christ. There is neither Jew nor Greek, there is neither slave nor free, there is no male and female, for you are all one in Christ Jesus. And if you are Christ's, then you are Abraham's offspring, heirs according to promise.
Galatians 3:15-29
And at the end of eight days, when he was circumcised, he was called Jesus, the name given by the angel before he was conceived in the womb.
Luke 2:21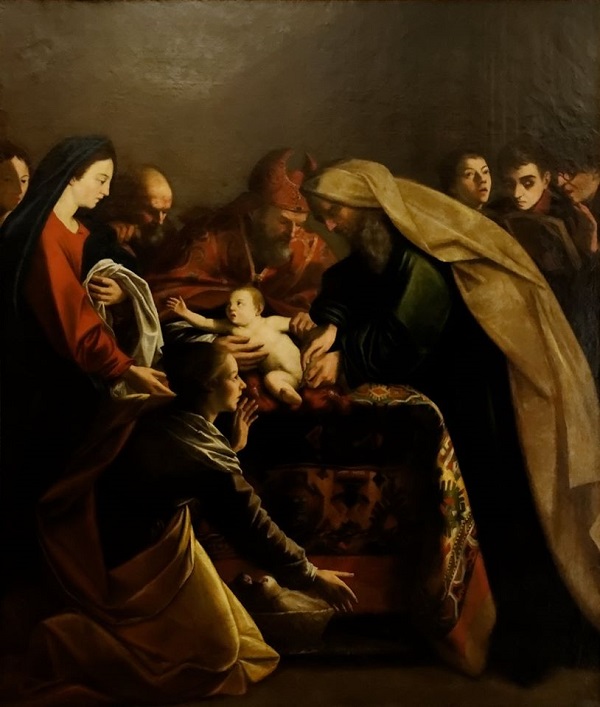 So now second, regarding the name of Jesus:
O Lord, our Lord,
how majestic is your name in all the earth!
You have set your glory above the heavens.
Out of the mouth of babies and infants,
you have established strength because of your foes,
to still the enemy and the avenger.
When I look at your heavens, the work of your fingers,
the moon and the stars, which you have set in place,
what is man that you are mindful of him,
and the son of man that you care for him?
Yet you have made him a little lower than the heavenly beings
and crowned him with glory and honor.
You have given him dominion over the works of your hands;
you have put all things under his feet,
all sheep and oxen,
and also the beasts of the field,
the birds of the heavens, and the fish of the sea,
whatever passes along the paths of the seas.
O Lord, our Lord,
how majestic is your name in all the earth!
Psalm 8
The Lord spoke to Moses, saying, "Speak to Aaron and his sons, saying, Thus you shall bless the people of Israel: you shall say to them,
The Lord bless you and keep you;
the Lord make his face to shine upon you and be gracious to you;
the Lord lift up his countenance upon you and give you peace.
"So shall they put my name upon the people of Israel, and I will bless them."
Numbers 6:22-27
She will bear a son, and you shall call his name Jesus, for he will save his people from their sins…
Then Jesus came from Galilee to the Jordan to John, to be baptized by him. John would have prevented him, saying, "I need to be baptized by you, and do you come to me?" But Jesus answered him, "Let it be so now, for thus it is fitting for us to fulfill all righteousness." Then he consented. And when Jesus was baptized, immediately he went up from the water, and behold, the heavens were opened to him, and he saw the Spirit of God descending like a dove and coming to rest on him; and behold, a voice from heaven said, "This is my beloved Son, with whom I am well pleased."
Matthew 1:21, 3:13-17
And when they had set them in the midst, they inquired, "By what power or by what name did you do this?" Then Peter, filled with the Holy Spirit, said to them, "Rulers of the people and elders, if we are being examined today concerning a good deed done to a crippled man, by what means this man has been healed, let it be known to all of you and to all the people of Israel that by the name of Jesus Christ of Nazareth, whom you crucified, whom God raised from the dead—by him this man is standing before you well. This Jesus is the stone that was rejected by you, the builders, which has become the cornerstone. And there is salvation in no one else, for there is no other name under heaven given among men by which we must be saved."
Acts 4:7-12
Then the angel showed me the river of the water of life, bright as crystal, flowing from the throne of God and of the Lamb through the middle of the street of the city; also, on either side of the river, the tree of life with its twelve kinds of fruit, yielding its fruit each month. The leaves of the tree were for the healing of the nations. No longer will there be anything accursed, but the throne of God and of the Lamb will be in it, and his servants will worship him. They will see his face, and his name will be on their foreheads. And night will be no more. They will need no light of lamp or sun, for the Lord God will be their light, and they will reign forever and ever.
Revelation 22:1-5