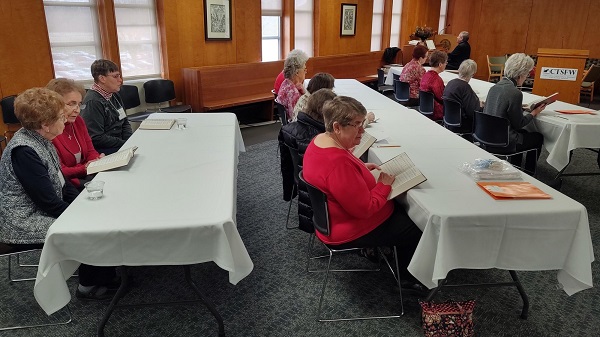 The Seminary Guild always breaks for January, but now that we're into February and it's the second Tuesday of the month, they're back in business. Business this month is represented by the project-covered table in Luther Hall. Upcoming projects include: a $2,500 project goal to purchase a water bottle filling station (as requested by the students), a box for birthday skillet cookies, samples of handmade CTSFW t-shirts for the newborn babies, and a signup sheet for snacks during finals week. "We need 5 ladies to provide 50-60 servings each per day (Examples, cookies, brownies, Rice Krispies treats, fresh fruit & individually wrapped snacks of any kind — chips, candy, granola bars, etc.)," a handwritten note in the left-hand margin politely explains.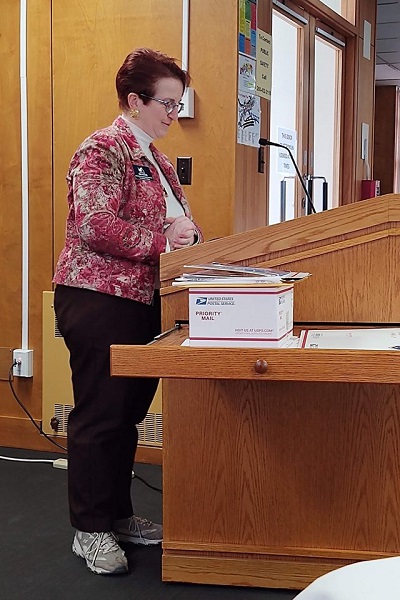 Today, the Guild invited Kim Hosier, Printing and Postal Services Manager, to speak on her vocation here at CTSFW. Kim has served at CTSFW since May of 1992; in a few short months she'll have been here for 28 years. She started as bookstore secretary before moving to editorial assistant of Concordia Theological Quarterly and secretary for Distance Education, then became manager of Printing and Postal Services in 2004. She orders office supplies for staff on campus, prints CTSFW letters, flyers, and brochures, supervises four student workers in the mailroom, sends international packages (she's the go-to for navigating the specialized forms and rules involved in international shipping), and creates weekly and monthly reports, to name a few duties. If you've ever worshiped in Kramer Chapel then you've seen her work: she prints the chapel and Kantorei bulletins we use in services. "Believe it or not, but my degree in college was theater," she laughed.
Much of her talk today focused on specifics of mailing (rather than her printing duties), as she felt that would be most useful to the ladies of the Seminary Guild. She went over prices, package sizes, and, with 15 years of experience in the mailing room, helpful suggestions on the least expensive way to send mail depending on destination, size, weight, etc. She had a lot of tips on international shipping, as our Seminary has a lot of connections overseas.
She also shared a little known fact: that anyone is welcome to use our mailing services. Kim is not a US postal worker as she is employed by the Seminary, but as she operates a recognized mailroom she is able to offer nearly all the same services as a regular post office, except for registered mail service (used when sending high value items like stocks and bonds, jewelry, etc.). The CTSFW mailroom is located down the hall from the bookstore. Hours:
When classes are in session: 8:30a.m.–4:30p.m. M-F
During quarter breaks and summers: 8:30–11:30a.m., 12:30–3:30p.m. M-F
She is also an excellent resource. The mailroom can be reached at (260) 452-2221. You can also ask her about printing services and fees; we tend to be much more affordable than the usual places around town.
"This is truly a blessed place to work," she said. "I couldn't ask for a better place to work. It's wonderful working with the students and the staff and the faculty and it's just really been a blessing. [This job] is nothing I would have expected or planned for myself."
To learn more about the Seminary Guild and how to become involved in their works, go to www.ctsfw.edu/SemGuild. They can also be reached at [email protected] or (260) 485-0209.