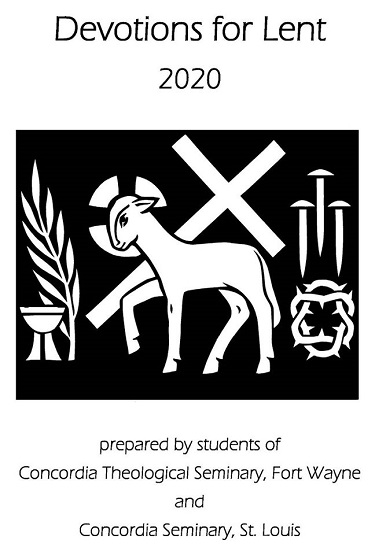 Reading: 1 Peter 1:22–25
Does today's reading remind you of something Jesus said? "Love one another earnestly from a pure heart, since you have been born again" (1 Peter 1:22-23). It's reminiscent of what Jesus tells the disciples on Maundy Thursday: "Just as I have loved you, you also are to love one another. By this all people will know that you are my disciples, if you have love for one another" (John 13:34–35). At the time, Jesus' disciples did not fully understand what he meant. How could they love one another as He had loved them?
Here Peter tells us that we are able to love one another because Jesus loved us so much that, through His death and resurrection, He brought us to new, imperishable life. We have that life through faith in the promises of His likewise imperishable Word. Freed from bondage to sin, we, who are brothers and sisters in Christ, can love one another "earnestly and from a pure heart," serving one another with our good works—even dying for each other. Through faith in Jesus' saving work and Word (the "Good News!"), we can truly love one another, just as He commanded us to do.
Prayer
Dear Jesus Christ, You have saved us from bondage to sin and have made us all brothers and sisters in You by faith. Help us to serve one another gladly with a pure heart and a cheerful spirit, and help us to put away selfish desires; rather, help us to put our neighbors first because You put us first when You died and rose for our salvation. Help us to always love others because You have loved us; through Jesus Christ, our Lord. Amen.
Hymn
As You, Lord, have lived for others,
So may we for others live.
Freely have Your gifts been granted;
Freely may Your servants give.
Yours the gold and Yours the silver,
Yours the wealth of land and sea;
We but stewards of your bounty
Held in solemn trust will be. (LSB 842:2)
Nils Niemeier (Sem IV, CSL)