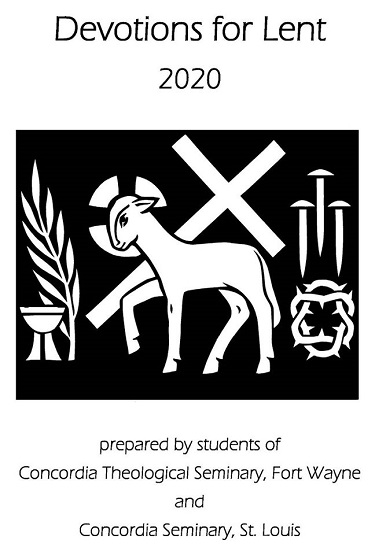 Reading: 2 Peter 3:14–18
"Be diligent to be found by him without spot or blemish" (v. 14). But how can this be? How are we to be found without spot or blemish? Christians are to make every effort to conform to the character of Christ. However, these efforts certainly do not gain salvation. Our salvation has been won by the Lamb who was truly without spot or blemish. Let us give thanks for this spotless Lamb!
Thank God for His patience. He would be right in judging the whole world now. But He waits; He is patient. He allows more time for others to come to recognize the salvation that has already been won on the cross.
Peter exhorts his hearers to not be influenced by lawless people and to not lose their solid foundation. Indeed, that solid foundation is none other than Jesus Christ. Instead, Peter urges them to "grow in the grace and knowledge of our Lord and Savior Jesus Christ" (v. 18). This Lenten season, may we grow to appreciate all that He has done for us. May we fall to our knees and thank Him for having suffered on the cursed tree for our sakes.
Prayer
Almighty and merciful God, we thank You for sending the spotless Lamb for our sake. Help us to conform to Christ. Thank You for being forbearing and allowing others to come to salvation. Open our eyes to Your grace that we may grow to realize and be thankful for the cross for our salvation; through Jesus Christ, our Lord. Amen.
Hymn
For me You gave all Your love,
For me You suffered pain;
I find no words, nothing can
Your selflessness explain.
What kind of love is this? What kind of love is this?
You showed Your love, Jesus, there
To me on Calvary.
What kind of love is this? What kind of love is this?
You showed Your love, Jesus, there
To me on Calvary. (LSB 542:2)
Aaron Schultz (Sem II, CTSFW)