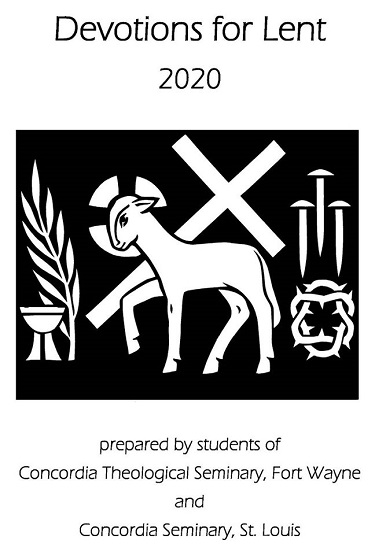 Reading: 1 John 4:1–6
Here we are, Tuesday of Holy Week. This week is the high point of the whole church year. The liturgical calendar is truly a gift to the Church. Our Lutheran Confessions are also a gift to the Church. They constitute our confession of faith because they are true to Holy Scripture. They confess Jesus as Lord. Thus, they are from God. All proclaimed truth is from God, because it points to Jesus, our Lord and Savior.
This passage is a great reminder to test what we hear. It is also a great reminder to be thankful for the Spirit working in our lives through faithful men and women. Call your old pastor and thank him for preaching the Word. Email your Sunday School teacher and thank him or her for instructing you in truth. Video chat with your parents and thank them for raising you in the faith. Most of all, praise God for sending the Spirit of truth to these people who shared the truth with you.
Prayer
Heavenly Father, the Spirit of truth and the spirit of error are both at work in this world. Enlighten us with the Holy Spirit that we might confess Jesus as Lord; through Jesus Christ, our Lord. Amen.
Hymn
Holy Spirit, light divine,
Shine upon this heart of mine;
Chase the shades of night away,
Turn the darkness into day.
Let me see my Savior's face,
Let me all His beauties trace;
Show those glorious truths to me
Which are only known to Thee. (LSB 496:1–2)
Joseph Highley (Sem IV, CSL)