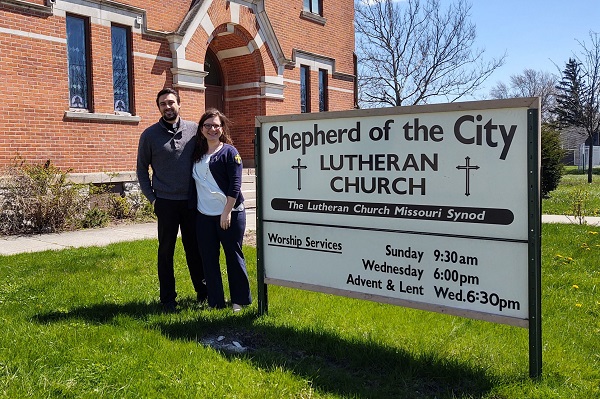 With Call Day coming up in two days and the anticipation of the new calls, vicarage assignments, deaconess interns, and deaconess placements, we decided to sit down with one of our current vicars, who will be finishing up his year of vicarage in June. Before beginning seminary training, Phil Jaseph served as a missionary in Africa where he met his wife Rachel, a Concordia University Chicago-trained deaconess also serving in missions.
They work together in a unique vicarage situation. Shepherd of the City is small, served by vacancy pastor Rev. Dr. Jeffrey Pulse (who also serves at CTSFW as a professor and Placement Director); it's probably one of the closest situations we have to an urban church here in Fort Wayne. Rachel has served as deaconess at the church since they moved to the area, where she focuses much of her time on the church's outreach and community center, The Shepherd's Hand. Phil was a fieldworker at the church for two years before assignment there as vicar. It's an uncommon setup, adapted to suit Shepherd's unique needs.
Vicar Jaseph answered questions about what it is like to be a vicar in this current context. Deaconess Rachel later joined us as she was able, after she finished with a Zoom meeting for her work with the Shepherd's Hand.
---
INTERVIEWER: What is it like to serve as a vicar through the COVID-19 pandemic?
VICAR JASEPH: So, it's fair to say that no one in my class set out expecting this. It's been a very strange year. I was remarking to my wife the other day that I can sort of distinguish between the quarters, the three month groupings. We've had interesting little crises or situations between all of them, except for winter, and then now in the last quarter of my vicarage (because I'm done in the middle of June), it just feels like such a sucker punch.
You're all gamed up to continue doing what you're doing: hey, I'm going to do this Bible Study, I was close to wrapping up teaching 6th grade at St. Paul's, finishing up I think it was the Creed (I can't even remember now), spend the last quarter with 8th grade on what it means to be a Christian in the world. I was looking forward to talking about suffering as in integral part of that. Kind of odd in light of all this.
We're still very busy here—Shepherd of the City is a small congregation, but there's still a lot to do. The time is still being consumed with tasks, but oftentimes now you're doing the work so that you can do the work. We're going to be trying to see about visiting a member who is in an assisted living facility. Whether that's talking to her through her window or having some sort of an intercom/speakerphone thing setup, I'm not sure—but we intend to do that.
We're also not the most technology advanced congregation. That's not to say that we don't know what we're doing, but we've had to adapt very quickly to a recording situation. It's been a good opportunity for Rachel and I to discuss, you know, what are we confessing when we do these things? Is this something that you want to do long term?
And every congregation and every pastor arguably has to ask those questions. Something that's been on everybody's lips lately: what does the recorded service mean for sacramental Christians? There's any number of ways you could go with that and, thankfully, I'm seeing a number of thoughtful, gracious, reasoned responses and pieces discussing individual congregational responses. Then also we should consider them in the wider, maybe more ecumenical Body of Christ and within our specific Lutheran tradition and denomination. Interesting times to be sure.
INTERVIEWER: What else do you mean by "doing the work to do the work"?
VICAR: I think it's fairly common that we fall into a routine in the parish. We have a structure, we have a schedule, you can pretty much jot out your life day-by-day, week-by-week, so that you're making the best use of your time. I got advice from professors in my first two years at Seminary how to schedule my week, in terms of making the best use of your day off, in terms of sermon preparation.
That routine has been fairly turned around or just gotten rid of entirely. The first four days of the week now are wide open. That leaves me room to make more calls and, in a sense, a lot more visits than I was able to before. We get the system set up to do recordings on Saturday mornings so that services would be ready for folks on Sunday morning, as close to regular and normal for them as possible.
But it's really strange, because even though the full extent of a normal Sunday morning often takes longer than what we do now on Saturday morning, Sunday morning in my mind is still easier. I'm there at 8:30, quarter to 9, I'm unlocking the doors, I'm turning on the lights, I'm checking the thermostats, I'm double checking the candles if I haven't filled them already, I'm looking at the elements for communion, checking everything, and just making sure that it's ready. And oftentimes we won't be done with everything—that includes Divine Service, chatting after the service (so fellowship, coffee time, Bible study, Sunday school, talking with people as they're leaving), turning off some of the thermostats and getting the lights—sometimes it would mean I wouldn't be done until 1:30, all said and done, or on the late side 2. So that could be five and a half hours. Now largely what we do is done in two, two and half hours.
But it's strange not having all the faces out there. There's faces that I miss because of the way they respond to things in the liturgy and there are those people I miss because of the feedback they give when I'm preaching. There are certain folks I can depend upon to nod when they're connecting, to make a face when they're thinking, to bow their head as they're reflecting or perhaps feeling convicted. These are the things that you miss. They add life to the space. They comprise the people of God sitting out there in the pews. It's more than just, say, Andrea and Heidi and Sara and all of the people who show up. We are the family of God, gathered there in that place. We are more than ourselves. And that's what we confess with physical gatherings for the Divine Service, and most especially that physical reception of the Sacrament.
It's our intention to not do this forever. We want to get back to celebrating the Eucharist. We want people to be receiving Jesus' Body and Blood. Do their Baptisms keep them at home? Absolutely. Does God's Word do what He says it will do? Absolutely. They have the forgiveness of sins in confessing them. God is still working faith in them, strengthening the faith He has already given them even while they're away.
And so we understand, too, there is still that unity in the Body of Christ despite the fact that we are physically separated and fragmented right now. We're not really disconnected. We're missing one another and we're made to be physical beings in communion, in community, in relationship with one another, but we know that this is temporary. Either that this will end in the short term or even in the long term. One way or another, we will be physically reunited, whether it's this side of heaven or the next.
INTERVIEWER: In light of these times, what are your thoughts on physical presence?
VICAR: As Lutheran Christians we always want to remember that our faith and the certainty of our faith, as Jesus shows us in the Gospel and as we are continuously reminded throughout all of God's Word, God in His mercy gives us tangible things for us to taste, to see, to hear, to experience.
That's not to say that all of a sudden we're existentialists, just about good feels and whatever feelings or vibe you're getting (we hear a lot of that language today), but God has given us the Sacraments for the strengthening of our faith, for assurance in difficult times. We can point to these things outside of ourselves. The culture and society would have us say: better yourself. Discern your own problems. Self-improve. Self-actualize. Develop the self to reach this higher goal or this higher state of being, whatever it is you've diagnosed. Whereas as Lutheran Christians we say it's not about us at all. It's not about us at all because of our great fall into sin.
But God in His mercy has made it about us. He has given of Himself to care for us, to reconcile us to Him because he knows that we forget. And because we are limited, finite creatures, He has given us the certainty of Jesus' Body and Blood, in, with, and under the bread and wine; in the water of Baptism; in hearing the words of the pastor, "You are forgiven, in the stead and by the command." He works through means.
And so we always want to remember that. We view these recorded services as a temporary thing, because it's our goal to have the family of God gathered in one place. To not only preach and teach about the unity within the Body of Christ that Christ has called to Himself and knit together, but actually do that, have that, be that.
You hear a lot right now, people are saying, "The Church is so much more than a building." Yes, it's true. But why can't it be both? This place, this building where we gather—it's not irrelevant. Could we have a service anywhere? Yes, we could. There are a lot of storefront churches out there. And my wife and I, as former missionaries, we've received the Sacrament in mud buildings, in concrete buildings, in storefronts, I mean all over the place.
I myself have gone months without receiving the Sacrament—not by choice—but because there are many Lutheran Christians in the world who are not afforded that privilege. And it is a privilege. And are they still Christians? Absolutely they are. But we understand that God cares for us in many ways. They are not mutually exclusive, rather they are all together, and the important thing we can understand in the middle of all of this is, just because our apple cart has been overturned or upset, God is not neglecting us. We understand, especially in light of Good Friday and the Passion narrative, the important thing about the incarnation was not that Jesus was made incarnate (as the Eastern Orthodox say), He was made man to die for us. That was the purpose of it. That's the heart of it. Jesus knows about suffering. Jesus knows about loneliness and sadness and He took all of that for us.
We want to get back to that physical understanding of who the Body of Christ is, even now while we're calling one another and praying for one another and missing one another. And this is truly a great burden for some of our members now. Not only here but in other places I've seen on the internet. Some people are really hurting, missing being able to spend that time in person, being able to hug, those sorts of physical touch. It's important, it's not irrelevant.
So to wrap all of that up: we hope to get back to doing the Divine Service in person, we want to ask people how they're doing, we want to hear their voices as they sing hymns and as they pray, as they lift songs of praise to God. As they say, "Amen!" to all of the promises of God that they receive in this place in person.
Communion is for people to receive it. We as a congregation have made the decision that we're not going to do it right now. I haven't had it in a few weeks. And that's an individual decision that every parish and every pastor needs to make and we shouldn't look askance at somebody who isn't doing as we do. That's a whole other conversation for another time.
But it is about the people. And the place where the people receive God's gifts is not irrelevant. He's given it to them in this time, in this place, and we understand that God does not disregard time and place, but rather that he broke into time and space in the incarnation, and that He was always interacting with His people in time and in space as He knew that they were there. This is a place and building that He has given us out of His mercy.
How long will we have it? I don't know. But it's where we are right now, and so it does matter. The building does matter, as well as the people who are the body of Christ. We want to make sure we remember that God comes to us through concrete means.
INTERVIEWER: How has the Seminary prepared you for vicarage, or even specifically for this strange time that nobody knew was coming?
VICAR: Number one, no one could prepare anybody for this situation. But that being said, the Seminary has given me all the tools needed, all of the building blocks, all of the resources, all of the comfort and familiarity that I gained from doing fieldwork, from doing visitation, from preaching, from doing Bible Study.
I'm still employing that, I'm just employing it in a different way. Every situation is different. They may have similarities, but every situation is different. So it's simply adapting and trusting that God has given me everything I need to live this day, to take it one day at a time, because He's given it to me—this day and not any other. I will rejoice in it, as we hear in the Psalms. "This is the day that the Lord has made." I sort of think of it as: this one! Not another one, not what you would've liked, but THIS particular one.
And so in doing that He's blessed it and sanctified it for you to live in it and to care for His people in it. So I get up and I just say, "I don't know what's going to happen today, but I'm ready for it." It's led to some surprising interactions and phone calls, but those have been wonderful. Those have been blessings.
At the Seminary I was given a toolbox of skills, of things to keep in mind, of resources to use, and ways to think about things. In my first two years, that toolbox was filled up with every class, with every professor, with many colleagues and fellow students there; they were adding things to my toolbox and I was adding things to theirs. We were learning together. So we were prepared for this time.
None of us expected it, none of us perhaps felt we were prepared—we've all had to adjust our comfort levels a little bit—but because we understand the Church is God's and the people who are in it, and He's given us this day, this time, this place, this circumstance, we understand that it's not outside of His control. We're simply doing our best to find the best ways to make use of the time, for the days are evil.
Or the days may feel evil right now, but we understand that the days are fleeting and there are still people who need to hear the Gospel, both inside of the Church and outside of the Church.
INTERVIEWER: Is there anything else you'd like to say?
VICAR: If it wasn't clear before, I do want to thank the Seminary, cause as I've said: no one could have known, no one could have been prepared, but I feel very well equipped and I feel very well supported here. And I feel the support of the Seminary's administration, staff, and faculty. I've reached out to the Registrar about classes that I'm looking now to register for my last year. Dr. Zieroth [Dean of Students] has been checking in on us, has made himself very available, and said, if there's anything that you need, if stuff gets really weird, please relate it back to me and of course I keep you all in prayers.
I don't think anything could've been done any better. And so we remember that even though no one could have predicted or expected this situation, and even though the Body of Christ is comprised of sinners, that goes for the Seminary too. We all have faults and failings and weaknesses, but God has used all of those folks on the faculty who have taught me, who have mentored me, who have encouraged me, to prepare me for this time. They have equipped me to continue growing, to be a robust person who, God willing, will receive a call as a pastor. They have done their best to prepare me for the situation, not knowing everything that everyone will face.
So I'm grateful that I feel ready. I'm grateful that the world doesn't feel like it's falling down around me, even though we're wondering what's going to happen next. And I owe that to the Seminary.
[Deaconess Rachel had since had the chance to join us.]
INTERVIEWER: So what about for you? What has it been like serving during this time?
DEACONESS RACHEL: Like everybody, we're just trying to adjust, to figure out how to serve the needs of our members and the community that we're trying to reach in a way that is meaningful to the actual needs that they have – physical needs, spiritual needs, all of those – but also being realistic about our capacity to do that. I have all sorts of ideas for the future even aside from COVID-19, all sorts of ideas for things we might do here at Shepherd's Hand and Shepherd of the City in the future, but this time has highlighted the importance of being realistic with what we can and can't do, so that we can zero in on doing a few things really well.
In my mind that has to do with some of the follow up and the spiritual care; doing our best to be a phone but also adjusting to still meeting needs by doing a diaper drive [following the cancellation of the Health Fair], still trying to put resources in people's hands. Not a ton has changed work-wise because I can still work where I want, but in terms of this year, it's been unique getting to work with my husband on his vicarage. It's been great.
INTERVIEWER: You've worked with a number of vicars since you've been here. What is it like serving alongside a vicar who is also your husband?
DEACONESS: The situation at Shepherd is unique in a number of senses. In a lot of places, the vicar and the deaconess wouldn't necessarily be the-during-the-week fulltime people, exclusively. But it's good. Especially now, we can talk about things whenever we want. There's not a defined time where I can or can't bounce ideas off my coworker. It's been good for our marriage, we've learned a lot about each other. We're pulling in the same direction.
I think I overheard a little bit of Phil talking about how he understands, even more deeply, some of the joys and the struggles in the ministry side of things, to a new depth perhaps.
VICAR: We're good complements for one another. We enjoyed working together before but haven't been able to experience it to such a full extent as we have now.
DEACONESS: Our jobs certainly overlap, and Phil supports a lot of things happening at Shepherd's hand. I'm called to the church, but I'm largely here at Shepherd's Hand; there's a lot of crossover. In large part, the crossover is sharing of ideas and stuff.
VICAR: It's an ongoing dialogue. We never really stop it, we just set it down and pick it back up.
DEACONESS: It's good practice learning how to communicate; even, sometimes I need to not talk about that right now and saying that when I need a break, or he needs a break.
VICAR: It's been good for us to remember too that we're public people, as President Rast is always saying. Anytime you put something on the internet, or anytime you put something down in writing, it's not yours anymore, it's whoever sees it, or whoever gets it. But that's been important for our marriage, too, because I always do my best to speak well of her in person, and to support her when she's not there, or to refer people who need her back to her and she does the same for me.
Rachel has already been a deaconess for awhile. Being able to actually live with, be married to a deaconess and actually see her work, shows me the many blessings that can come from the not-always-common marriage of pastor and deaconess. She will be an invaluable resource. She IS a great resource. She catches the people that I don't catch. We both have people who are more comfortable, who more readily speak to one or the other, so we sort of fill each other in on that. Or she's able to catch the people who are sneaking out, who are dodging the receiving line.
DEACONESS: (laughs) I do my best to do that.
VICAR: It's been an encouragement to me, too, to also think about what I'm learning in pastoral theology and theological education and to run it through her filter to and see what some of her considerations are. So you get another perspective. I mean, always affirming, but thinking about it from a different angle.
DEACONESS: How a sermon sounds to a listener sometimes sounds different to how it sounds in your head. So sometimes I give him feedback; I'd do this even if I wasn't a deaconess. Give him feedback, like, what does that word mean?
VICAR: (laughs) "No one's going to know that word, honey," like when a congregation member stopped me after a sermon where I called Nicodemus's supporters a "hoard of toadies." The member says, "WHAT did you say?"
DEACONESS: I should've caught that one for you, hon.
INTERVIEWER: Well, like you said, love covers a multitude of sins.
[Plenty of laughter followed, as did a discussion on communion practices during the pandemic—which is the sort of debate that happens when you put two church workers and a theologically-interested layperson in a room together—then the quickly-seconded suggestion that we hold a potluck on the first Sunday everyone is able to return once the restrictions lift. Finally, we ended on a quick debate on the best place to take a picture at Shepherd of the City. Thank you to both Vicar Phil Jaseph and Deaconess Rachel Jaseph for your time and for your gracious answers to all questions.]