We have been, quite literally, overwhelmed with you generosity! In just the first day and a half of open drop-off at the Clothing Co-op, Spiegel Hall (where free shopping for the students is organized across the many rooms of the former dormitory building) has received items from two trailers and 40 cars. In fact, our Clothing Co-op staff has asked if our donors could please take another break from drop-off for at least another couple of weeks. After that, they hope that donors can then continue to spread out drop-off times over the next couple of months. Because so many donations have come into our doors, these gifts are actually blocking the hallways for our student shoppers as they seek items to serve their families.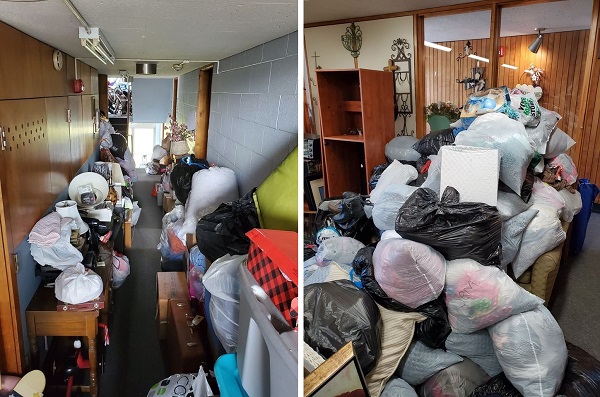 Part of the struggle is that our students haven't been able to shop in the Co-op for months, so the shelves are still abnormally full for this time of year. Students are at last able to shop once more and have begun picking up clothing, furniture, kitchen wares, and other household items, but that number is only just beginning to increase with the start of Summer Greek this Monday. That number will jump again as we get closer to the end of summer and begin to see our second- and fourth-years (plus those first-years who already had their language requirements) return to campus for Opening Service in September.
That said, our Clothing Co-op staff stressed the need to make sure that we were very careful with how we passed on this request: we still continue to depend on your generosity to provide so many good things for our students and their families. They do not want to discourage that flow of love and care; they're simply hoping to spread out the drop-off of items so that they have time to sort and organize.
So please bear with us as life returns to normal over the next couple of months! And please know that we are incredibly thankful for your donations (what a blessing to have such a problem!), and look forward to receiving them over the summer and throughout the school year, as always. We could not care for our future church workers as we do without all of you making it possible.