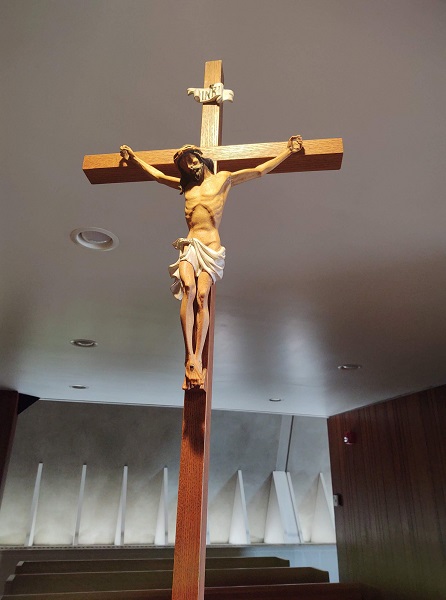 On-campus life continues to open up here at CTSFW, with prudence and caution still playing a major role in all decision-making. All visitors, students, staff, and faculty are required to wear face masks, with exceptions for those teaching a class who need to be heard clearly (so that no one has to try and understand Greek through a mask). Physical distance remains the expected norm and the absentee policy also remains flexible, to allow students, faculty, and staff to make prudent decisions about their health, especially if they are showing any symptoms.
That said, we are also happy to announce these particular changes:
Chapel attendance opened to visitors and families of students on July 6. All attending the morning chapel service are asked to practice social distancing by spreading out in designated seating areas (though families may sit together). Protective face coverings must be worn during the morning chapel service by all, except infants and those leading worship. Weekly Holy Communion will resume on August 5.
Coffee Hour after chapel resumed this morning. We had a line of students, faculty, and staff waiting their turn for coffee, set up outside the Student Commons.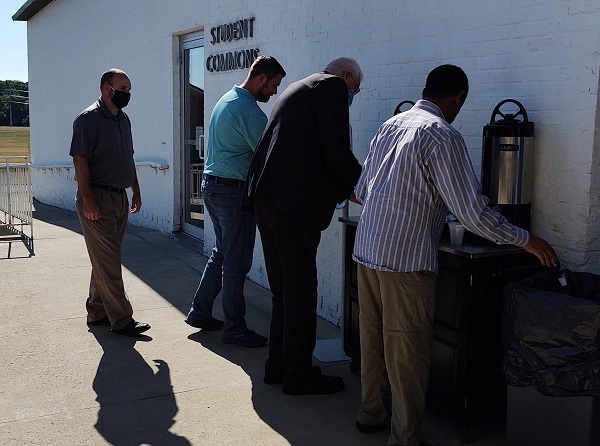 Going forward, it will be held outdoors on the plaza as weather permits, and held in the Student Commons when the weather is inclement. Friday afternoon Gemütlichkeit will resume in September.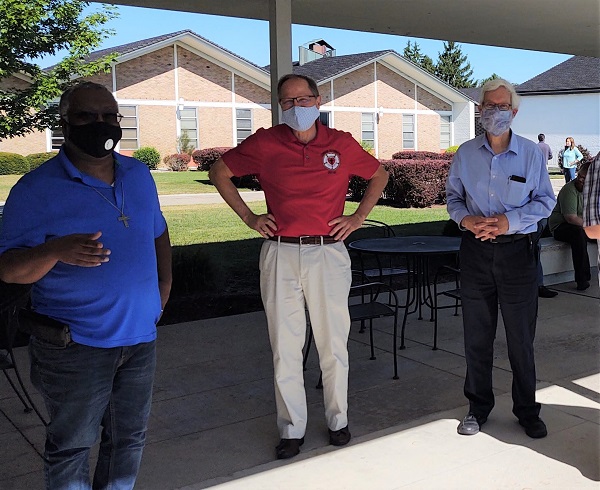 Today was also the beginning of Summer Session III, which means chapel was more full than usual this morning as we welcomed our Graduate Studies and MA in Deaconess Studies students to intensives. The chapel staff marked off the pews with tape to indicate where each individual or family unit should stand, which created something of a checkerboard pattern in the congregational sitting/standing layout.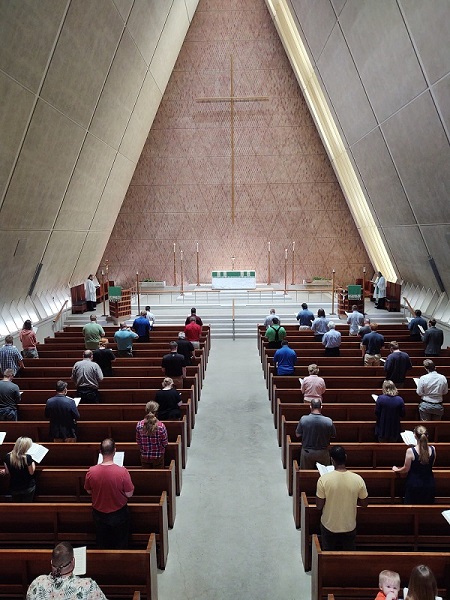 The Dining Hall has opened to visitors and family members of seminary students, staff, and faculty. All who are using the Dining Hall must respect any guidelines that Creative Dining will have in place for meals.
Library services will remain closed to everyone except library staff until September 1. The library staff are available online, during normal work hours, to assist with research needs such as scanning materials or arranging for book pick-up. However, the central area of the campus, including the gym, has also opened this week. Rental of some seminary facilities to the general public has resumed as well.
And, of course, these changes have been implemented with the understanding that circumstances in the weeks ahead may cause immediate changes in our guidelines. We'll keep you informed. God's richest blessings to you this week!