Last Saturday, President Rast received an Honorary Doctorate at Concordia University Chicago and served as commencement speaker. The full transcript of his speech is below: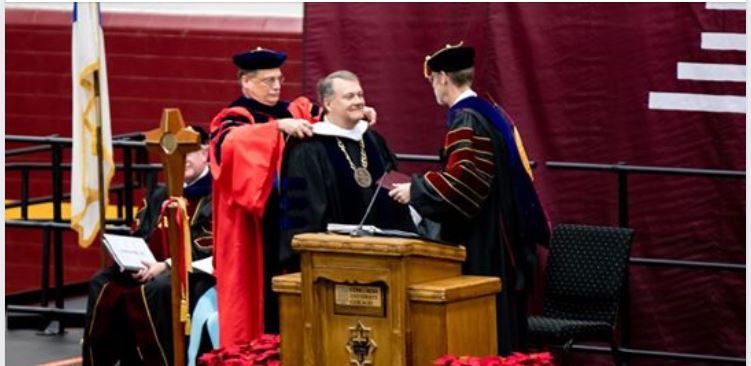 "The Desires of Your Heart"
Commencement Address at
Concordia University Chicago
Lawrence R. Rast Jr.
December 9, 2017
Greetings from the Board of Regents, faculty, staff, and, especially the students of Concordia Theological Seminary in Fort Wayne, Indiana, where I serve as president.
Thank you, President Gard, for the honor and opportunity of speaking to the graduating class of Concordia University, Chicago, this morning. My thanks also to the Board of Regents, faculty, administration, staff, and especially the family and friends who have done so much for the students who will be "walking" today.
But in the end, this morning is really about you, the students of Concordia University Chicago, who are going out equipped "to serve and lead with integrity, creativity, competence and compassion in a diverse, interconnected and increasingly urbanized church and world."
That increasingly urbanized church and world into which you step is one that is quite different from the one I moved into in February of 1986 when I graduated from what was then Concordia College, River Forest. (Yes, I really am that old!) Certainly, there is the perennial problem of pronounced and obvious evil that confronts all of God's children as they seek to serve him in their various vocations—but that is nothing new today. What we face today that is new is what Thomas Friedman has called "accelerations." We live in a world that threatens to overwhelm us with the rapidity with which we encounter evil and injustice.
In the face of such challenges, David offers us Psalm 37. Please listen:
Fret not yourself because of evildoers;
be not envious of wrongdoers!
For they will soon fade like the grass
and wither like the green herb. (Psalm 37:1-2, ESV)
Fret not. It sounds like St. Paul: "do not be anxious about anything." (Philippians 4:6, ESV) If you knew me better you'd know that this is an impossibility for me. I'm anxious about everything! I hide it behind what I call "strategic planning." But it's anxiousness, nonetheless. And I expect you all are anxious, too, right now—anxious for me to finish this speech. But in all seriousness, there is much to be concerned about in our world today: financially, geo-politically, and, simply and directly, relationally. Challenges come at us so fast and so unrelentingly that they threaten to overwhelm us.
I am convinced that David, King of Israel, was as anxious as any of us. In Psalm 37 he offers us a path to peace in the midst of the anxieties of life.
Trust in the LORD, and do good;
dwell in the land and befriend faithfulness.
Delight yourself in the LORD,
and he will give you the desires of your heart. (Psalm 37: 3-4, ESV)
The picture is one of how the Lord provides for all that we need for this body and life. Our gracious Lord is one who lavishes His gifts on all.
There is nothing more difficult than this, of course. "Delight in the Lord." But, we answer, I have a career to build, a family to raise! I have sickness to address and bills to pay! Be realistic!
I get it. I really do. When I was hanging around this campus from 1982 to 1986, I had dreams and hopes for my future—and I had a great, great time in the present. Then I graduated—and things got serious. I married, started seminary, and suddenly it's 2017. What happened!?!
I tell you what happened. God blessed me—and He will bless you. I could not even imagine the path on which he would place me—with all of its accelerations—a path that would bring me to this place today. But through it all, the Lord gave me the desires of my heart as I delighted in the people and possibilities He gave. The chief of those blessings was the woman I met at this place. Together Amy and I have and continue to delight together in the Lord—and He has given us the desires of our hearts.
So now is a time to dream about your future. Maybe for some of you it is already clear. For others it may take a bit longer to bring things into focus. Either way it's okay, because what you will find is that God will continue to provide surprises for you on your life's path as your exciting future unfolds in ever more beauty and richness.
Why? Because God continues to work. And He works through people like you and me, the redeemed people of God in Christ. To put it differently, God's church is about Christ in action. The church's culture is unique. It is the dynamic setting of the Spirit's activity in calling, gathering, enlightening, and sanctifying the whole Christian church on earth (Luther, Small Catechism, Explanation of the 3rd Article). As such, the church is always at work—and more
than that, Christ is always at work through His Spirit in the church.
God uses all of us to accomplish His purposes. In my calling as president of Concordia Theological Seminary in Fort Wayne, I lead the seminary community in our mission to form servants in Jesus Christ who teach the faithful, reach the lost, and care for all. That means pastors, deaconesses, missionaries, and lay leaders for service here in the United States and throughout the world. It is a mission we embrace, and we do it in partnership with places like Concordia University Chicago, with its rich variety of programs and majors, which forms servants in a wide variety of fields – professional church workers for sure, but also: accountants, biologists, chemists, computer scientists, financiers, historians, marketers, psychologists, social workers, along with all of the other programs that CUC offers. We need them all for the rich tapestry that is God's church at work through the power of His Spirit.
Dear Friends in Christ, CUC has made a promise to you. You know it, but hear it at least once more. "Rooted in its Christian heritage of engaging knowledge and faith, Concordia University Chicago aspires to be the destination university for all who seek to develop their full individual potential through a distinctive, innovative and dynamic environment of exploration, creativity and discovery for leading lives of servant-minded leadership." Concordia has kept that promise. This morning your professors say to you, "You are ready." You are ready for the next step of service to God and your neighbor.
You are ready—but you are not finished. There is more to learn, there is more service before you; you need to continue to pursue the desires of your heart.
As you "walk" this morning, you are stepping into an uncertain yet exciting future. Do so with the words of Psalm 37 once more ringing in your ears:
Trust in the LORD, and do good;
dwell in the land and befriend faithfulness.
Delight yourself in the LORD,
and he will give you the desires of your heart. (Psalm 37: 3-4, ESV)
Thank you for the honor of addressing you and congratulations to the Fall Class of 2017!