Last week, two of our students defended their Master of Sacred Theology (S.T.M.) theses. The S.T.M. is an academic degree (versus the Master of Divinity awarded to our pastoral students, which is a professional degree that focuses on theological and practical skills for the ministry), which provides an opportunity to dig deeper into the Scriptures and opens the door for future academic programs and study. Approval of the thesis, which typically run 100 to 150 pages long, is the final step before students in the S.T.M. program are awarded with their masters.
The two students were Jacob Eichers, defending his thesis "Return of the King" (a study of Isaiah 59), and Rev. Anthony Oliphant, defending "In Your Light Do We See Light" (on the clarity of Scripture). Eichers immediately went onto the S.T.M. degree after receiving his M.Div. in 2017, and is currently a graduate assistant in Pastoral Ministry and Missions. Rev. Oliphant has been with us in varying programs since his sophomore year of high school as an attendee of Christ Academy, earned his M.Div. in 2010 and currently serves as pastor at Redeemer Lutheran Church in Elmhurst, Illinois.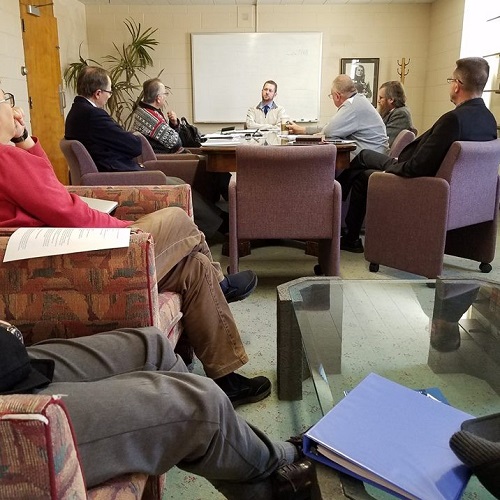 Pictured here is Rev. Oliphant, answering questions from the director of the S.T.M. program, Dr. Masaki, and other faculty members. In defense of his thesis, he discussed the challenges of postmodern hermeneutics, the idea that the Bible should be interpreted by taking the biases of the human author into account rather than standing on the infallibility of Divine authorship, and how Lutherans can and should respond.