In 1961, a remarkable woman by the name of Dr. Rosa Young received an honorary doctorate from Concordia Theological Seminary (still located in Springfield, IL at the time) in recognition of her service.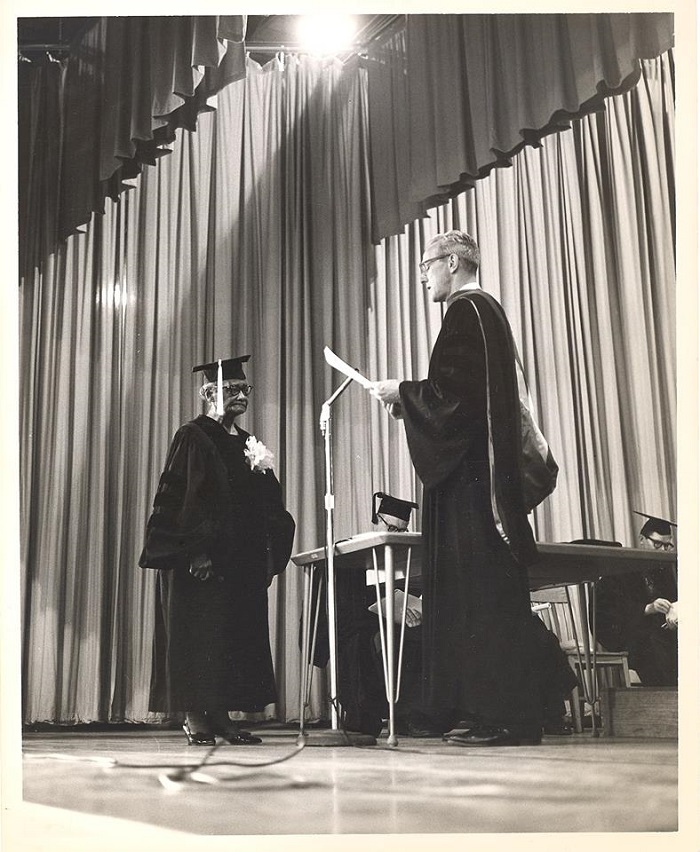 God had first brought together the African American schoolteacher and the Lutheran Church in January of 1916, at a special meeting of the LCMS Mission Board. Just over a hundred years later, CTSFW would officially partner with the LCMS Foundation in August of 2016 to fund and promote the Dr. Rosa J. Young Scholarship endowment.
Through the Rosa Young Scholarship, we hope to continue her legacy, particularly by encouraging men and women in the African American community to pursue training in church work. If you would like to join in the effort to support future faithful servants of Christ, visit www.ctsfw.edu/support, email [email protected] or call 877.287.4338.
‍‍‍‍‍‍ ‍‍
Only a single generation removed from slavery, Rosa Young was a teacher in the early 1900s, serving central, rural Alabama. Desperate for the funds to continue her school, she applied to many organizations and individuals. Finally, Dr. Booker T. Washington wrote her a letter, suggesting she contact the LCMS as they were doing more for African Americans than any other denomination he knew.
‍‍‍‍‍‍ ‍‍
Their partnership in 1916 led to the establishment of 30 schools, 35 congregations and a college. Here in her own words, Dr. Young explains why she first wanted to build a school and how that desire shown a light in the darkness:
"Though the teaching of the Bible and of the Six Chief Parts of the Christian religion was neglected, I cannot say that this was one of my reasons for wanting to build a school for my race, for in this respect I was in the dark myself. Sad! Sad! We were all blind and leaders of the blind. We did not know the Bible, neither did the preachers know it. We did not know what we must do to be saved, neither did the preachers. They were preaching false doctrine, and we did not know it. We did not know that Jesus has done all that is necessary for our salvation, and the preachers did not know it. We did not know what Jesus, the Savior, meant to us. We did not know that we were sinners. We wanted to go to heaven; but we did not know the way, and the preachers did not know it. We were trying to work our way to heaven, and the preachers were doing the same. We were not following our Bibles, neither were the preachers…

"The Lord, our Savior, who loved us saw all this and had compassion on us. He saw that the sad plight of our immortal souls was far worse than our physical condition. The Lord looked down from heaven upon us. He saw this hellward-leading teaching, this man-made doctrine of salvation by works. He saw darkness had covered our land. Our eyes were blind to the knowledge contained in His blessed Gospel. The Lord saw that we were all on the wrong road, regardless of how well we meant, and could never reach heaven that way.

"God saw that I was concerned, that I was worried, about many things pertaining to the temporal welfare of my people. God saw my eager desires and longings to do something for Him and my race. I did not have the least of what was to be done. I could not preach, for women are not allowed to preach. But the Lord instilled in me the thought of building a school, gave me strength to begin this work, and sustained me.

"At that time I knew nothing about the Lutheran Church and its pure Gospel preaching; but God knew all about it and was pleased with it. God was going to use my school as an instrument to put the true Church in this dark land."
---
The above is quoted from her autobiography "Light in the Dark Belt." To learn more about her work and the generations that she has touched since then, read an additional CTSFW article by CLICKING HERE.