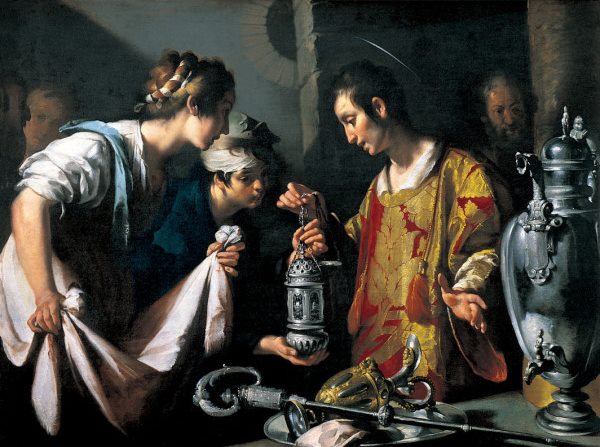 Today is the commemoration of Lawrence, deacon and martyr. The chief deacon of the church at Rome in the third century, he managed their property and finances. A Roman citizen, Lawrence was nevertheless swept up in Emperor Valerian's persecution of the Christians in Rome.
‍‍‍‍‍‍ ‍‍
It's hard to say where history ends and tradition begins in these stories of the early Church. The story goes that the emperor, knowing that Lawrence was the church treasurer, demanded that the deacon give up the "treasures of the church." Lawrence asked for and received three days in which to gather up these treasures. At the end of those three days, the deacon returned to Valerian with all the outcasts of the city: the widows and orphans, the ill and the aged, and the poor. These, he said, were the treasures of the Church.
‍‍‍‍‍‍ ‍‍
Enraged, the emperor ordered him roasted on a gridiron. If the stories are true, Lawrence took his martyrdom with not only a calm sense of assurance in His Lord and Savior Jesus Christ, but maintained a rather grim sense of humor. "Turn me over," he told his executioner. "This side is done."
---
MALACHI 3:16-17
Then those who feared the Lord spoke with one another. The Lord paid attention and heard them, and a book of remembrance was written before him of those who feared the Lord and esteemed his name. "They shall be mine, says the Lord of hosts, in the day when I make up my treasured possession, and I will spare them as a man spares his son who serves him.
‍‍‍‍‍‍ ‍‍
MATTHEW 13:44
[Jesus said,] "The kingdom of heaven is like treasure hidden in a field, which a man found and covered up. Then in his joy he goes and sells all that he has and buys that field."
‍‍‍‍‍‍ ‍‍
LUKE 12:32-34
"Fear not, little flock, for it is your Father's good pleasure to give you the kingdom. Sell your possessions, and give to the needy. Provide yourselves with moneybags that do not grow old, with a treasure in the heavens that does not fail, where no thief approaches and no moth destroys. For where your treasure is, there will your heart be also.
‍‍‍‍‍‍ ‍‍
2 CORINTHIANS 4:7-11
But we have this treasure in jars of clay, to show that the surpassing power belongs to God and not to us. We are afflicted in every way, but not crushed; perplexed, but not driven to despair; persecuted, but not forsaken; struck down, but not destroyed; always carrying in the body the death of Jesus, so that the life of Jesus may also be manifested in our bodies. For we who live are always being given over to death for Jesus' sake, so that the life of Jesus also may be manifested in our mortal flesh.