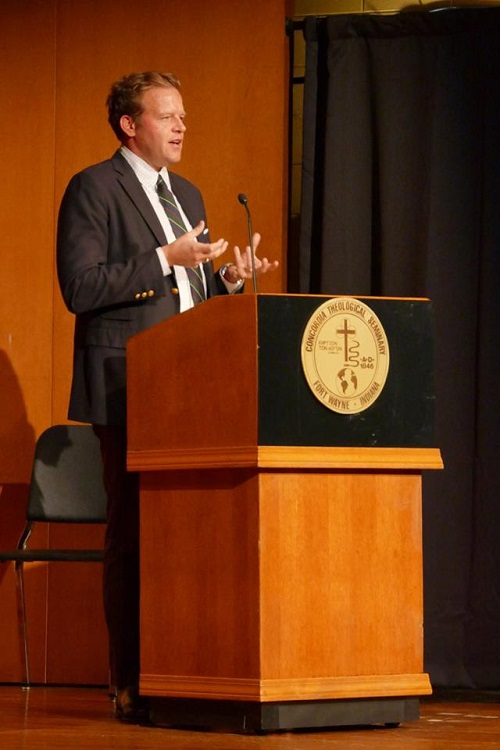 For yesterday's convocation on "Comforting the Heart of Hearing: Distinguishing Law and Gospel as Pastoral Care," we welcomed Dr. John D. Koch to CTSFW, who came here on Tuesday and had the opportunity to meet with and talk theology with our faculty. Dr. Koch is an Anglican rector, receiving his doctorate in Systematic Theology at the University of Humboldt in Berlin, Germany, in 2014, with the thesis "Subjectum Theologiae: The Distinction Between Law and Gospel as the Basis and Boundary of Theological Reflection."
‍‍‍‍‍‍ ‍‍
Anglicans and Lutherans share common roots, so it is not a shock to hear a brother in the Anglican Church speaking on the distinction between Law and Gospel. Anglicanism grew out of the reformation; as Dr. Koch put it: "We are not speaking from totally foreign territory."
‍‍‍‍‍‍ ‍‍
Dr. Koch grew up in an Evangelical home, in the inadvertently terrifying religious tradition of "If I do this, then God will do that" or, put in another way, "Do what's in you and God will do the rest." The crushing load of these words is great: those in the midst of suffering are forced to wonder if either 1.) They have not done enough, or 2.) God is unfairly punishing them. Without Law and Gospel, suffering cannot produce endurance, endurance cannot produce character, and character cannot produce the hope that does not put us to shame (Romans 5:3-5).
‍‍‍‍‍‍ ‍‍
This is why, Dr. Koch argues, the proper distinction of Law and Gospel is not only crucial to pastoral care but is, in fact, the work of the priest or pastor. "When this becomes distinct," he said, "you become a pastor." A pastor who distinguishes Law and Gospel has no choice but to reorient his heart; the distinction places limits around theology that forces the proclamation of the Gospel. It becomes something to preach, something to give to the burdened. "[Law and Gospel] is the only theology that does justice to the cross," Dr. Koch explained.
‍‍‍‍‍‍ ‍‍
In fact, it is impossible to preach God in the tyrannical abstract when Law and Gospel is rightly distinguished and understood. God is seen and known in His seen sacrifice—in the person and work of Jesus Christ. It's neither abstract nor speculative. It's as concrete as your own blood, your own life and death. This is your God; this is your message for the burdened: sinner come home, see what He has done for you. We become beggars who have found food.
‍‍‍‍‍‍ ‍‍
"Preacher," Dr. Koch concluded, speaking to a room largely filled with MDiv students who will someday face the burdens and fears of their congregations, "go to your people and give them what God has given them in Jesus."
‍‍‍‍‍‍ ‍‍
Dr. Koch finished by explaining that he will always be an Anglican because of the "comfortable words." The "comfortable words," as they are known in the Anglican service (from their Common Book of Prayers), are a series of four verses spoken by the preacher to his congregation following the confession of sins. They are, in order:
‍‍‍‍‍‍ ‍‍
1. "Come to me, all who labor and are heavy laden, and I will give you rest" (Matthew 11:28).
2. "For God so loved the world, that he gave his only Son, that whoever believes in him should not perish but have eternal life" (John 3:16).
3. "The saying is trustworthy and deserving of full acceptance, that Christ Jesus came into the world to save sinners, of whom I am the foremost" (1 Timothy 1:15).
4. "But if anyone does sin, we have an advocate with the Father, Jesus Christ the righteous. He is the propitiation for our sins" (1 John 2:1b-2a).
‍‍‍‍‍‍ ‍‍
The convocation concluded with the confidence we have through Christ, as declared by St. Paul in his second letter to the Corinthians, verses 5 and 6: "Not that we are sufficient in ourselves to claim anything as coming from us, but our sufficiency is from God, who has made us sufficient to be ministers of a new covenant, not of the letter but of the Spirit. For the letter kills, but the Spirit gives life."‍‍‍‍‍‍ ‍‍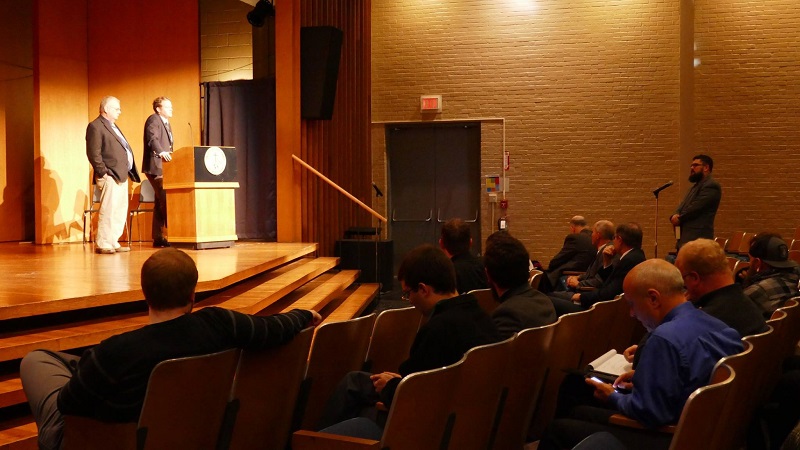 ---
Because of space and time constraints, I had to cut out, summarize, and reorganize large pieces of the convocation. To listen to an audio recording of the presentation in full, go to https://video.ctsfw.edu/media/Comforting+the+Heart+of+HearingA+Distinguishing+Law+and+Gospel+as+Pastoral+Care/0_23zy89g5