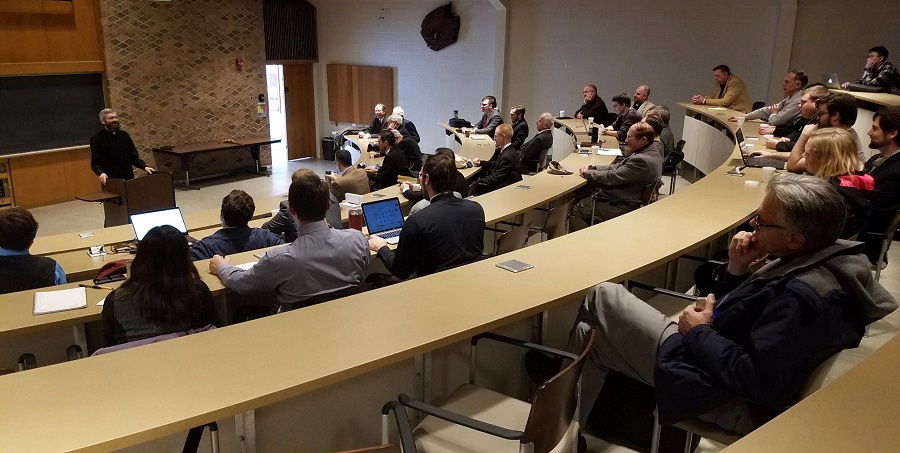 The preacher for daily chapel this morning was the Rev. Romans Kurpnieks-Logins, a pastor and District Dean from the Evangelical Lutheran Church of Latvia (ELCL). His accent, you may have noticed, is very strong. "I think in Latvia, and then translates in English," he explained during yesterday's hour-long convocation on the challenges and opportunities for proclaiming the Gospel in Latvia's post-soviet and post-modern culture. He has been here on campus with us for the fall quarter as he studies for his Master of Sacred Theology (STM), and will be returning at the end of this week to his family and congregations in his home country.
Latvia's oldest cathedral is over 800 years old and was built by the Roman Catholic Church, but the country's cultural identity is Lutheran and can be traced back to the Reformation. "Riga," Rev. Kurpnieks said, speaking of Latvia's capital city in the early 1500s, "decided very quickly to be Lutheran." It happened one day that the Roman Catholic monastery held a procession outside of the city walls, opening the large, heavy gates (times were dangerous in the 16th century and the gates were a necessary security measure) to let themselves out. "They went out to have procession, city government closed the doors on them, and that's how Lutheranism came to Latvia," Rev. Kurpnieks explained succinctly.
The ELCL is the largest denomination in Latvia (followed by Roman Catholicism and then the Russian Orthodox Church), and the only Lutheran church body in the country. "Just one Lutheran church in Latvia, so you don't need to say confessional or conservative," Rev. Kurpnieks said, describing the difference in Lutheran identity in Latvia as compared to the United States and other nations. "I thought every church, congregation, and pastor use incense."
However, in becoming a pastor and then a District Dean, Rev. Kurpnieks's world widened and he found that it wasn't so. "I discovered that the Lutheran world is not only in Latvia or congregation where I am, but is much larger with many, many problems." The ELCL is in association with the Lutheran World Federation (LWF), whose doctrine aligns similarly with the theological liberalism of the ELCA here in America.
At a LWF conference, Rev. Kurpnieks discovered his fellow attendees scrutinizing him as they discussed topics like abortion, euthanasia, gender roles, and marriage. "All of them look at me because they know I am from Latvia and they know my Archbishop," he said. Archbishop Janis Vanags, the head of the ELCL, "is famous," as Rev. Kurpnieks put it, "for what he does not do."
He does not, for example, ordain women. Before this Archbishop the ELCL had done so, but he put an end to the practice and the church body made it official in their constitution in 2016. It puts the Latvian church in a very different position to their brothers in the LWF. While out with a friend later (a fellow pastor from Chile), Rev. Kurpnieks declared: "I was in minority."
His friend turned to him. "You weren't in minority. You were alone!"
Latvia itself is a very different case. Culturally Lutheran, many Latvians claim they are Lutheran in much the same way that Americans often claim they are Christian despite their belief (or unbelief), because it's a historical part of the national identity. "It's easy life as Lutheran in Latvia," Rev. Kurpnieks explained, but then added, "Not so with youth. But we have many opportunities."
The lost youth may be due to Latvia's history with the Soviet Union. Located on the border of Russia, Latvia was occupied and annexed by the Soviet army in 1941; many of their church buildings were seized and repurposed as storage spaces and garages, and their pastors martyred. A handful of churches remained open during Soviet times, but for those ministers who refused to work with the KGB, their lives ended either immediately or in the Gulags. Rev. Kurpnieks spoke of a woman in his congregation who remembers when her father, a Lutheran pastor, was pushed out of a third floor window by the KGB.
Rev. Kurpnieks grew up in Soviet times, and was not baptized until he was in his mid-twenties. He and his wife had been together for five years when "Suddenly, for some reason, we wanted to get married," he explained. "I don't know why—no, now I know: it's God's will."
They wanted to have a church wedding in one of the beautiful, centuries-old chapels owned by the Lutheran Church. The pastor said okay—on his terms. Within four weeks, they were baptized, confirmed and married. The next Sunday they attended Divine Service. "I was immediately—" at this point Rev. Kurpnieks mimed the motion of grabbing someone and holding them in a tight hug, then went on. "God took me and there was no question. I don't know how to explain. I never struggle with the importance of the Lord's Supper. Now I realize there is much struggle."
"Many people come like this," Rev. Kurpnieks, speaking from his own experiences as a pastor. "They say, 'we want fast'—usually because she is pregnant." Though they are unbelievers, many Latvians also want their children baptized because that is how it's been done for centuries. They also hold annual cemetery celebrations in Latvia, a festival going back to ancient times in which every Latvian goes to the cemeteries to care for the graves. They also set up tables among the gravestones and gardens for eating, drinking, and dancing. "In every place—even in Soviet times when the church was punished—they always invite pastor to say something," he explained. The pastor always prays and sometimes holds a small ceremony; just one more opportunity to speak of Jesus.
"They come themselves," Rev. Kurpnieks went on, explaining the evangelical landscape in Latvia. "We don't need to go to the streets. They ask themselves. Pastors don't have time to go do missionary work because people come." And every time they come the answer is always the same: yes, we will perform this marriage/baptism/etc., but you must take confirmation class first. "I am a boss," Rev. Kurpnieks said, "if they want something."
Following the Soviet devastation of not only the church's property but of her under shepherds, the Lutheran Church in Latvia is poor. Latvia has nearly 2 million people but the Lutheran Church there has only 42-43,000 registered members across 298 congregation. Most of them are small with less than 50 members in attendance on a Sunday morning. These 298 congregations are served by only 112 pastors, most of whom have at least two parishes (and still others three or four depending on their size). Rev. Kurpnieks himself has two while simultaneously serving as District Dean over 23 congregations.
"I made ten times more before," Rev. Kurpnieks said of his life prior to the pastoral ministry, "but I am very happy." He fought the call for years, feeling unprepared financially (students at the seminary in Riga, Latvia, have full-time jobs and attend classes in the evening, many of them knowing they will work for multiple parishes for no money save what they earn at their day jobs), but God in His great wisdom made an under shepherd of Rev. Kurpnieks anyways.
Now he is finishing his studies in the Master of Sacred Theology program. He is a "first fruit" of the CTSFW STM program in Gothenburg, Sweden, as Dr. Masaki described him. Six other Latvians are in the program. And why the STM Program? Why CTSFW? "I really don't know better Seminary in the Lutheran world," Rev. Kurpnieks said. "I don't say that just because I am student. I start this program just to be sure I promised to do what I say in my ordination vows: 'I will continue my studies.'"
Our prayers go with Rev. Kurpnieks as he returns to his home, his family, and his congregations in Latvia; to our brothers and sisters across the seas; and to all those who are "as poor, yet making many rich; as having nothing, yet possessing everything" (2 Corinthians 6:10).