Over the weekend, CTSFW hosted a two-day training seminar for respite care certification as a part of the deaconess intensive course "Ministry to the Sick and Dying." Thirty-nine women attended, among them local deaconesses, three prospective students, and our deaconess students in the residential program and those in the distance learning programs. Our distance learning students come to campus for two-week intensive courses in January and July of each year.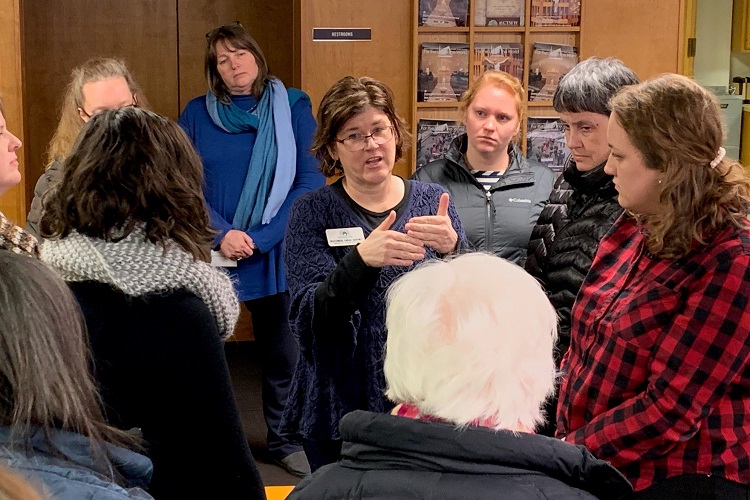 The training and materials were sponsored by the Deaconess Elle Konetzki Memorial Fund, and led by Deaconess Kris Blackwell and Deaconess Sarah Gaffney of Voice of Care, an LCMS RSO. Voice of Care provides these REST (Respite Education & Support Tools) to congregations and groups.
REST is designed to equip our deaconesses with the ability to provide reliable volunteer temporary care to children and adults with special needs. This temporary care gives short-term relief to primary caregivers. Deaconess students learned how to access family needs, and provide quality care with enriching activities in a safe and healthy environment. The course prepares students to identify, understand, and respect the needs of both caregivers and care receivers, and to recognize coping strategies, practice good health and safety practices in respite situations, demonstrate proper assistance techniques, and learn effective verbal and nonverbal communication skills. Ultimately, a REST Companion creates a positive environment that allows them to handle both ordinary and challenging respite situations.
REST certification recognizes that participants have completed the REST Companion Training and makes a number of REST's respite care resources and materials available to the certified individual. These resources include educational materials and important forms to use with families receiving respite care.