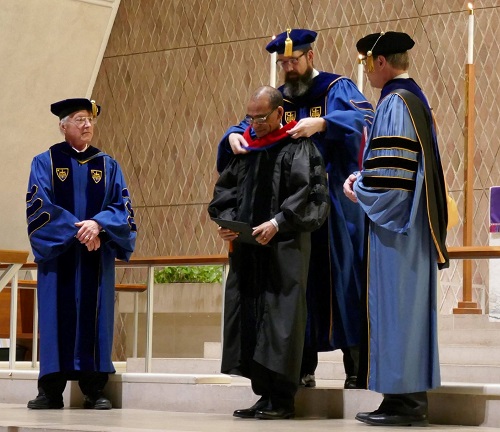 Following chapel this morning, we witnessed the conferral of the Doctor of Ministry (DMin) degree upon the Rev. Tariku Tolessa Jira of the Ethiopian Evangelical Church Mekane Yesus (EECMY), which you can still watch on today's livestream. He successfully defended his dissertation project, "The Place and Purpose of Spiritual Gifts in the Scripture: the Understanding of the Ethiopian Evangelical Church—Mekane Yesu—Illubabor Bethel Synod Congregations in Mettu and Alge Towns," just last week. "Today is an important occasion in the life of our Seminary, in the life of the Ethiopian Evangelical Church Mekane Yesus, and especially in the life of our dear brother in Christ," said Dr. Grobien, Director of the DMin Program.
Rev. Jira's colleague and Director of EECMY-Department of Mission & Theology, Dr. Lalissa D. Gemechis (who received his PhD from CTSFW in 2017), upon this news emailed his congratulations: "I am so excited and thankful to God for His provision. Just to let you know that Rev. Dr. Tariku Jira will be head of denominational Theological Matters which is a big task. He will right away assume this position upon his return."
The graduates from these programs have an incredible impact on their home churches, synods, and countries. "The single most frequent and fervent request received by The Lutheran Church—Missouri Synod from partner and non-partner Lutheran church bodies around the world is to share our theological treasures," explained Professor Robert Roethemeyer, Co-director of International Studies, who often travels to Ethiopia and gets to know these students. "Through sound, vigorous theological education we have prepared another leader for the EECMY. This is one of the most impactful ways CTSFW strengthens global confessional Lutheranism. We form servants in Jesus Christ to shepherd their own church bodies and to teach in their own seminaries."
Once more paraphrasing the words of our brother in Christ, Dr. Gemechis: thanks be to God for His provision. And congratulations to Rev. Jira!