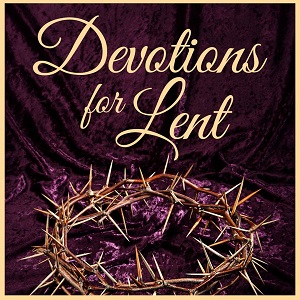 Yet, O Lord, not thus alone
Make me see Your passion,
But its cause to me make known
And its termination.
Ah! I also and my sin
Wrought Your deep affliction;
This indeed the cause has been
Of Your crucifixion.
LSB 440 st. 3
"He himself bore our sins in his body on the tree, that we might die to sin and live to righteousness. By his wounds you have been healed."
1 Peter 2:24
What's heavier? A pound of steel or a pound of feathers? They both weigh a pound, right? Wrong. If you carry a pound of steel, you're only lifting a pound; but if you lift a pound of feathers, you have to carry the weight of what you did to all those poor birds.
We don't always think about the weight of our deeds, but God does. The dying Jesus didn't just carry the weight of the slim man we often gaze upon when we look at our crucifixes; He also carried the weight of my sins—the cause of His crucifixion. And yours too. See, Christ didn't die alone up there on that cross, we all died there along with Him. That's what our hymn has us ponder today.
In this season of Lent, we reflect not only on Christ's journey to the cross, but also the weight of our sins, which He bore in His nail-pierced, thorn-pricked body. As we enter Passiontide, some churches will even cover their crucifixes with a veil and wait until Good Friday to uncover them. This is to remind us that the true weight of the cross is too horrible for us to fully ponder. Martin Luther even remarked that it is only by God's mercy that we don't realize the full weight of our original sin. Otherwise, if we could feel it, we would be shocked and disgusted beyond all belief! Therefore, may we this Lent continually be shown our sins and reflect on them in order to repent and lead Christian lives.
Let us pray: O God, You are not a God that takes pleasure in wickedness; neither shall evil dwell with You. Grant, therefore, that we might see as much of our sin as is needed, that the Old Adam in us might, by daily contrition and repentance, be drowned and die with all sins and evil lusts. As we walk through this vale of tears, be our help in this and every hour, granting us poor sinners a blessed end when we eventually die as did our Savior; for You live and reign with the Son and the Holy Ghost, ever one God, world without end. Amen.
(Dane Breitung, Sem I)