Easter Sunday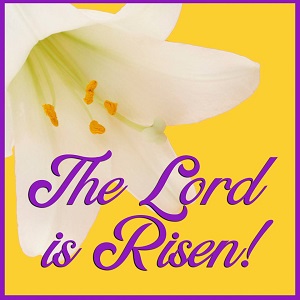 Awake, my heart, with gladness,
See what today is done;
Now, after gloom and sadness,
Comes forth the glorious sun.
My Savior there was laid
Where our bed must be made
When to the realms of light
Our spirit wings its flight.
LSB 467 st. 1
"Your sun shall no more go down,
nor your moon withdraw itself;
for the Lord will be your everlasting light,
and your days of mourning shall be ended."
Isaiah 60:20
Alleluia! Christ is risen! Christ is risen indeed! Alleluia!
When the sun rose on that first Easter morning, do you think the women thought anything of it? We ourselves don't tend to notice every sunrise. We simply expect it every morning, no matter how long or dark the previous night. We would certainly be surprised, however, if the sun never went down! But that is the promise we receive in the resurrection. Christ, the risen Son of God, is the shining source of our own resurrection and life, which never burns out. St. John reminds us, "In him was life, and the life was the light of men" (John 1:4).
No matter how gloomy our days or lonely those long nights might be, the everlasting light of Christ continues to shine and give you life. Regardless of how darkened by sin our souls might be, Christ's death and resurrection is the way He makes all things new. Together, we gladly await that final day when the glorious Son will return to end our days of mourning and transport us to the realms of light.
Let us pray: Lord God, heavenly Father, through the resurrection of Your Son, we have the same promise of life after death. Continually sustain us by His light and life during our dark days, as we await that final day when the sun will go down no more and Christ will be our light; through the same Jesus Christ, our Lord. Amen.
(Ethan Stoppenhagen, Sem I)