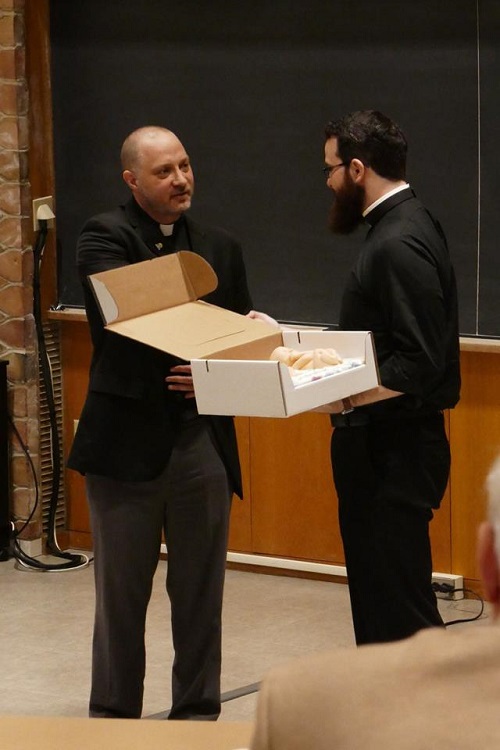 At today's convocation, Executive Director of Lutherans for Life (LFL) Rev. Michael Salemink spoke on being a Gospel-motivated voice for life, as well as about Owen's Mission. The goal of Owen's Mission is to place a set of life-like models of babies in the womb into every Lutheran school (from elementary on up).
Owen was the grandson of former LFL Executive Director Dr. Lamb. While still in his mother's womb, Owen passed away at 22 weeks old, his heart stopping when the doctors surgically removed a tumor at the base of his spine. In his development, too many nutrients, oxygen, and blood had already gone to the fast-growing tumor. "They wrapped him in a blanket and brought his body out so that his father and grandfather could say hello—and goodbye," Rev. Salemink said. Dr. Lamb was struck by the obvious personhood of his grandson, and together the family started Owen's Mission to help others see this reality. The models are made out of a biosynthetic gel to give them the weight and feel of a real baby.
Life issues "from womb to tomb," as our own CTSFW Life Team would say, are not political issues. As Rev. Salemink explained, life issues show up "anywhere the culture urges us to use death as a solution." He went on to point out the most promising aspect of the intensity of the discussions surrounding life issues: "People are ready to ask spiritual questions and receive theological answers…They desperately need the Gospel that brings hope and healing."
There are three things that make human beings special. From Isaiah 43:1:
But now thus says the LORD,
he who created you, O Jacob,
he who formed you, O Israel:
"Fear not, for I have redeemed you;
I have called you by name, you are mine."
We are created, redeemed, and called. "Lutherans have something very special to bring to the conversation," he went on. "We are saved by grace, not by works." Our voices are Gospel-motivated because the conversation is always about what God does (and has done) for us. Not what we do.
---
CREATED
Rev. Salemink pointed out that the language and imagery of our creation, beginning in Genesis when God formed man from the dust of the ground, is one of God's hands performing the work. Over nine months, we are knit together in the womb. God can speak reality into being, but with people it delighted Him to take his time.
We are first formed in our mother's womb as a zygote—a single celled human being, genetically distinct from Mom and Dad, whose cells self-direct the growth process. "My body, my choice" is a lie—though on the surface an attractive one. But Rev. Salemink pointed out the ugly meaning couched in the words. "'My body, my choice' means you are on your own," he said. "It's your fault, your responsibility." This is Satan in the garden, getting the woman by herself in order to slyly ask, "Did God really say…?"
He next went through some of the major highlights of gestation, with a model from Owen's Mission in his hand for each stage:
17 days: Cardiac cells begin to beat. A few days later, it has a distinct rhythm.
4 weeks (about the time mom is discovering she's pregnant): All organs are present, differentiated and in position.
7 weeks: the baby has a complete skeleton; 4,000 anatomical parts exist. They have brain activity, pain receptors, and reflexes.
12 weeks: they have two ears, two legs, two feet; arms, hands, fingers, fingernails, nostrils, eyelids, eyelashes, even permanent teeth.
At 16 weeks, only four weeks later: Grown to three times their size at 12 weeks. Eyes open for the first time (babies begin to move at 14 weeks) and they suck their thumb—even developing a preference for one thumb over the other. It's probably the same hand she or he will write with someday.
He highlighted other developments (swallowing at 22 weeks, not for need but for practice, somersaults at 26), but the main point is that, from 12 to 26 weeks, the only that is really changing is size. The baby is growing and practicing. In fact, it is the baby that decides when to be born—not the mother. The placenta ("the suitcase the baby comes in" Rev. Salemink explained) signals and initiates the chain reaction that begins labor—and the baby's body grows the placenta in the first place. "Babies are polite house guests," he added, noting that they don't demand that mom provide everything.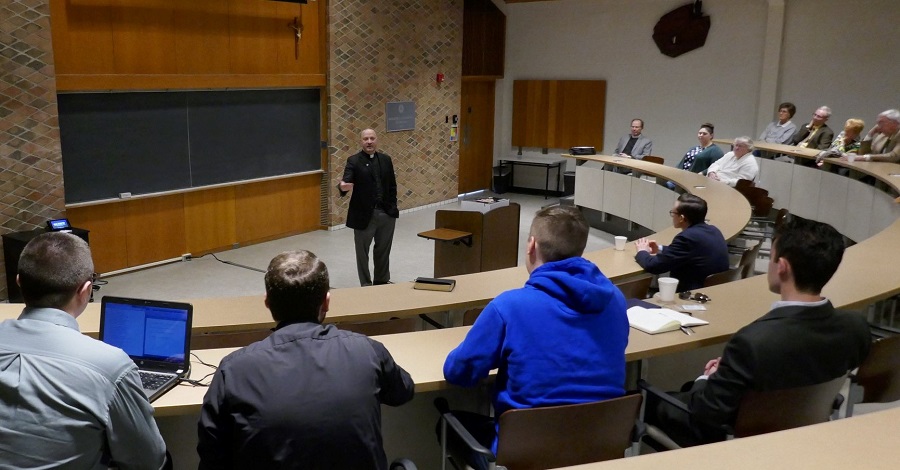 ---
REDEEMED
"These models are perfect," Rev. Salemink said, holding up the model of a baby at one of the later gestational ages. "But of course not every baby is perfect." Some only live for a few minutes in the womb, others are stillborn, still others are deformed, with genetic errors incompatible with life. "We are God's children, and we fail at it," he went on. "Sin is manifested in our flesh."
But that doesn't matter—our size, the span of our life, whether we're born health and grow up into criminals—because, again, the story is one of a God who does the work for us. "God redeems rather than discards," Rev. Salemink said. "John 1: 'And the Word became flesh and dwelt among us'" (verse 14).
The Word became flesh not on Christmas, but at the annunciation. "Mary is the only woman in the world to become pregnant through her ear," he pointed out. In His mother's womb, "God was the size of the head of a pin, and yet He holds all the world in His hands…He grew arms and hands and fingers and stretched them out on a cross."
---
CALLED
"The same God who creates in the womb and redeems in the womb, declares in the womb: 'I have safely encased him and in water.'" There are obvious connections to be made to Baptism. As babies in the womb, our lungs were filled with water. After we are born, God desires that we be brought to water once again—to be called into his family—that he can claim, "This one is mine. This is my son. This is my daughter. This is my Son in whom I am well pleased."
"It is our privilege, delight, and solemn responsibility where Satan is shouting lies to speak the truth in love and gentleness," Rev. Salemink concluded. Dr. Gieschen, Academic Dean, then asked for recommendations from LFL on getting plugged into life issues out in the parish.
He suggested locating the institutions in a community involved in life/death situations—hospitals, nursing homes, prisons, pregnancy resource centers, etc.—and asking how you can help. In fact, he originally got involved in Life ministries because he and his wife attended a fundraising dinner. "Pastor's family have no money, so on the pledge card I wrote on the back: 'I can offer pastoral services.'" They absolutely took him up on the offer.
LFL is also a great resource. "Lutherans for Life is a three-armed freak," Rev. Salemink explained. "We have literature—a large catalog of materials that connects the Word of God to these issues—and education, and most of all volunteer communities." LFL has 200 chapters, called Life Teams (CTSFW among them), and he recommended reaching out.
Ultimately: "Motivate and inspire the congregations you serve at," he said. But at the same time he urges new pastors to work as slowly as they need to. "You have to invest the time. There's an education and growth process the congregation needs to go through." You cannot drop new information on a church right away and expect them to get it. A pastor has to help his congregation understand how life issues connect to the Gospel of Jesus Christ and the hope we have in His death and resurrection.
"We are Gospel-motivated," he repeated. LFL focuses on life issues through the lens of how God gives value to life through His deeds and actions, rather than focusing on the evil of abortion, euthanasia, etc. "There is a time and place to expose how awful those things are," he conceded, "but ultimately we focus on the hope and life we have in Christ."