It was a packed house in L7 for this morning's convocation, "The Purification and Sanctification of the Pornographic Imagination" with Dr. John Kleinig. An Old Testament theologian with a PhD from Cambridge as well as honorary doctorates from CTSFW and Concordia Irvine, Dr. Kleinig teaches at Luther Seminary in Australia and as a guest at many seminaries across the world. He's on the CTSFW campus this week for a continuing education class on the Divine Service.
He began the discussion with some definitions: both what pornography is and what it isn't. Pornography is as old as human history (some of the oldest cave depictions are pornographic) though the word comes from the Greek pornos, which means prostitute. "So pornography is the depiction of the activity of male or female prostitutes," Dr. Kleinig explained. "It's not necessarily the depiction of nudity. We get into a lot of trouble if we identify nudity with pornography… [pornography] is selling sex for commercial purposes."
In the ancient world, there was a religious significance to pornography, seen as a way for human beings to tap into the super sexuality of gods and goddesses for sexual potency or fertility. Today, the pagan religious significance is largely gone, but instead it is both more open and more hidden. In ancient times, to view pornography you had to go to a theater where sexual acts were either simulated or performed on stage, and other people saw you. The internet has changed everything: "Now the new thing is that it can be done in secret. That's one of the tools of the devil, that it can be accessed in secret. It's more secret on the one hand yet more public on the other. Everybody knows about it. When I grew up, it was hidden under the carpet. Now everyone knows."
Pornography, like every bad thing, is a perversion of something good. "Let's face it: you all know that God invented sex. He approves of sex," Dr. Kleinig said. "Pornography is the perversion of one of God's most precious, valuable gifts." Visual intimacy is an important part of our sexuality, of which the key stimulating senses tend to be visual for men and touch for women (at least generally, though naturally you'll find differences in individuals). All five senses are employed in the act. "God is not a sexual killjoy," Dr. Kleinig continued. "In fact, God disapproves of pornography because it ruins the enjoyment of sex."
Pornography is mentally, physically, and psychologically damaging. But most of all: spiritually damaging. "Pornography is a spiritual problem," he said. "It's one of the ways the devil attacks us." The devil has a contempt and disgust for our bodies and our physicality (having none of his own), not only in and of itself but because we have been given the gift of procreation—of life—through sexual intercourse. The devil can't create let alone procreate; he can only destroy.
"The problem with pornography is not sex," Dr. Kleinig explained. "The problem with pornography is idolatry and original sin…The devil gets us to idolize an imaginary body (the brushed up kind of body that you get in photography, in films, and on television)…and parades that in front of us so that we make an idol of that. Then that distracts us from the real bodies of the opposite sex…It has to do with the imagination. We no longer desire the things that God wants to give us, but the things God has forbidden." Once a thing is forbidden, we imagine how enjoyable it must be—when, in truth, God forbids those things that will harm us and our relationship with Him and with each other.
In fact, the problem of pornography is not the physical act of viewing it, but that viewing forbidden sexual activity encourages our pornographic imagination. "The problem is not out there on the internet," Dr. Kleinig said. "The problem is here—" he pointed to his heart "—my imagination and my pornographic imagination."
Imagination is the unique, God-given ability to picture things that aren't in front of us. We can mentally form pictures, hear words, even smell, taste, and touch within our own minds. "A large part of normal sexual activity is imaginative engagement with [another] person," he said. It's not the activity, but the imagination as we picture things that stimulate ourselves for masturbation. "You can get rid of pornography, but you don't get rid of the problem [which] has to do with the human heart, the human conscience, the human imagination."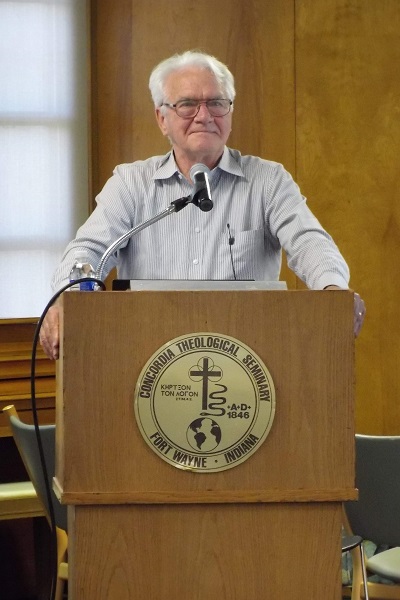 At this point, Dr. Kleinig directed a word of warning to those in church work, those in training, and their spouses. The devil absolutely targets those who directly serve the Church. "Each one of you is a threat to the cause of satan," he said. The immediate agenda: ruin sex for you. The bigger goal: "He will use sex against you to undermine your marriage, and your ministry, and your relationship with your parishioners. He'd like to destroy your faith, but that's very hard to do for a believer. But he'll settle for lesser goals…And he's succeeded beyond his wildest dreams in recent times in the church. Statistics show that pastors, particularly, access pornography at the rate and sometimes a greater rate than people outside of the Church. And you need to see that's the target."
So how, then, do Christians address the root cause of pornographic temptation?
First: "You need to see it and understand your own temptation and your own vulnerability and learn from it. And you need to listen to and heed your conscience. Now you don't need me to tell you that if you access pornography you are ashamed of it. Otherwise why would you do it in secret?"
We heed God's Word, His law, and His judgment. But thanks be to God, that His judgment is not a condemnation but a diagnostic tool. "It shows me that I have a bad conscience, that I'm riddled with shame and that something's wrong me, and something needs to be fixed up," Dr. Kleinig explained. And the root problem is not sex, though satan would like to make you believe that it is. Society itself is deeply confused, careening between two extremes: from pornographic liberty to the moralistic backlash of Puritanism (which is where the idea that nudity is pornographic and that God disapproves of sex—rather than being credited as its inventor and giver—comes from). "Both are stupid," Dr. Kleinig said bluntly.
Jesus ministers through Law and Gospel. Though satan—once the root problem is diagnosed—will come along and whisper that you must fix yourself, we know from experience that the harder we try to avoid a sin, the more we are attracted to and enslaved by it. Which is why the next step is Confession and Absolution. "You can fix up the behavior, you can put blocks on your behavior, bring your spouse into it, all that's common sense, but you don't fix up the problem. The problem can only be fixed up not by you but by God.
Dr. Kleinig strongly urged that everyone have a confessor. "Like an alcoholic, the basic starting point is that you can't fix it up yourself. You admit you are helpless and you hand it over to God." It is a process. No matter how often you fall, you confess again, you pray again, you seek help again—again, again, again, again, again. In Confession and Absolution, we bring the unfruitful works of darkness into the light, exposing that which has now become visible and transforming darkness into light (Ephesians 5:11-13).
Third: seek cleansing. "One of the things about pornography is that it makes you dirty. It defiles you, and because it defiles you, it desecrates your holiness as one of the people of God. You need cleansing. It's the blood of Jesus that cleanses you from all sins." There is no sexual sin that cannot be forgiven.
In addition to receiving Christ's body and blood in communion, Dr. Kleinig also practices the holy living as laid out in Ephesians 5:3-4: "But sexual immorality and all impurity [Dr. Kleinig preferred the translation 'fornication' as it refers more specifically to sexual sin in all its guises] or covetousness [in this context, sexual greed] must not even be named among you, as is proper among saints. Let there be no filthiness nor foolish talk nor crude joking, which are out of place, but instead let there be thanksgiving."
Begin with the tongue, he explained; "the place to start is not what we do, but what we say." From this passage, we can draw two conclusions. First, that we should not speak of sex in filthy terms. Much of the banter out there is sexual, joked about in the crudest terms possible. If you knew nothing about sex, if you overheard this joking you'd assume it was a ghastly, unclean act.
"Instead," (and second) "let there be thanksgiving." Be thanks-givers. "One of the most powerful tools we have to combat [sexual immorality] is to give thanks to God for sex," Dr. Kleinig said. "It's a good gift from God. It's to be received with thanksgiving." In giving thanks to your partner and thanks to God for their sexuality, your eyes are opened to what you have versus what you do not have. In a thank you there is an acknowledgment that what you have received is good, as well as delight and admiration in the gift and in each other.
Proverbs 5:18-19, which specifically addresses men, is an excellent example:
Let your fountain be blessed,
and rejoice in the wife of your youth,
a lovely deer, a graceful doe.
Let her breasts fill you at all times with delight;
be intoxicated always in her love.
"Rejoice" is to enjoy. Sexuality in the Old Testament often has a visual focus, and a common euphemism is to uncover nakedness. There is a distinct visual intimacy between husband and wife—and a difficult one at that. We fear other people seeing us and disapproving. Nakedness is deeply intimate. But there is an enjoyment and delight in revealing ourselves to our spouse.
The Song of Solomon also serves as a guide. This book of erotic poetry depicts the sexuality between a man and his wife, with descriptions that appeal to all five senses. "The whole thing consists of a conversation initiated by the woman, the wife, with her husband," Dr. Kleinig explained. "And it's all talk. It's about the language of love." It is not a book of sexual mechanics but is the conversation of marriage, in which a couple speaks their love to one another. Too often, the courtship of words ends shortly after marriage when the conversation has just begun in earnest. Even sex is a conversation—a way to communicate with your whole body.
Though erotic, the Song of Solomon is as much God's Word, inspired by the Holy Spirit, as any other book in the Bible. "Now why has God given us this book?" Dr. Kleinig asked. "[It's] meant to purify and sanctify our imagination and our sexuality." Meditate on it, he suggested. Learn to appreciate our spouses sexually. "Notice the movement of his eyes," Dr. Kleinig said of the husband in chapter 7:1-5. He goes from his wife's feet to her thighs, then to her navel, her belly, her breasts, eyes, nose, and then to her head, crowned by her hair. "He gives her an eye-over of appreciation. He looks at the whole of it." The wife does the same to her husband in 5:10-16. "Her eyes go and it's quite telling," Dr. Kleinig pointed out. She starts off with his golden head of raven black hair, then to his eyes, cheeks, lips, arms, torso, legs, then back up again to his mouth—where both kissing and speech originate.
"These are God's aids for us to practice sexual appreciation," Dr. Kleinig concluded. "Fill our imagination with this and we won't be tempted by [pornography]." Because the deep, dark secret of pornography is that it's not explicit enough. It's fake; neither exclusive nor intimate, let alone satisfying. It is a perversion of a gift given to us by the Lord of all creation in the days before sin, when a man first held fast to a woman.
Finally, brothers, whatever is true, whatever is honorable, whatever is just, whatever is pure, whatever is lovely, whatever is commendable, if there is any excellence, if there is anything worthy of praise, think about these things.
Philippians 4:8