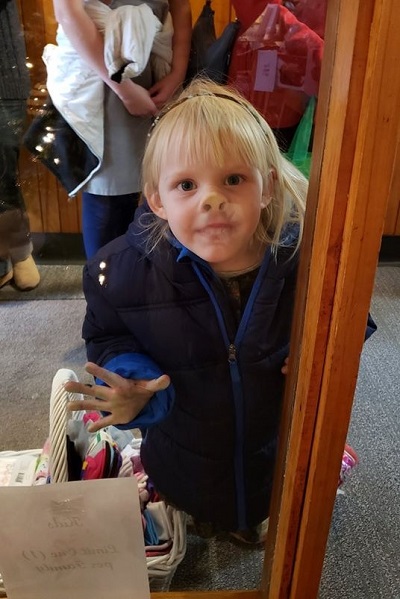 Last Thursday, December 12, the Food & Clothing Co-op hosted the annual Christmas Marketplace for our residential students in the church worker formation programs here on campus (MDiv, AR, and Deaconess Program).
Per usual, the Church's generosity—your generosity—to our future pastors, deaconesses, and their families was astounding. You gave a total of $59,000 for this year's marketplace. The Co-op staff were able to stuff 123 envelopes with $350 in gift cards and put them in each of our student's mailboxes. Gift cards are for local stores, national chains, restaurants, and gas cards, plus 10 days worth of dining hall lunch tickets for the 80 students who are here in Fort Wayne but are married and live off campus with their spouse and children. It saves them from having to pack in a lunch when they're on campus for classes over the lunch hour.
The rest of the money went towards eight $50 gift card door prize winners, 14 gift basket drawings (which included gift sets for toddlers and one for family game nights; to a roaster, countertop convection oven, and other kitchen gift sets; plus the deaconess gift set and pastoral gift set), and an emergency fund which serves our students during times of unexpected need. There were also two dorm rooms filled with hundreds of quilts, sewn and mailed in from all over the country for each family to choose from, plus a number of other crafted items like hats and mittens.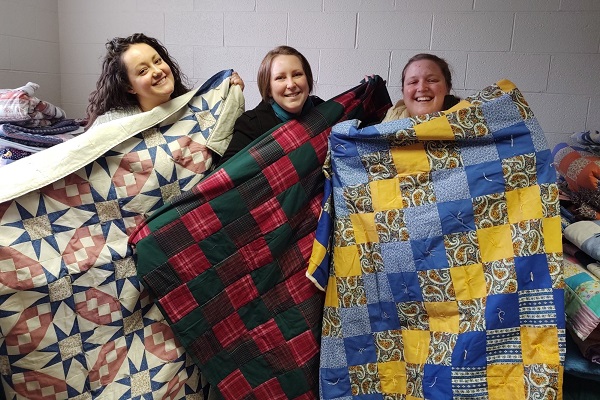 From the Food & Clothing Co-op Director Deaconess Katherine Rittner's Christmas note to the students:
"There are many people around the country who care for you and pray for you daily. The quilt you picked out for your family is a daily reminder of that love, care and prayer from those who are not here to tell you themselves… It is because of them you received your gifts. Enjoy them and have a blessed Christmas!"
Thank you to all who gave! Paul's words of praise regarding the Macedonians comes to mind:
"We want you to know, brothers, about the grace of God that has been given among the churches of Macedonia, for in a severe test of affliction, their abundance of joy and their extreme poverty have overflowed in a wealth of generosity on their part. For they gave according to their means, as I can testify, and beyond their means, of their own accord, begging us earnestly for the favor of taking part in the relief of the saints— and this, not as we expected, but they gave themselves first to the Lord and then by the will of God to us" (2 Cor. 8:1-5).
In deepest gratitude: thank you. Not only for your love for our students (and your future pastors and deaconesses), but for the privilege we have in boasting of all of you. God's richest blessings to you in this and all seasons!