Prof. Adam Koontz, CTSFW Assistant Professor of Exegetical Theology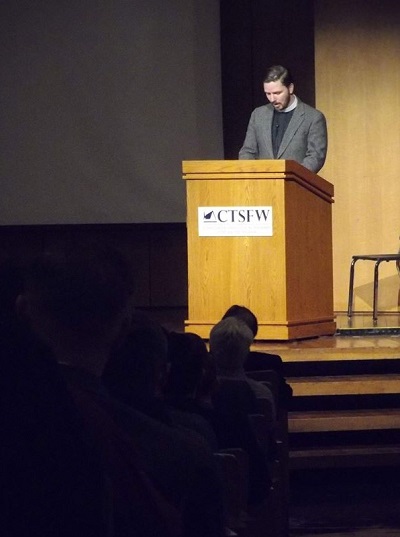 Substitutionary atonement's importance is obvious throughout the Old Testament and New Testament, as well as to the Church's theological battles following. Indeed, penal substitutionary atonement comes naturally to Christians. Every biblical doctrine is related to every other doctrine (generally) as the truth of God's Word is all interconnected. The atonement and the forgiveness of sins are respectively cause and effect to the penitent. Without Jesus' sacrifice, there is no forgiveness.
The biblical doctrine of penal substitutionary atonement is undergirded by the doctrine and nature of divine wrath. When this doctrine is properly understood, so is atonement understood. "For the wrath of God is revealed from heaven against all ungodliness and unrighteousness of men, who by their unrighteousness suppress the truth" (Romans 1:18). Throughout Romans, Paul speaks of unrighteousness as so manifest that it is practiced both openly and secretly.
There are both open and secret idolaters. Neither class of ungodly men shall escape the judgment of God. There is no inheritance for the sexually immoral or unclean. There is a present tense reality of divine wrath upon sin that will be revealed. "Do you suppose, O man—you who judge those who practice such things and yet do them yourself—that you will escape the judgment of God? Or do you presume on the riches of his kindness and forbearance and patience, not knowing that God's kindness is meant to lead you to repentance?" (Romans 2:3-4). Even here, the purpose is made clear: not to harden men's hearts further, but to bring man to repentance.
The righteousness of divine wrath, so obvious to Paul in Romans 2:2 and 3:5, asks this question: "But if our unrighteousness serves to show the righteousness of God, what shall we say? That God is unrighteous to inflict wrath on us? (I speak in a human way.)"
No! Or, per verse 6: "By no means!" This mystery is revealed through His grace, for He judges the secrets of mankind according to His grace, "when, according to my gospel, God judges the secrets of men by Christ Jesus" (Romans 2:16). Even outwardly being a Jew will be insufficient; our present justification is only possible in His blood. Our salvation from divine wrath at the second coming of Jesus is also according to His grace because present realities of and reconciliation through the death of Jesus are the seals of God's mercy toward believers. We are saved from God's wrath, saved by Christ's death.
The nature of God's utterly kind and gracious nature is put forth in Christ's blood. Wrath will not be absent from the second coming, but believers look forward to safe shelter from His wrath; it is Jesus who saves us from the coming wrath. "But you are not in darkness, brothers, for that day [of the Lord] to surprise you like a thief. For you are all children of light, children of the day. We are not of the night or of the darkness…For God has not destined us for wrath, but to obtain salvation through our Lord Jesus Christ" (1 Thessalonians 5:4-5, 9). He has also "endured with much patience vessels of wrath prepared for destruction, in order to make known the riches of his glory for vessels of mercy" (Romans 9:23, 24).
The connection of wrath, the second coming, and grace are all solely dependent on God's determination. Judgment on sin and salvation for His people will occur at the time of His own choosing. This is simultaneously so basic as to go unmentioned in our sermons but so profound as to be the basis of the salvation we preach. Yet it is incomprehensible without the knowledge that wrath is coming for sin. Everyone will appear before God's judgment seat, and will have to give an account for his own doings, not his brother's.
This also explains and clarifies the purpose of excommunication, as in the case of the man in 1 Corinthians 5 who was sleeping with his mother-in-law. The purpose isn't to be judgmental for judgment's sake, but as an act of discipline. Excommunication is intended to discipline the man's flesh so that his spirit might be saved in the Day of the Lord, in view of Christ's coming. It's a practice that aims toward repentance. If the man had not been excommunicated, the congregation would have confessed that sexual immorality was not actually a sin and/or that they did not care enough about the man's sin to discipline his flesh. When denied, the discipline of the flesh that is temporary becomes unending away from the face of the Lord; discipline of the flesh is meant to save someone from the certain and unending ruin under the wrath of God apart from Christ. "For it is time for judgment to begin at the household of God" (1 Peter 4:17).
"Only let your manner of life be worthy of the gospel of Christ, so that whether I come and see you or am absent, I may hear of you that you are standing firm in one spirit, with one mind striving side by side for the faith of the gospel, and not frightened in anything by your opponents. This is a clear sign to them of their destruction, but of your salvation, and that from God. For it has been granted to you that for the sake of Christ you should not only believe in him but also suffer for his sake, engaged in the same conflict that you saw I had and now hear that I still have."
Philippians 1:27-30
---
This was the last lecture of the Exegetical Symposium, which concludes with a panel discussion that is going on right now. The 43rd Annual Symposium on the Lutheran Confessions will then begin this afternoon at 1:15 p.m. (Eastern Time). Today's lineup includes topics from both LCMS President Matthew Harrison and CTSFW President Lawrence Rast Jr.