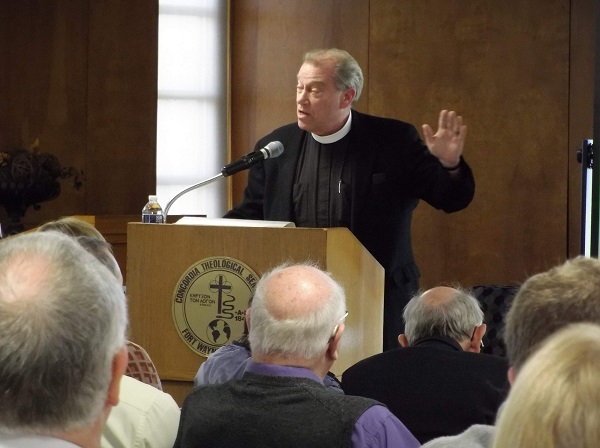 This weekend, Indiana District President Dr. Daniel Brege presented on "The Blessings of a Christian Funeral" here at CTSFW. He began with a Latin phrase: simul Justus et peccator. The English translation is probably more familiar to you: Simultaneously saint (justified) and sinner. In death we are often tempted to self-justify according to our own behavior, but as Christians we take real comfort, even as we grieve, in the knowledge that we are justified—but through Christ.
Death is the result of sin. It is not the way God designed things. Yet as obvious as this is to us, the world does not believe it. The world around us is constantly trying to tell us that death is natural and necessary (for example, that it is the mechanism of evolution; we need death). Only when we preach the law correctly do we understand why our children die in utero, why teenagers die of cancer, why we lose family and friends throughout our lives.
Death can be understood in terms of separation. The three separations are:
1. Separation of man from God: spiritual death, which first took place in the Garden. Genesis 2:17: "but of the tree of the knowledge of good and evil you shall not eat, for in the day that you eat of it you shall surely die." Man became spiritually dead right away; we stand in the realm of Satan. "And you were dead in the trespasses and sins in which you once walked, following the course of this world, following the prince of the power of the air, the spirit that is now at work in the sons of disobedience" (Ephesians 2:1-2). This is why baptism liturgies in the early church began with an exorcism. We still retain a remnant of that: do you renounce the devil and all his works and all his ways?
2. Separation of body from spirit: physical death. This is totally unnatural. Both Old Testament Israelites as well as Christians throughout history have believed that the body is the person; when we die, our spirits depart. Jews traditionally held that the spirit departed from the body in 2-3 days; we typically look for biological signs, though what we look for has changed over the years: breathing, heartbeat, brain waves. That's not bad, nor is it wrong. We are biological creatures.
Though our spirits depart in peace, we are not ourselves. It will only become natural when Christ returns and He raises all the dead (both believers and unbelievers). The resurrection of the body is a foundational belief and ought to be preached at every funeral service. The idea that we will be forever with God only in spirit is a pagan belief that has crept into our thinking.
If we didn't believe this was so important, then why did Christ's body have to rise from the dead? "But we do not want you to be uninformed, brothers, about those who are asleep, that you may not grieve as others do who have no hope" (1 Thessalonians 4:13). We grieve, but not without hope. Throughout Scripture, hope is most often, if not always, used in the context of the resurrection. It's not a wish, but a certainty.
3. Eternal separation, body and soul, from God: hell. In truth, those in hell are those who have received precisely what they wished for: a place where God is not. The world who wants nothing to do with God will finally have their wish. They will be separated from His love and goodness forever.
Oftentimes you find people blaming God at a funeral. But if you want to blame someone for death, blame the devil and ourselves. God has simply followed through on His Word that the curse that follows sin is death. Psalm 14:2-3: "The Lord looks down from heaven on the children of man, to see if there are any who understand, who seek after God. They have all turned aside; together they have become corrupt; there is none who does good, not even one." We are conceived with that infection of sin—our wills are born set against God. And so mankind is, as Job put it, "born to trouble as the sparks fly upward" (Job 5:7). Or as David said in Psalm 51:5: "Behold, I was brought forth in iniquity, and in sin did my mother conceive me."
The Law is proclaimed at a funeral by the body in the casket. You don't need to preach much law at a funeral. Still, remember those at the funeral who do not have an understanding of the price of sin; teach enough law to enable people to understand. But magnify Christ the victor, the conqueror, the one who died and rose again victorious, "who was delivered up for our trespasses and raised for our justification" (Romans 4:25).
Out of the depths I cry to you, O Lord!
O Lord, hear my voice!
Let your ears be attentive
to the voice of my pleas for mercy!
If you, O Lord, should mark iniquities,
O Lord, who could stand?
But with you there is forgiveness,
that you may be feared.
I wait for the Lord, my soul waits,
and in his word I hope;
my soul waits for the Lord
more than watchmen for the morning,
more than watchmen for the morning.
O Israel, hope in the Lord!
For with the Lord there is steadfast love,
and with him is plentiful redemption.
And he will redeem Israel
from all his iniquities.
Psalm 130
This promise is uniquely bestowed in Baptism. The first thing done in the funeral liturgy, other than the invocation, is a reminder of Baptism. Recently, many congregations have returned to the tradition of putting the pall over the coffin, as a reminder that you are covered with the blood of Jesus. If anyone is in Christ, he is a new creation. Are you in Christ? How do you know? Because you've been baptized. Our assurance is in our Baptism.
This is one of the treasures of our Lutheran heritage, which hinges entirely on Scripture. We need not wonder, at the end, whether we truly accepted Jesus or whether we've done enough sanctified works to prove our faith. Our faith is proved by God working on us. "Do you not know that all of us who have been baptized into Christ Jesus were baptized into his death? We were buried therefore with him by baptism into death, in order that, just as Christ was raised from the dead by the glory of the Father, we too might walk in newness of life" (Romans 6:3-4).
A word of comfort to those who have lost children in miscarriage: Jesus was conceived by the Holy Spirit in the womb. Wherever Jesus lived, He lived for you and me, including our life in utero. There is also comfort in John the Baptist leaping in the womb (in worshipful joy) when he heard the voice of His Lord's mother. When you go to church, so too does your child in the womb hear God's Word. When you receive the Lord's Supper, so does your baby. And the Word never returns void.
For as the rain and the snow come down from heaven
and do not return there but water the earth,
making it bring forth and sprout,
giving seed to the sower and bread to the eater,
so shall my word be that goes out from my mouth;
it shall not return to me empty,
but it shall accomplish that which I purpose,
and shall succeed in the thing for which I sent it.
Isaiah 55:10-11
Preachers aren't called to eulogize at funerals. In fact, it's alright if they don't say any good things about those in the sleep of death. Rather, use the Law and Gospel, rightly understood, magnifying the Gospel as the Law is on full display in the casket. "There is therefore now no condemnation for those who are in Christ Jesus. For the law of the Spirit of life has set you free in Christ Jesus from the law of sin and death" (Romans 8:1-2). And how do you know you are in Christ? Through Baptism.
A Christian funeral runs counter to the world. We don't need to hide from the fact that death is ugly and unnatural. Instead, we see our loved ones in the sleep of death, from which Jesus will awaken them. So be comforted, and share comfort with one another.
---
This presentation was hosted by the Good Shepherd Institute. Dr. Grime, Co-director of the Institute and Dean of the Chapel, shared some additional thoughts about the funeral liturgy, as well as the following resources:
• The latest issue of "For the Life of the World," which also highlighted death and dying and the immortal reality. You can read it or sign up for a subscription at www.ctsfw.edu/FLOW.
• Available through our bookstore: a short booklet on "Death and Life in Christ: Preparing for Death and a Funeral"; and
• The CD "Hymns of Comfort and Peace," featuring hymns (2-3 stanzas each) sung by the Kantorei and soloists at https://bookstore.ctsfw.edu/hymns-comfort-and-peace-cd.