Yesterday's convocation focused on Specialized Pastoral Ministry as a vocation—more specifically, on the work of chaplains. Chaplains David E. Ficken and Derek M. Wolter shared their stories, their insights into their line of work, and the cry for chaplains across institutions.
Chaplain Wolter graduated from CTSFW in 1989, certain that he would work in a parish setting throughout his ministry. He explained that, when at the Seminary, he never went to the fireside chats led by chaplains nor their informational meetings or lunches, because he was focused on the parish. His career since then? Two years in the parish and 24 in the military. "Which is to say," he said to the small group of seminarians interested in learning more about chaplaincy, "God knows the plans He has for you."
Chaplain Wolter serves as a full-time hospital chaplain, but he didn't start there. In the early to mid-90s, he worked with Orphan Grain Train in Russia, following the fall of communism. Their needs were graphic: poverty was feeding a slew of family tragedies, from family desertions to children placed in orphanages because their parents couldn't feed them. He discovered firsthand that ministry wasn't just limited to the idea of parish work. "It is the presence of Christ in the midst of need," he said. "Bringing that comfort and assurance, being with people when they're dealing with a very broken part of their lives." When he returned to America, he resisted military chaplaincy at first but circumstances (and some very pointed encouragement) pushed him into that field of ministry. When he called a military recruiter to reluctantly ask if they needed chaplains, she was thrilled. He could hear her flipping through a binder as she explained that they were short a very specific kind of chaplain: "Something called a liturgical protestant," she said. He took the hint.
Chaplain Ficken was serving Beautiful Savior Lutheran Church in Plover, Wisconsin, in his first (and current) call as a second-career pastor when he began working as a chaplain with the police department. His church encouraged him, seeing it as an opportunity to reach out with the Gospel. In a small community, local tragedies ripple across the entire town, and it put him in a place where he could reach out to many different people outside the church. Though not an extrovert by nature, he's found that chaplaincy naturally manufactures opportunities that are an extension of his work in the parish.
He recalled one woman with whom he shared the Gospel. "She had never actually heard that God loved her and was there with His loving embrace to forgive her of her sins," he said. "She broke down. I was able to touch her in that time with God's love and mercy. It opened up my eyes to the needs of the community, and opened up Beautiful Savior to get to their community and get to know their needs." Law enforcement is a tight knit community who don't easily let down their walls, but now that he's been with them for years, they automatically reach out to him when they need spiritual care following terrible accidents, suicides, and other soul-shattering tragedies. "It's a blessing to be able to walk with these people in the trials and troubles they face in their worst moments." He has now expanded to the sheriff's office and to nearby fire stations (one volunteer and the other full-time, which each have their own tight-knit cultures).
Both men serve on the Synod's Specialized Pastoral Ministry (SPM) Planning committee, working to encourage more pastors to consider chaplaincy as either a full-time vocation or a part-time addition to their duties. "You meet with people in their needs," Chaplain Wolter said of the vocation. "We work with people who are at the edges of society, who are at points in their lives where they are very broken. It's a type of ministry that is uncertain in the fact that you don't know who you're going to encounter, but very empowering knowing that you're going to meet someone when they in their deepest need." He compared it to Philip meeting the Ethiopian Eunuch: you're there at the right time in the right place.
He recalled the first time his unit—he currently serves as Wing Chaplain for a reserve air force unit in Wisconsin—really turned to him. There was a plane crash. "All of a sudden, BAM, everyone's looking to the chaplain," he said. "Survivor's guilt, family grief, you're right there at the moment of the need. It's very, very powerful." Both men, specifically because of their positions as chaplains, encounter people far outside the parish, who themselves have never encountered a pastor or priest because they're not plugged into any sort of church community.
Clinical Pastoral Education (CPE) training is required for Specialized Pastoral Ministry**, with at least two CPE quarters required for institutional chaplains who work in hospitals and prisons. Police and fire agencies don't require the training (they look for pastors in good standing to serve them and the community, with ICPC and FFC week-long training courses that help pastors get to know police and fire culture). However, the Missouri Synod requires it as an endorsement, so that they can guarantee that our chaplains are trained to a certain standard and have the skills to respond appropriately to any situation.
Made up of clinical hours and academic hours, CPE is not Lutheran, nor are there many opportunities to train in a Lutheran setting. All religions and denominations study together. Though challenging and at times overwhelming, there is also a distinct blessing to this format. "You're going through this system where you're expected to be who you are theologically but you're also being challenged—not to your doctrine—but to how you participate and present that doctrine in the midst of a need," Chaplain Wolter explained. "Can you bring the presence of God to people who are outside of your doctrine in the midst of need?"
Though Western culture has become largely anti-religion over the past few generations, swelling underneath this sentiment is an increased interest in spiritual care. More and more institutions are recognizing that need and reaching out for people who are trained and CPE-qualified to care for the spiritual needs of their patients or even their employees. In healthcare, there is an interest in in the holistic approach: care for physical, mental, and spiritual health. It is also a teaching opportunity: when people of faith are coming to the end of their lives, they often begin to say they desire that end. This is not suicidal ideation as (especially new) healthcare workers may think, but how people of faith begin to transition to the next phase. It's the chaplain's role, then, to explain to the healthcare worker: this is not a desire for suicide—she is anticipating coming to the end of her life and being called into the arms of her savior.
In another example, Chaplain Wolter has seen many episodes of repressed trauma and guilt among old veterans, arising from acts done in war a lifetime ago. A mental health care specialist will be inclined to put the WWII veteran on medication for depression, but the chaplain recognizes the spiritual problem, which requires spiritual care. In this case: confession and absolution. They also deal with the families in their grief, as well as the staff members who work in an environment in which they experience the result of sin every day. They, too, need time to grieve and process.
As institutions begin to look more and more for spiritual care, we have a huge mission opportunity as a church body, to bring an understanding of Christ and the need for mercy and redemption. "We need people who are trained theologically in compassion and mercy, in Law and Gospel, in confession and absolution," Chaplain Wolter explained. The United Church of Christ already requires their pastors to have CPEs, so they're ready to fill these positions. Chaplain Ficken added, "There are wiccan chaplains, so it behooves us to get out there with Christ as much as we can."
More and more entities—in healthcare but also across government agencies and corporate businesses—are hiring chaplains on site to care for spiritual needs. "Society is seeing that part of taking care of employees involves spiritual care," Chaplain Wolter said. "SPM is *Macedonia, guys: we're crying out. We need chaplains."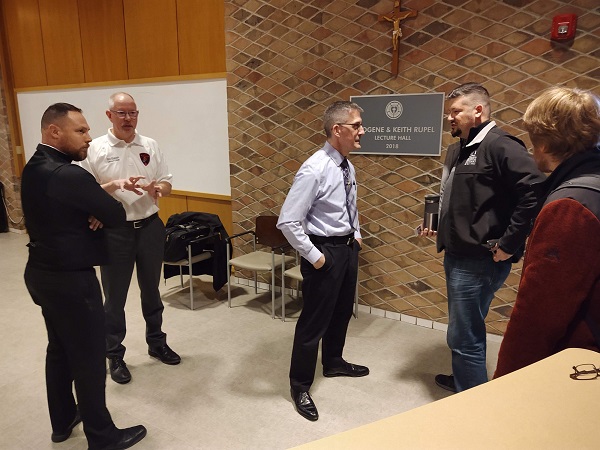 ---
For more information, you can reach Chaplain Wolter at [email protected].
*Macedonia is a reference to Acts 16:9: "And a vision appeared to Paul in the night: a man of Macedonia was standing there, urging him and saying, 'Come over to Macedonia and help us.'"
**Editing Note, from Craig Muehler: "Just a correction. CPE is *Not Required* for Military Chaplaincy. For information on Ministry to the Armed Forces. Please go to https://www.lcms.org/ministry-to-the-armed-forces. Ministry to the Armed Forces is separate from Specialized Pastoral Ministry. We have different requirements."