Back in November, Prof. Robert Roethemeyer (CTSFW Library Director) and Dr. David Scaer (member of the faculty since 1966) were coming back from the Concordia Historical Institute Board of Governors meeting and the organization's Annual Awards Banquet when they took a detour through Springfield, Illinois—CTSFW's old stomping grounds. Prof. Roethemeyer took the opportunity to capture a couple of photos of the plaque that was installed there by the Central Illinois District in 2013.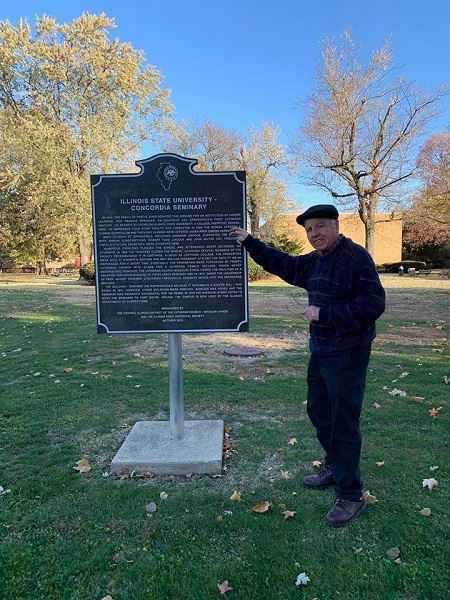 The plaque reads:
Illinois State University –
Concordia Seminary
In 1852, the family of Pascal Enos donated this ground for an institution of higher learning. Rev. Francis Springer, an educator and Springfield's first Lutheran minister, led efforts to establish Illinois State University, a college preparatory school, here. An impressive four story facility was completed in 1859. The school offered a classic curriculum and theology classes were offered under Prof. Simeon Harkey.
Many citizens of Springfield, including Abraham Lincoln, supported the school with annual subscriptions. Robert Todd Lincoln and John Milton Hay, President Lincoln's future secretary, were students here.
Numerous problems plagued the school and attendance never exceeded 140 students. In 1869 the trustees closed the school, although several members of the faculty reestablished it in Carthage, Illinois as Carthage College. The properties were sold at sheriff's auction and Rev. William Passavant utilized the facility as an orphanage for a short time. Eventually the properties were purchased by Trinity Lutheran Church with plans for a Lutheran female college, which never materialized. However, the Lutheran Church-Missouri Synod viewed the facilities as a solution for overcrowding at its St. Louis Seminary and in 1875, under the leadership of Prof. August Craemer, Concordia Theological Seminary moved into the abandoned building.
The building – renamed Die Kaffeemuehle because it resembled a coffee mill – was razed in 1931. However, other buildings were erected, acreage was added and the Seminary was eminently successful for 100 years. In 1975 the Missouri Synod voted to move the Seminary to Fort Wayne, Indiana. The campus is now used by the Illinois Department of Corrections.
Sponsored by
The Central Illinois District of the Lutheran Church – Missouri Synod
and the Illinois State Historical Society.
October 2013