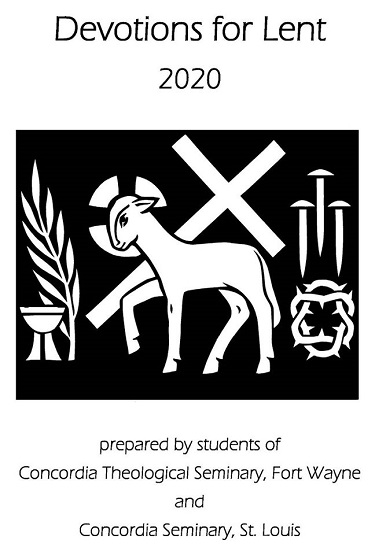 Grace to you and peace from God our Father and the Lord Jesus Christ!
The following devotion is a collaborative effort of the two seminary student bodies and the first of its kind for some time (so far as I know). In the early centuries of the Church, Lent was a time of preparation for those desiring to join the Church. It was a time of intense study and bodily preparation. The final two weeks of Lent, Passiontide, was when the intensity turned to a focus on repentance.
To reflect the catechetical nature of the season, the devotion will follow the church's custom of "lectio continua," a continuous reading of Scripture. St. Peter's First Letter to the church is often considered a manual of instruction for those desiring to be baptized. The devotion then proceeds into St. Peter's Second Letter and concludes with St. John's First Epistle. St. John's focus on the light and love of God is an exceedingly appropriate way to celebrate our approach to Good Friday and the Feast of the Resurrection of our Lord.
Many thanks to all the writers of the devotions and to Silas Hasselbrook, Publications Chair, CTSFW, for assisting in editing. Special thanks are to be given to Joseph Highley, the Spiritual Growth and Life Chair at Concordia St. Louis, for his willingness to coordinate in compiling this work. Thanks also to Dr. Paul Grime for his guidance and input on the process of directing, writing, and editing, as well as choosing the cover art. May the words of this devotional guide your hearts and minds into all Truth – the knowledge of our Lord, Jesus Christ.
St. Pepin of Landen
Mark J. Kranz
Spiritual Life and Growth Chair
Concordia Theological Seminary
Fort Wayne, IN