From chapel this morning, sermon preached by Dr. Peter Scaer, Professor and Chairman of Exegetical Theology
---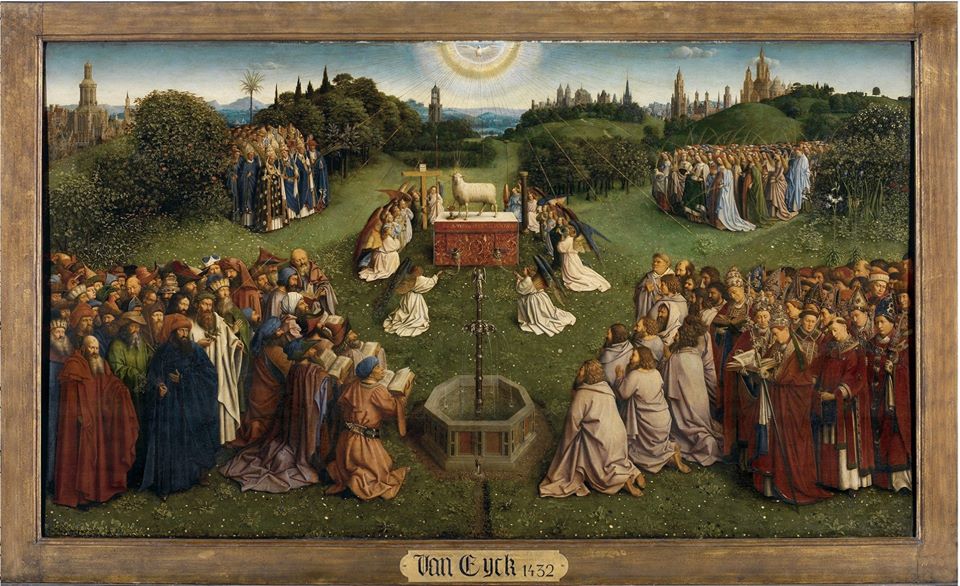 Dear Friends in Christ,
I've never seen anything like it. Not in my life, or in this land. Overnight, the world has become a strange place. The abnormal has become the new normal. In the blink of an eye, the world has turned upside down. We can no longer take anything for granted. Schools closed, workers sent home, along with libraries, museums—just about everything. When they shut down the NCAA tournament, we figured it was real. Even more so when they shut down restaurants and bars. Churches, too. All are told to practice social distancing, some are under complete quarantine. Still others are self-sheltering, and will have to deal with cabin fever, which will have its own challenges and opportunities. It's a mix of trivial and tragic.
I went to the grocery story yesterday. Something I've tried to avoid as much as possible. But people are nervous, on edge. And what's happened to our retirement nest egg? Will we still have jobs? What about those who have already been laid off, or whose businesses are already in jeopardy? And who'd have thought that toilet paper would somehow become currency?
My prayer is that we will all get through this soon enough. In fact, I have every reason to think so.
So, what do we do in the meantime? Well, medical workers are doing their jobs. Truck drivers are doing theirs, as are the cashiers at the grocery store. Firefighters must be on the ready, policemen on patrol. Researchers are busy in their labs, and we pray and give thanks for them all. So also teachers, factory workers, farmers—the list goes on and on. It's funny how you see things differently when the chips are down. The evil of the day is sufficient, and while the sun shines, we will do what the Lord has given us to do. And that includes us here at the Seminary.
Don't visit our Seminary now. It's shut down to the public. But we are not really shut down, at least in our mission and the carrying out of our vision. Our classrooms have no students, yet students are in class. We do not gather together for prayer here at the chapel, and yet we still pray together. This is a time for courage, but not foolishness. A time to move forward, but not recklessly, always mindful of our neighbor. So some of us old dogs learn new tricks, and we thank God for the technology that allows us to teach and learn.
Our heart goes out to all who are suffering, all who are struggling. All who will have trouble to make ends meet. All who are alone, and lonely. All those who work in businesses where work is not an option. All who wonder how they will pay the bills. Anxiety spreads in, with, and under the virus. But so also the opportunity, the need to see things as they truly are.
And we know that whatever may be happening, the fundamentals have not changed one bit. One common sin infects us all. The virus reminds us not only of our frailty, but of our faults and failings. The world is under the curse of sin, our sin. Good time to remember that. But it is an even better time to remember that God's grace is greater than our sin. Love, grace, and mercy endure. Our mighty God has a cure for what ails us; Christ's blood washes us clean, and takes away the leprosy of sin that keeps us apart from God and each other.
Perhaps we're living in the end times. Five hundred years ago, Luther thought the same. St. Paul warned about it, as did Christ. So we do well to consider the signs. Our Lord told us of false prophets. Check. He warned that lawlessness would increase, and that the love of many would grow cold. Check and check. He told us to expect persecution, famines, and pestilence. Check, check, and check. When will our Lord come? On what day or hour? God only knows. But as every day passes, our Lord's return draws nearer. But that is a good thing, a very good thing. So prepare your hearts, for he comes to save us. And we are a people in need of saving.
In this world of fallen men, we see distress and perplexity, people fainting with fear and with the foreboding. For those who feel faint of heart, for those who feel overwhelmed, place your burdens upon the Lord. Say a prayer and give your trouble to the Lord. Sing a hymn, and let your heart live in joy and hope. For Christ is still Lord. And He is with us, and He shall return with all His angels. Redemption draws near.
So, what do we do in the meantime? Be of good courage and joy, such that your neighbor will ask you the reason for your hope.
And at the Seminary, we will continue to preach like sowers who go out to sow. Broadcasting the gospel over the internet, offering encouragement when we have the opportunity. And this Word will not return empty. We will not worry about tomorrow, but we will plan tomorrow, and the day after tomorrow, and the summer, when, we pray, this crisis will have passed. So also we will continue to teach our seminarians, so that they might reach the lost, and continue to teach our deaconess students, that they might care for all.
Yes, this season of Lent seems more Lenten than any I can remember. But if it is a time to remember our mortality, then well and good. "All flesh is like grass and all [of man's] glory like the flower of grass. The grass withers, and the flower falls, but the word of the Lord [endures] forever" (1 Peter 1:24-25).
If it is a time for repentance, then let it be for repentance. A time to reflect on the sin that infects us all; a time to consider those sins which especially beset us; a time to remind ourselves about the emptiness of the world, its many false idols; a time to read Genesis, about the basics of male and female, man and wife, and the value of children; a time to tune out the voice of the scoffers who have little to offer in this age, and nothing for the next.
If it is a time to draw closer to the Lord, to remember our first love, then let it be that as well. Let the Words of the Scriptures resound sweetly in our ears.
And if a hard rain is gonna fall, if the waves rise higher, don't jump ship. Every faithful little church is an ark of salvation. With Christ on board, we will get safely to the other side. And don't think that our Lord is sleeping, or that He has abandoned us. Far from it. Be of good courage.
Take care of your families, and all who are in the family of faith, the body of Christ. Read good books, talk to one another. Be kind to your neighbors. Let your kindness and patience give opportunity for them to ask concerning the hope that is within you.
And if you have more time on your hands, pray. Pray that our Lord will deliver us from all evil. Pray for doctors and nurses, for those who are struggling, or struggling to make ends meet. Pray for those who are alone, or those who feel alone. For leaders, that they might have wisdom. And also for those of the household of the faithful. Pray especially for our faithful pastors and congregations, that their work might continue. Even as we give thanks for so many faithful pastors and lay leaders, whose stories inspire us with their courage and kindness, ingenuity and fidelity.
And we pray all the more fervently that whatever happens, good or bad, that it would draw us closer to our Lord. That we would use this time to remember what really matters.
Whenever we celebrate the Lord's Supper, we hear the words "Do this in remembrance of me."
So remember that His body has been given for you, His blood has been shed as a sacrifice for our sins, to propitiate the wrath of God.
And remember that our Lord lives among us. And where two or three are gathered in His name, there shall He be.
And remember, just as surely as Christ was raised from the dead, we too shall be raised to live with him eternally. So the basics are covered.
And on that great day of resurrection, pestilence will be cured, and death will have been put to death. And social distancing will give way to the great communion, where in Christ we have communion with God and fellowship with one another.
And in a world of bad news, that's good news indeed. Amen.
The peace of God, which passes all understanding, keep your hearts and minds in Christ Jesus.
Amen