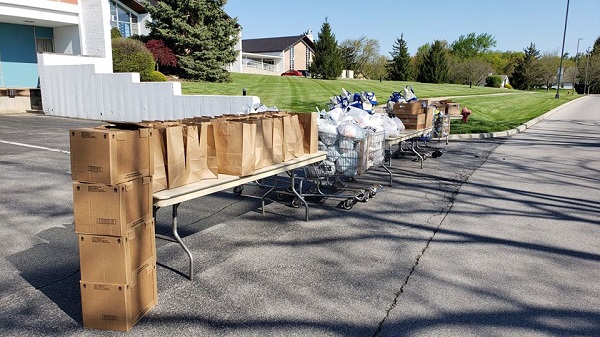 The Food Co-op at CTSFW continues to serve the students even in the midst of restrictions and regulated physical distance. On Tuesday of last week, they held another food drive-thru service, loading up the back of each car as they drove up to the back door of the Co-op and waited their turn. From Deaconess Katherine Rittner, Director of the Food & Clothing Co-op:
"Yes, we are still feeding our students and their families during this time, all-be-it a little differently. The staff of the Food Co-op put together insulated bags with meats in there as well as providing milk, fresh fruits and produce. Eggs are a little harder to come by, but we are able to get them thanks to our amazing donors who are buying them or donating fresh farm eggs. In addition we are putting together boxes with canned goods and staples for the pantry (pasta, instant potatoes, canned fruits, peanut butter and jelly, etc.)
"We have the most amazing donors who are showing us daily the reminder Jesus gives us in Matthew 6:25-34: 'Therefore I tell you, do not be anxious about your life, what you will eat or what you will drink, nor about your body, what you will put on. Is not life more than food, and the body more than clothing? Look at the birds of the air: they neither sow nor reap nor gather into barns, and yet your heavenly Father feeds them. Are you not of more value than they? And which of you by being anxious can add a single hour to his span of life? And why are you anxious about clothing? Consider the lilies of the field, how they grow: they neither toil nor spin, yet I tell you, even Solomon in all his glory was not arrayed like one of these. But if God so clothes the grass of the field, which today is alive and tomorrow is thrown into the oven, will he not much more clothe you, O you of little faith? Therefore do not be anxious, saying, "What shall we eat?" or "What shall we drink?" or "What shall we wear?" For the Gentiles seek after all these things, and your heavenly Father knows that you need them all. But seek first the kingdom of God and his righteousness, and all these things will be added to you.'
"'Therefore do not be anxious about tomorrow, for tomorrow will be anxious for itself. Sufficient for the day is its own trouble.'"
She continued:
"We truly are blessed and because of our donors, we are able to continue feeding our students during these difficult times. Some of them are placing orders to be picked up at the local Wal-mart or Kroger and Deaconess Rittner stops to pick them up on her way to the campus. This allows us to easily restock the shelves for easy packing of the food.
In addition, we are finding new avenues to obtain much needed food items for the shelves with the generous donations that are still coming in for the support of the students. I am reminded daily of God's love and mercy because of the amazing donors we have and I pray daily for each and every one of them. They are truly the visible reminder of God's caring and love."
If you are in the area and interested in dropping off items at the Clothing Co-op, the staff are working towards transitioning from appointment donation drop-offs to open drop-off times with more flexibility. Currently, all available appointment times are filled for the week of May 18-29. However, from June 1-12, curbside donations will be accepted between 9 a.m. and 12 p.m. Donors are not permitted inside, but can place items in the bins; receipts are available in a plastic bag on the end of the bin. The plan is to return to normal on June 15, the week that Summer Greek starts.