President Lawrence R. Rast Jr. (CTSFW, standing at the podium) and President Dale A. Meyer (CSL, far left standing in the back) presented to the Council of Presidents in San Diego last week on how the seminaries can help the Church in our present culture.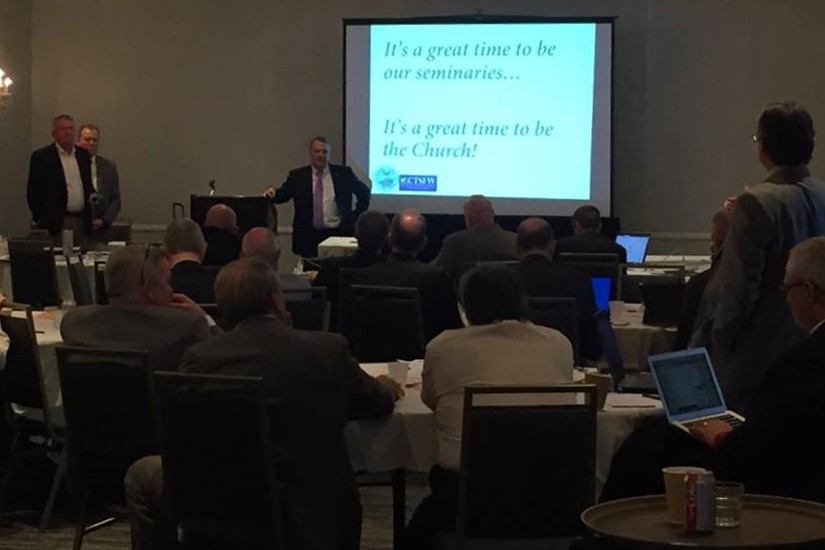 American culture has changed, deeply. The cultural landscape is one of multiculturalism, identity politics, post-sexual revolution, bioethical changes, economic disparity and record debt, distrust of institutions, anti-Christian judgments, and dysfunction at all levels. Religiously, Protestant/Judeo-Christian morality in America has given way to the morality of self-fulfillment, even within the church. According to Barna Trends 2017:
91% of US adults and 76% of practicing Christians agree that the best way to find yourself is to look within yourself.
89% and 76% agree that people should not criticize someone else's life choices.
86% and 72% agree that to be fulfilled in life, you should pursue the things you most desire.
84% and 67% agree that the highest goal of life is to enjoy it as much as possible.
Or, as the study concluded, that "While we wring our hands about secularism spreading through culture, a majority of churchgoing Christians have embraced corrupt, me-centered theology."
Congregations are trending smaller and older, as are their pastors. Additional trends promise challenges, and others opportunity: people are concentrating in the largest churches, congregations are more independent, there's increasing ethnic diversity of predominantly (and historically) white congregations, more informal worship, more gender inclusiveness, great acceptance of homosexual behavior, and more technology.
And what are the seminaries' response to these changing times? "Dale and I have one word to describe the present and future of the seminaries," Dr. Rast said, speaking to the District Presidents. "You have one word to describe your district's present and future. We have one word to describe the LCMS's present and future:
"Hopeful."
Our hope is in Christ, our confession founded firmly on the rock of God's Word. As such, the present educational intentions in training future clergy remain clear: to facilitate the interpretation of texts, to raise students' consciousness of historical and contemporary contexts, to cultivate student performance in public clergy roles, and to nurture dispositions and habits integral to the vocation of religious leadership.
To assist the church in facing these challenges, both seminaries continue to offer the very best in pastoral formation, grounded in our rich historical theology while helping our students and graduates to apply what they learn to our challenging 21st century realities. They also offer resources to laity and clergy, and graduate studies. These resources and graduate courses are available to Lutherans worldwide, as well as to other Christians. "Lutheran leaven!" Dr. Rast called it. In these challenges, we have been given great opportunity.
A number of the District Presidents came up to Dr. Rast afterwards to tell him and Dr. Meyer how much they appreciate their clear understanding of the issues—both the challenges and the opportunities—and to thank them for their leadership as they serve as a model for working together for the good of the Church.