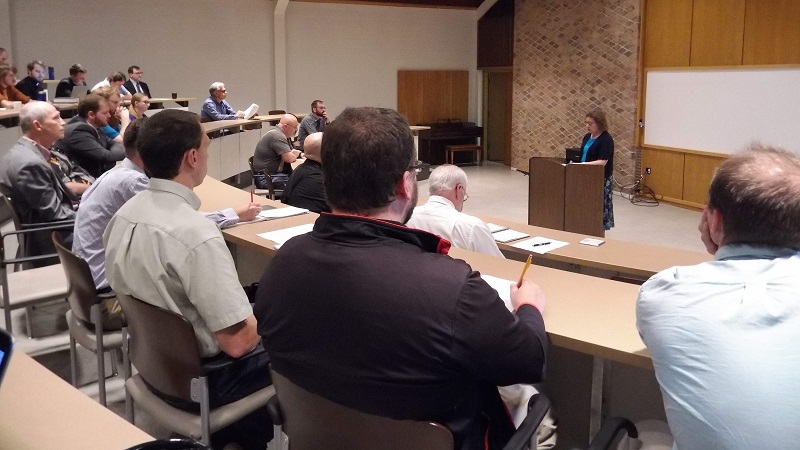 Convocations at CTSFW began this Wednesday with a presentation by Mrs. Karen Hart from Keys Ministry. These hour-long lectures take place after chapel on Wednesdays during the academic year, and typically cover a subject that will likely come up in the field for our future pastors and deaconesses. This week's convocation dealt with sharing the redemption we have in Christ with those who struggle with same-sex attraction.
Science and Redemption
Keys Ministry has served those burdened with same-sex attraction since the 1980s, when it was founded by a retired LCMS pastor who recognized that many who struggle with these sins are desperate for a Word of hope and healing. Mrs. Hart came onboard when the ministry, which first worked exclusively with men, began receiving requests from women who also struggled with same-sex attraction. A licensed psychologist, Mrs. Hart worked in mental health for 23 years in both state-sponsored programs and her private practice. She became director in 2005. By then, they were also caring for those with minor-adult attraction and transgenderism.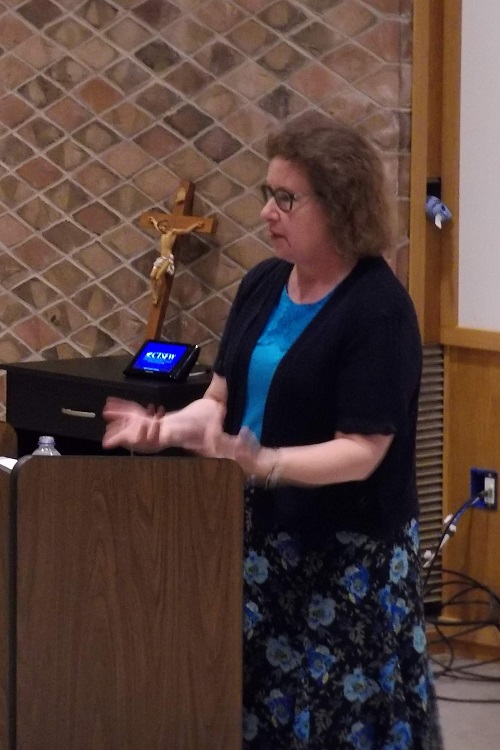 Mrs. Hart has no interest in politics. "It's more important to win souls for Christ than it is to defeat any group politically." Science, however, plays a significant role in the issue. Research offers both background to the discussion and hope to those struggling with the burden of these attractions. According to research, 1.4% of women and 2.8% of men have performed homosexual acts in the last year; 10-16% of men have practiced it at some point in their lives. The implications are clear: though media portrays all gay people as militant social justice warriors, many are simply ordinary people who do not want these attractions—and if the statistics are to be believed, many lose them.
Unfortunately, too often the voice from church has been one of condemnation, criticism, and even vitriol. "They are left with the impression that they must first clean themselves up by getting rid of their attraction before they can go to God," Mrs. Hart said. "They've never heard the Gospel."
Genetics and Behavior
Members in the homosexual community often subscribe to the "born that way" theory, or the idea that there is a "gay gene." When Drs. LeVay and Hamer did a study on brain structure and attraction in 1994, the media ran with their conclusions (that differences in brain structure lead to homosexual attraction in men), despite the fact that the results would never be replicated. Nor did it take into account that sexual experiences lead to physical alterations. "Behavior by itself can alter brain structure," Mrs. Hart explained. "Sexual behavior can alter the neurons."
Mrs. Hart referred to this as the developmental theory, that, while there may be a biological component, environment and behavior play a significant role in same-sex attraction. Science bears this out. "Whatever issue your mind is focused on, neurons will develop to hold those thoughts," she said. "The Creator of the brain provided a way for the brain to make changes. We used to think the brain was pretty much fixed by 20 or 21. Now we know better." For example, we know that people's attractions change over time. The couple that marries at 20 doesn't find 50-year-olds attractive. But catch up with them in 30 years, and they'll be attracted to their 50-year-old spouse.
And adolescents live in something of a state of flux, uncertain and confused. At the age of 12, over a quarter of adolescents (25.9%) were unsure of their sexual orientation. By the age of 17, only 5% were still unsure. Of the 95% who were sure, 99% of those were certain they were heterosexual. At 12, these young men and women need facts, reassurance, and encouragement to avoid experimentation. With help and support, most adolescents uncertain of their sexual orientation will find that they are straight by 17. Yet the pro-gay movement advocates for precisely that: experimentation. "They know perfectly well: there is such a thing as sexual imprinting," Mrs. Hart said. "It never goes away. I'm pretty suspicious of their motives."
Environment
In a study on risk factors in attempted suicide among gay and bisexual adolescents, researchers compared suicidal and non-suicidal homosexual teens and found that those who had attempted suicide were more likely to have divorced parents, been sexually abused, were using drugs, had been arrested, practiced prostitution, or were regarded by their peers as feminine. And the earlier an adolescent was identified as gay, the more likely he would commit suicide; the earlier he began to be sexually active, the same likelihood appeared. This is not a surprise: most youth say they hate being gay.
Risk factors for pre-homosexual boys include: distant or absent fathers; that they have no same-sex friends (studies have found that same-sex peer bonding is even more significant for developing boys than even their relationship with their father); or come from single mother homes where the woman, because of wounds in her past, despise or fear masculinity.
For lesbians, many report a bad relationship with their mother or that they come from a family that devalued its women. Their fathers were sexually abusive, contemptuous of women, and openly showed pornography with no respect to their daughter's modesty. These girls craved protection but did not receive it. Males are perceived as selfish, unsafe, and predatory.
Of course, there are times when nothing in an environment fits these situations. "I describe same-sex attraction as a room with many door leading into it," Mrs. Hart said. The man or woman with same-sex attraction had excellent parents, happy childhoods, and healthy peer groups. And sometimes a child can perceive their father as unloving or unavailable when he's neither: simply unsure how to connect with a son who may not be as traditionally masculine. "It become a self-fulfilling prophesy," she said, where demanding a boy "toughen up" backfires. Her recommendation: "He needs to show an interest in what his son is interested in. If the father's response is to just love the boy as he is, spend time with him doing what he would like to do, there's a high chance he will turn out straight."
And for those who come from a background of pain, the developmental theory still must be approached with compassion and gentleness. "Never say homosexuality is a choice," Mrs. Hart said. "They'll usually put up a wall when they hear that. They were born this way; no other theory makes sense." Instead, she suggests, "Recognize that they are not born this way: they were born into a set of circumstances that set them up to have these feelings."
When approached with sensitivity and in a spirit of love, developmental theories expose people to the idea that they may not be stuck on a road they may have never wanted to walk. "Developmental theories give people hope: if there's a path in, there's a path out."
A Word of Hope
The Keys Program was developed at a time when resources for those who wanted out of the lifestyle were few. The retired LCMS pastor went to the best resource he had: the Bible. It has been the textbook of the program since its inception in the 80s.
In the spring of 2007, the ministry began receiving an increasing volume of letters from both same-sex attracted inmates and incarcerated pedophiles. Many have no experience with Christianity, so the introductory packet begins with an explanation of the Gospel with relevant Scripture references: "No sins are better or worse. All need forgiveness. Society may have to treat some sins more harshly, but at the foot of the cross we are on equal ground. God's forgiveness cannot be earned."
Some she will never hear from again; others want in the program. "95% of the people who are contacting me have a very legalistic attitude about how to approach God," she said. "I can't tell you how many times I've heard 'I need to overcome this problem because it's not God's will for my life,' this attitude that they have to clean themselves up then approach God. No, I tell them. You approach God so that Jesus can clean you up.
"The Bible promises deliverance, but I make it clear that deliverance does not mean they will end up heterosexual," she added. "The opposite of homosexuality is not heterosexuality. The opposite is holiness. This [program] is a pursuit of holiness. I share the statistics: that a third will turn out heterosexual, a third will reduce same sex attraction and gain a lot of good insight and spiritual growth but the attraction doesn't come online, and that a third will drop out."
The Keys Program
The program is broken down into five units with seven key lessons. These forty sessions are each composed of a devotion, Scripture readings, study guides, and a plan of action. Solitude ends up being a vital part of the program as the ministry demands that participants examine themselves in light of their pasts and the Word of God. Unlike other programs, Keys Ministry does not rely heavily on support groups. "There's certainly value in it," Mrs. Hart said, "but the danger when you have a group is the level of wisdom may not rise higher than the collective wisdom of the group."
[At which point Dr. Peter Scaer, sitting to my right, quietly said, "Ah. Like a faculty meeting."]
The Units and Keys are broken down as follows:
Unit 1: Getting control of your life.
Key 1 Desire: What is your motivation for overcoming these sexual desires? Mrs. Hart has found this key flushes out the legalism, providing an opportunity to teach the difference between Law and Gospel. Many who struggle with these sins have a tendency to be self-pitying, envious, and resentful. Participants identify those thoughts and begin finding Scripture to counter them.
Key 2 Faith: What is your faith in? Your own ability? Your righteousness before Christ? This unit also addresses a common but rarely voiced concern: what kind of person am I going to become as I do this program? Will I like that person?
This lesson also introduces the emergency prayer in Matthew 14:30: "But when [Peter] saw the wind, he was afraid, and beginning to sink he cried out, 'Lord, save me.'" Peter had no time for self-examination, he needed immediate rescue—and it was Jesus in verse 31 who immediately takes hold of Peter, not the other way around. "If we are blindsided with an unexpected onslaught [of negative thoughts, emotions, mindset], you can always pray this," Mrs. Hart said. "Even if you don't want to be stopped."
Key 3 Scripture: The program teaches these men to use memorized Scripture to build faith, countering negative thoughts with a memorized verse. It's crucial that they derail these thoughts as soon as possible. Mrs. Hart finds that these men cling to the verses that speak of God's mercy as a free gift. "I had one man who used to yell Levitical verses at himself," she said. "Guess what: it didn't work. Focus on the cross and the ransom paid on your behalf. Don't focus on sins but on the Savior."
"Jesus fought the devil with memorized verses, as should we," she continued. "Temptations are based on lies of the devil. Pray to the Spirit to expose lies. Sin is addictive, but the brain can be rewired. When one specifically blocks temptations with memorized verses, thoughts can atrophy. The Holy Spirit grows even as the literal meat of the brain grows."
Key 4 Forgiveness: "The key of all keys," she explained. Many come from backgrounds of hurt, preyed on by their own families, peers, molesters, and former partners. Peeling back this pain is like peeling an onion. "Forgiveness is complicated: facing painful memories without flipping into the anger to restore the sense of power that was taken away." Instead, surrender. "Pour out your pain, grieving your losses in the presence of Jesus who bore our sins on the cross. When we're wronged, we feel robbed; we want compensation. That compensation came on the cross. We don't deserve a split second of time on the cross, but he gave 6 hours. We don't deserve a molecule of blood, and he spilled quarts." Participants are taught to pray for those who wronged them. "It restores the sense of power of which the victim was robbed."
Keys 5, 6, 7 Love, Surrender, Rebuilding: We were beginning to run out of convocation time, so Mrs. Hart had to sum up the last few units quickly. The unit on love is important for those who never knew there was a difference between love and sex. "Some of them learn for the first time that love means self-sacrifice." One man in the program admitted, "I always thought love was a word you used to get what you wanted from people." Surrender, too, is a difficult concept. Participants are facing a lot of fears and insecurities, wondering where they are going to end up, if they are really willing to let God do what he will with their lives, and allowing Him to take their sexuality where He wants it to go. And rebuilding is also a matter of practicality: the time and energy they once spent pursuing their sin must be used differently. At this point they can look back and see how far they've come.
The next four units (Personality/Identity, Memories, Relationships, and The Miscellaneous Unit/Where do you go from here?) use the same seven keys, with different devotions, Scripture, and study guide questions. The program ends up cyclical, the participants revisiting every issue in all five units.
Not everyone makes it through the full 40 lessons; but not always for sad reasons. "Some gain freedom after only 1 or 2 units," Mrs. Hart explained. "The rate of change varies. Weeks of calm can be interrupted by episodes of negative onslaughts. The secular world doesn't like it when we call this an addiction, but giving up these old habits can feel like withdrawal."
Throughout, these participants confront the lies the devil told them during their most traumatic moments, which persist long after the abuse is over. They confront painful memories, forgive the abusers in their own past, and learn of the power of Christ's forgiveness in their own lives. "When a lie is identified and the truth of the Word counters it," Mrs. Hart said, "it's a very powerful moment."
---
Learn more at www.keysministry.com. Mrs. Hart also passed out several pages worth of resources to the group, including the studies on which her talk was based, websites for several organizations that help those struggling with same-sex (and other) desires, plus book resources. You can access a copy of those resources by clicking HERE.