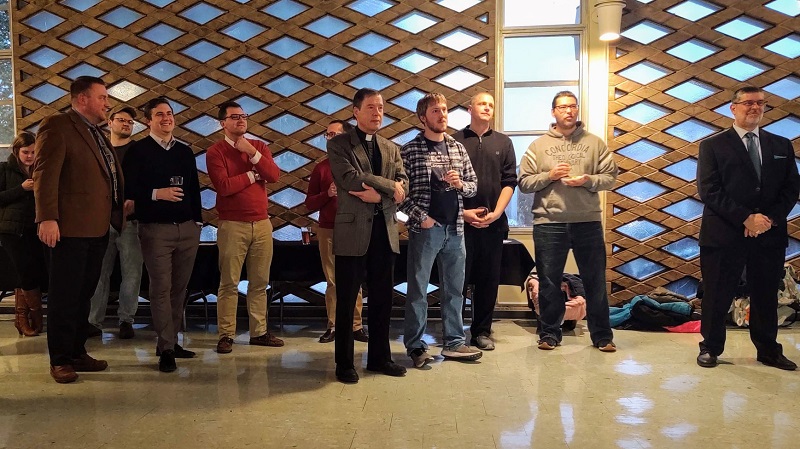 Last Thursday, on November 14, we held the Seminary community's weekly get-together (called "Gemutlichkeit") a day early, as many of the students planned to leave for Fall Break as soon as classes finished on Friday. As a part of the last Gemutlichkeit of Fall Quarter, we also held the annual Faculty Author Celebration, sponsored by CPH.
Dr. Ben Mayes, a former editor at CPH before he moved to Fort Wayne in 2016 to serve as Assistant Professor (and now Chairman) of Historical Theology, served as MC for the evening. We recognized 10 faculty members, who were asked to bring their works published within the past 18 months (covering last academic year and the beginning of this year). These books, articles, anthology essays, and pulpit supply resources were displayed on a table in the Student Commons. Chances are a few publications as well as faculty members were missing as the celebration depended on the faculty bringing in their published works, several of whom were not available that evening.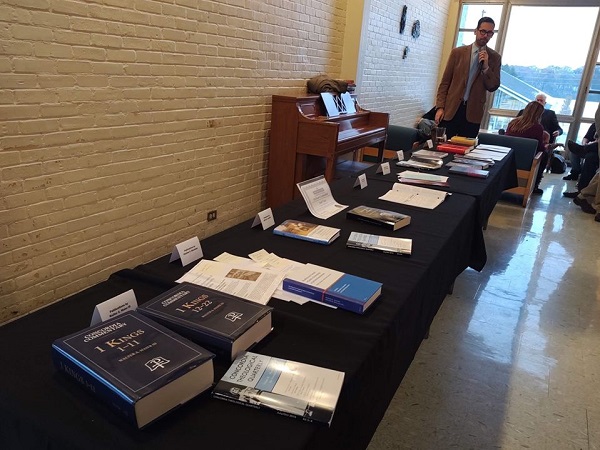 Faculty members recognized included Drs. Gieschen, Grobien, Maier III, Masaki, Mayes, Nordling, Pless, David Scaer, Wiley, and Ziegler. They shared their new works, whether they were published by CPH, us (in the CTQ), or by other publishing houses, covering a wide range of items. For example, Dr. Don Wiley had a couple sermons in one of the Concordia Pulpit Supply publications, one of which had originally been written and preached in Spanish for the installation of a pastor in a Spanish-speaking congregation. Dr. Wiley was called to CTSFW to serve in several different roles, one of which is as Director of the Spanish Language Church Worker Formation Program. A native English speaker, he also brought with him proficiency in Spanish; he's found that it takes about the same amount of time to write a sermon in Spanish versus translating an old English sermon and editing it to sound natural in the second language. He leads an informal "Spanish over Lunch" class on Fridays at noon in the dining hall for those students interested in learning or improving their skills in Spanish.
Many other works were displayed, from books authored solely by our faculty members to CTQ articles and papers published in larger anthologies. Dr. Ziegler, presenting the large volume in which one of his essays would appear, explained that the book had a dual purpose: as a weapon for self-defense. Dr. Masaki (who has projects not only in America but also in Taiwan and Czech publications) also took a moment to introduce several men from Nigeria and South Africa who are in leadership positions in their church bodies, here to attend a leadership program offered at CTSFW. One such man, the Archbishop of Nigeria, had recently published a work on strengthening integrity in church leadership. "The real leadership is in honesty and integrity," he explained. Added Dr. Masaki: "His hope should be hoped by every seminarian."