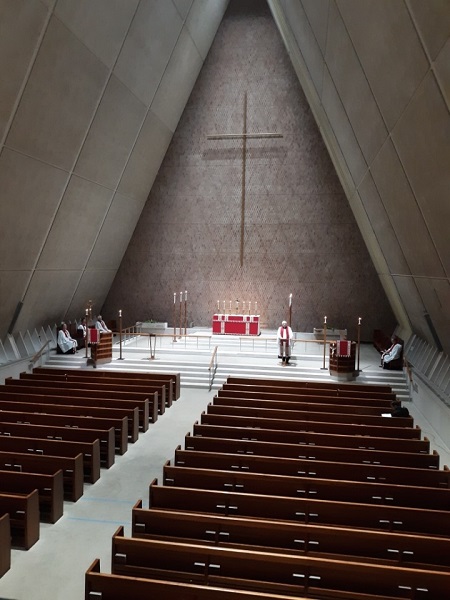 Some reflections from Dr. Peter J. Scaer, Professor and Chairman of Exegetical Theology here at CTSFW, on Call Day and Night (pulled, with permission, from his personal Facebook page):
I can tell you where history ends, and so can the men of Concordia Theological Seminary. Tonight, we celebrate call night, as our men find out the fields in which they will labor and sow the gospel seeds. To be sure, this night is historic, in that the service will be online. The technological revolution in service of a message that turns the world upside down.
These men are being called to preach the one who is Alpha and Omega, beginning and end. They are being sent to proclaim the Lamb, slain before the foundation of the world. They are being called to tell the world that the one whom the prophets foretold did indeed come. This is Emanuel, God in the flesh, who lived for us, and died for us, who rose again from the dead, and who will, soon, very soon return.
Where does history lead? It leads to Christ, the one through whom this universe was created, the one who put the stars in the sky, the fish in the sea, and the animals on the face of the earth. The one who created us in his image, and fulfilled his promise to redeem us, that we might be one with him…
An empty chapel is hard on the eyes.
On the other hand, those present were surrounded by angels and archangels and a great company of emojis, from east and west. Goldilocks would have found the sermon just right. Expressing the disappointment, but true joy, President Rast hit the nail on the head. We had hoped. But hope is alive in Christ…
But the highlight of the night? The presence of students, if even at a distance. Enough to bring tears, so beautiful, so poignant. Man, has our seminary been blessed by their presence. When they sang, it was a little piece of heaven…Tonight the chapel was haunted by the Holy Spirit. The pews were empty, but the Spirit of Christ was present, and we knew it. A little sadness, to be sure, but so much that was so sweet.
---
You can read both of his full reflections here (which includes some direct thank yous to the specific men who made last night possible):
Before Call Night: https://www.facebook.com/pjscaer/posts/10163495600980252
Following Call Service: https://www.facebook.com/pjscaer/posts/10163499260410252