Yesterday at the Seminary Guild's monthly meeting, Dr. Don Wiley presented on the role and importance of Spanish Language Church Worker Formation in the Church. Dr. Wiley joined the faculty just this past May for this reason (also serving as Assistant Professor of Pastoral Ministry and Missions), though his first introduction to the Spanish language occurred in his own student days at Seminary, when he was unexpectedly given the opportunity for a two-year vicarage to Panama. "God gifted me to learn quickly and well," he added, noting that the only other language he'd studied before those two years was German while getting a degree in engineering.
First, he explained the difference between Hispanics and Latinos. "Hispanic" refers to all native Spanish speakers, of which there are about 500 million worldwide (the second largest group behind Mandarin; English is 4th, though it's a common trade language and often people's second language). A Latino (or Latina, for women) is someone who can claim Latin America as their origin. Most Hispanics are Latinos, but not always: someone from Spain is Hispanic but not Latino, while a Brazilian (who speaks Portuguese) is Latino but not Hispanic.
However, both share this: they're a cultural category, not a racial or ethnic one. Hispanics and Latinos can be white, black, native, Central America; even Irish and German. For example, Sergio Fritzler, who joined our ordained staff last May (he and Dr. Wiley were welcomed together), is a blonde, blue-eyed Latino of Germanic origins. Spanish is his native language, the Dominican Republic his home. Ultimately, whether a person prefers to be called "Hispanic" or "Latino" differs by region.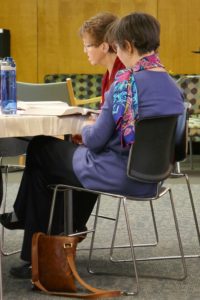 Dr. Wiley also shared some statistics on why Spanish language formation is such an important aspect to ministry: in 2003 Hispanics become the largest minority in the US and in 2018 they made up 18.1% of the population (about 58.1 million people). It is estimated that by 2020 minority children (of all ethnicities) will outnumber the majority, by 2045 minorities overall will outnumber the majority (Dr. Wiley used the term "Anglos" to refer to Caucasians, emphasizing the idea of culture and origin rather than race), and by 2060 nearly a third of the country's population will be Latino.
Unfortunately, as of 2015 only 0.5% of our LCMS membership is Hispanic. "We must be intentional about reaching out," Dr. Wiley urged. It's the second fastest growing demographic in America (Asian is the fastest, but much harder to proselytize to the entire group because they splinter along many language lines, while Hispanics certainly have different dialects but ultimately speak the same base language), and a large mission field within our own borders.
The Spanish Language Church Worker Formation that takes place through CTSFW began in earnest in 2015, but overseas in Buenos Aires where we worked with our partner Church of Argentina. Thirty international students began taking online courses. In 2016, we began our Specific Ministry Program-Español/English (SMP-EsE) with two men here in America. One of those men unfortunately had to drop out, but the other is about to be ordained and installed at Nueva Vida in Springfield, Virginia. Dr. Wiley is hopeful that we'll have three new men in the coming year.
We have also been working to develop the seminary in the Dominican Republic. Seminario Concordia El Reformador was inaugurated in August of 2017; both Dr. Just (who we featured before for his part-time mission work in that rea of the world) and Dr. Wiley are familiar faces there. The seminary has 15 international faculty, including Drs. Just and Wiley.
Dr. Wiley also explained the SMP-EsE program at CTSFW, which was specifically designed around a Latin America system. It's structured on a four-year format, with introductions to the New Testament, Old Testament, and confessional doctrine in the first year, with the following three years expanding on the same list of classes: Gospels (featuring both Old and New Testaments), Baptism, Preaching, and the Lord's Supper. Students are usually ordained between their second and third years.
Costs for the program are also kept extremely low. Why? "Often Anglo congregations are very desperate at that point, and ready to reach out to the Hispanic community that has sprung up around them," Dr. Wiley explained. The churches have no funds, and neither do the students, who are usually immigrants. The program can't happen without the support of the Church.
As to Spanish language development among our current students, Dr. Wiley does Spanish Greek Readings, encourages additional incorporation of Spanish into coursework, and is looking into Spanish Language Distance Deaconess Program. He also holds a weekly Spanish over Lunch session for students interested in improving and honing their Spanish language skills.
More recently, an opportunity opened up in Columbus, Indiana, when a Hispanic pastor retired. Pastors with minimal Spanish skills can lead worship as well as serve the Lord's Supper to this congregation, but are unable to preach the Word in Spanish. Instead, Dr. Wiley and some of the seminary students here record sermons in Spanish, which they upload to the "CTSFW en Español" YouTube channel and is then played during church. A member of the congregation who recently returned to Mexico and found himself hungry for a good Lutheran sermon can now continue to receive Law and Gospel sermons.
Because of the relationship between immigration and language, Dr. Wiley highlighted the importance of integration alongside offering services in Spanish. The first generation may never learn English—or at least not well—but the children of immigrants not only learn English but usually marry English speakers. But if a church that has a Hispanic service hasn't welcomed them as full members of the congregation, then those children rarely stay in that church, especially when they marry. Dr. Wiley recommends holding joint Sunday School between the services, which connects those children to both language groups within their home congregation.
Dr. Wiley asked one final question of the ladies of the Seminary Gild: what can congregations do?
"Recognize the importance," Dr. Wiley began. "These are people for whom Christ our Lord died and rose again to bring them forgiveness, life, and salvation." And stay committed to a program. "Communities have long memories," he explained. If you start a program to reach out to Hispanics and then drop it, no matter how good the reason you may have had, you've indicated that it wasn't that important. Restarting is infinitely harder than starting, because you've already broken trust.
He also pointed out a common source of tensions between Hispanic and English congregations sharing a church: the kitchen. Cultural differences often make themselves known in surprisingly mundane ways, which is why patience and flexibility is so important. "God's Word, the Sacraments—we do what God has given us to do," he said, arguing that sometimes inflexibility is important. "But the stuff that doesn't matter…have patience and flexibility."
Dr. Wiley finished by asking for prayers, both for Hispanic/Latino communities and for more workers to this harvest field. He knows of at least three congregations who are looking for bilingual vicars. And finally, he asked for encouragement. "These are our neighbors," he said. "Please support the formation program here and everywhere."